When you see a picturesque view of any garden, oftentimes you'll see luminous lights floating above the patio. It creates an ambiance worthy of magazine photos and added beauty and functionality to your landscaping. LED Lights are not only naturally bright, but retractable awning lights can transform any outdoor space. We all covet more livable space and lights on your awning make the outdoors available to you at any time of day and in any type of weather. Here are five ways LED lights can transform your awning and your backyard.
1. Make the Outdoors Available Any Time
Outdoor awning lights can completely transform any open-air space around your home, enhancing the natural beauty of your space. Not only creating a warm ambiance but adding a comfortable communal environment where your family and friends want to be. The right patio lighting adds radiance to your yard and suddenly the outdoors is an extended part of your home where you can enjoy and welcome company.
The outdoors will quickly become more inviting and will be your favorite place to spend time. From cocktail parties to summer nights spent around the fire, your patio will instantly convert to a bonus living area. Even in the winter months, when the sun sets early, shoveling or building a snowman is definitely possible with your retractable patio awning lights.
Not only is having an extendable outdoor area to your home great for your family, but it is great for home equity. An inviting outdoor space shows that your home is well cared for and is appealing to buyers when or if you ever decide to sell your home. According to studies, a well designed patio can add 8-10% to your homes value, with an estimated 80%+ ROI.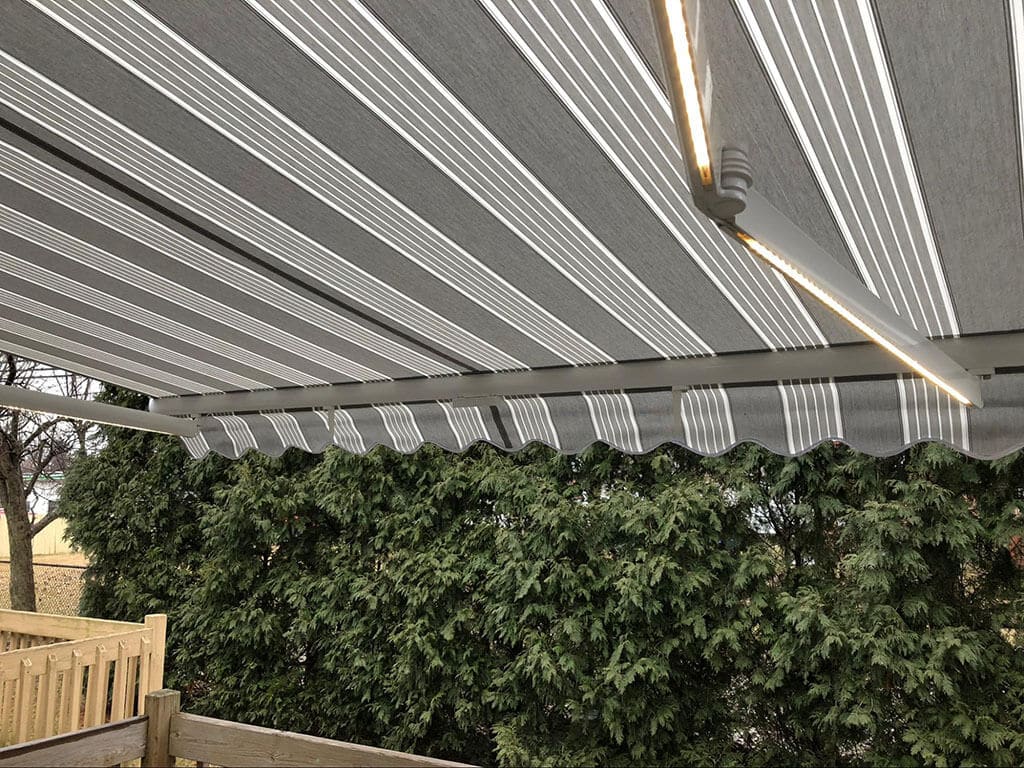 2. Multiple Settings For Any Mood
Mentioned above, outdoor lights can completely change your space, but dimmable LED awning lights allow you to change the ambiance as your events shift. Adjustable lighting can make the space more comfortable, make it easier to see, and is energy efficient. Entertaining or dining alfresco? You can dim the lights for a candlelit feel. Playing a game of kickball with your kids? Set the lights to the brightest setting so you can enjoy the game well into the later hours.
Marygrove awnings come with dimming LED lights built right in, making it easy for you to entertain family and friends at any time during the day or night. Simply push the light button on our remotes to adjust the dimness.
3. Lighting For Safety and Security
Outdoor lights provide feelings of safety and security, giving you peace of mind when you're in your home or outside. Coming home late or taking the trash out? Outdoor patio awnings with LED lights can help you see around your home, preventing any trips or stumbles.
Worried about the security of your home? Outdoor LED lights are bright and consistent, creating added visibility around your home and yard. Lights detract any intruders or animals from coming near your home, increasing your sense of safety.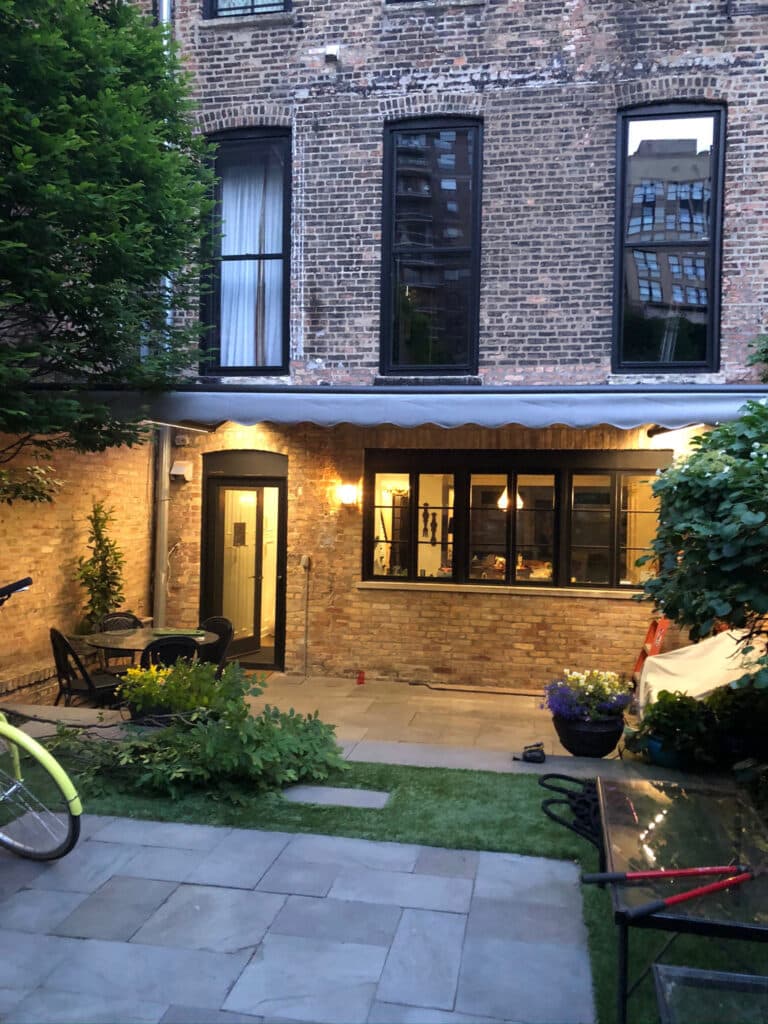 4. Simple Installation With Built-in Lighting
Stringing up lights and taking them down can take up a lot of precious time. Cherished time better spent barbecuing, enjoying your family, or simply relaxing in your perfect outdoor space. Worrying about creating the perfect ambiance is a thing of the past because your awning provides the ideal lighting for any event.
No longer are you spending time trying to find the right lights, or how to install them, or fumbling around in the dark trying to locate an outlet. Simply walk outside, extend your awning, and enjoy your favorite activities well into the evening.
5. Awning Lights Are Easy to Use
Using your LED lights couldn't be simpler. Built directly into the awning, you have lighting available any time you want it. As the day fades into the evening, you don't have to scramble to find the right lighting solution. With a simple click of a button, you have the perfect dimmable lighting to enhance any event. Whether you're entertaining or merely enjoying a quiet evening outside after work, turn on the lights, grab a chair and savor the nights spent outdoors.
Your living room does not have to be the only place where you spend time with friends and family. With the addition of LED lighting to your awning, you can extend your living space outdoors. The best part is these lights come built-in with our awnings, saving you hours of work and money to create the same ambiance.

For more information simply schedule a no-obligation in-home appointment. With over 85 years of experience, our awning experts can help you design the awning of your dreams. From fabric color to custom accessories, you can create a perfectly shaded outdoor space.