Introducing the perfect addition to your deck, a retractable awning! Say goodbye to harsh sunlight and unpredictable weather and embrace the ultimate outdoor oasis. With retractable awnings, you have complete control over the shade, allowing you to enjoy your deck or patio no matter the time of day or season.   
Whether you desire a cozy space for relaxation or a shaded area for entertaining guests, this versatile solution offers the ideal blend of functionality and style. Transform your outdoor space into a haven of comfort and protection with retractable awnings and indulge in the luxury of outdoor living like never before.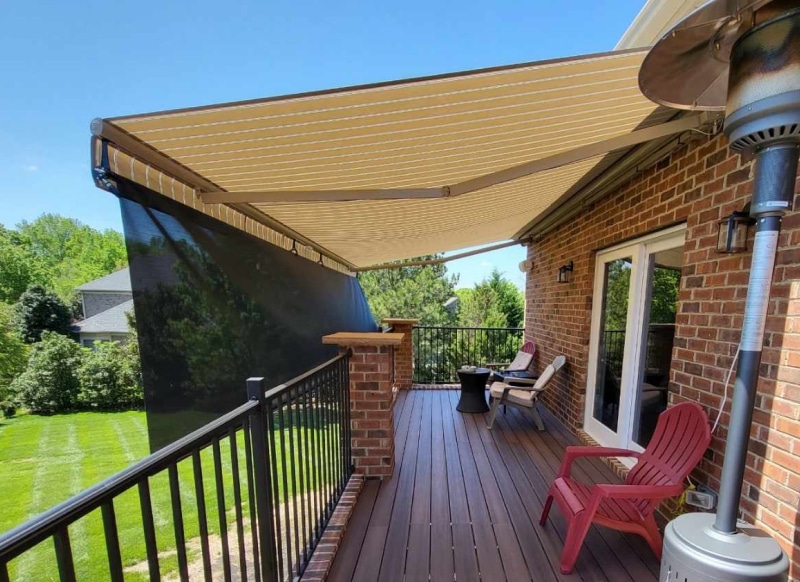 Types of Deck Awnings and Canopies
Elevate your outdoor experience and add a touch of luxury to your deck with Marygrove's custom awnings. Our extensive expertise ensures that we deliver a tailor-made solution that will exceed your expectations, leaving you never wanting to go back inside. Whether you opt for retractable awnings or a louvered roof, we have the perfect selection to suit your needs.  
Don't let the elements dictate your leisure time. Choose Marygrove and unlock a world of endless enjoyment, right in the comfort of your own backyard.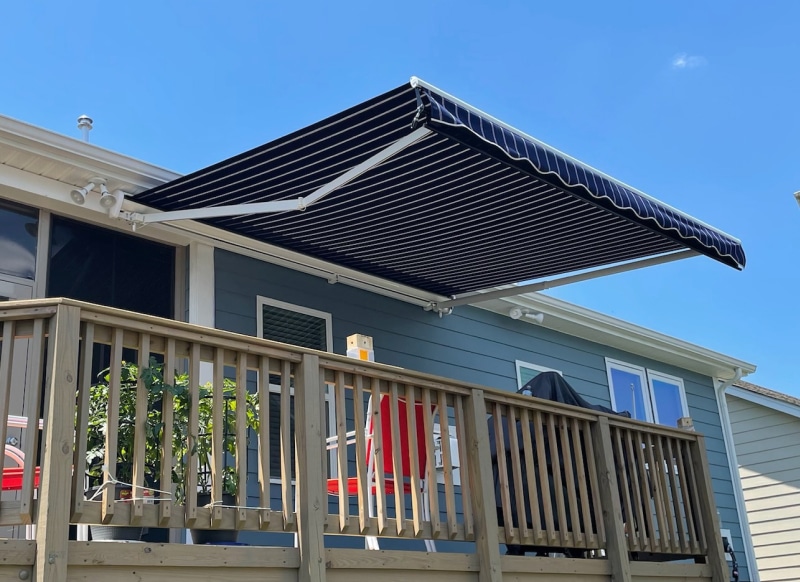 Retractable Awnings
Enjoy the flexibility of effortlessly extending or retracting the awning, transforming your home into a comfortable oasis that adapts to your desires. Shield yourself and your loved ones from uv rays and the elments while relishing the beauty of outdoor living. With industry-leading features, our high-quality awnings are water resistant and will serve as a perfect addition to your home. We offer many different awning customizations that you can select including fabric, size, and frame color. Our durable awnings are made to last, featuring an industry-leading 10-year warranty*. If you live in a condo association and have specific requirements, we can also work with your HOA to make sure your awning is compliant.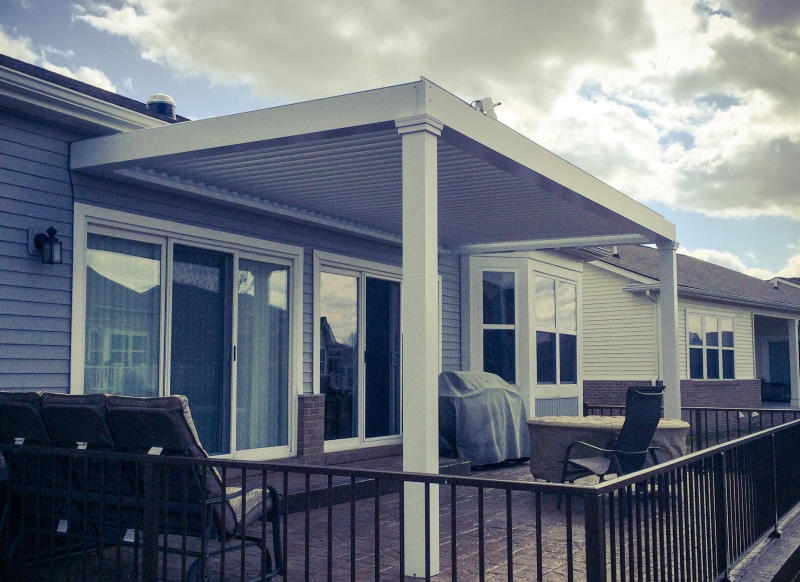 For the ultimate in sophistication and versatility, consider our louvered roofs. These innovative structures allow you to effortlessly adjust the angle of the roof slats, providing you with precise control over the amount of sunlight and shade on your deck. Experience the freedom of creating the perfect ambiance, whether you prefer basking in the warm sun or seeking respite from its intensity.
Benefits of Owning a Retractable Deck Awning
From enhancing curb appeal to boosting energy efficiency, a Marygrove offers a variety of benefits. Firstly, it will provide shelter to your outdoor seating area by shielding it from the sun's intense rays and light rain, allowing you to enjoy your deck even during inclement weather.  No need to worry about the outside weather conditions, with our built-in wind sensor, designed to automatically retract in in climate weather conditions.  
Not only do motorized awnings offer practical advantages, but they also create the perfect setting for lasting memories. Imagine hosting gatherings with friends and family on your shaded patio, protected from unwanted elements while enjoying the outdoors. You can create a welcoming and comfortable space that invites relaxation, entertainment, and the making of cherished moments.   
Choose a Marygrove and experience the transformative benefits it brings to your home. Make your patio more comfortable, save energy, and improve its appearance with a stylish addition. This addition will create a perfect setting for memorable moments.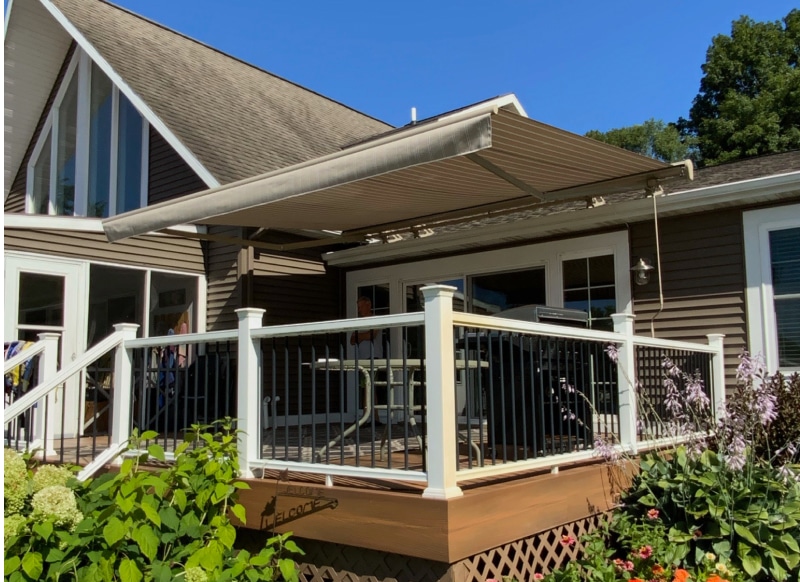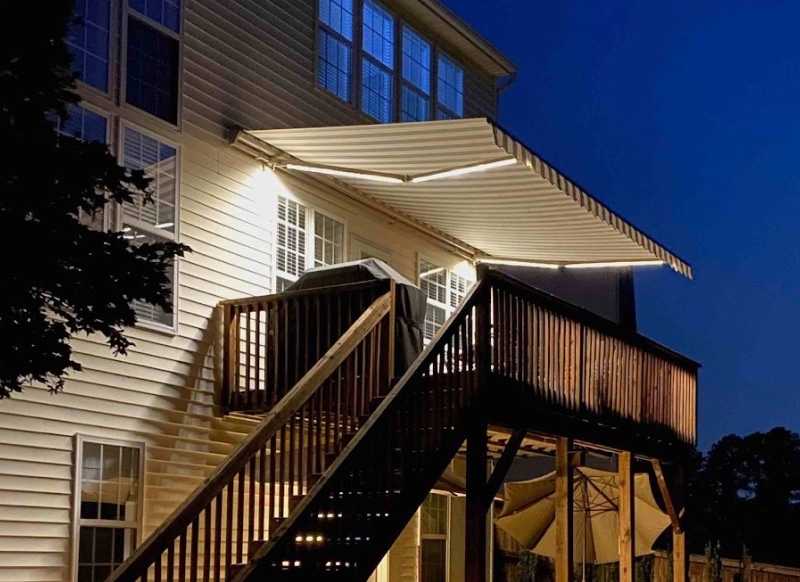 Enhance your patio with our new models, featuring built-in LED lights for the perfect ambiance day or night. For added convenience and protection, we offer wind sensors and poles to secure your awning during inclement weather.  All of our awnings also come with a remote control that activates the awning with a simple click of the button.  
Customize your retractable awning with a side or front screen, filtering the sun's rays and protecting you from the sun and its glare. Experience the ultimate blend of functionality and style with our deck awning options from Marygrove. 
Which Awning is Right for You?
Marygrove offers a variety of options. No shipping involved, we hand-deliver all the parts for our deck awnings and install them on our visit. Interested in pricing or looking for more information as you shop? Call our amazing customer service team for great ideas from design to picking a product you love.   
Looking for a commercial option to shelter your store or business from the sun and rain? We have commercial solutions, too!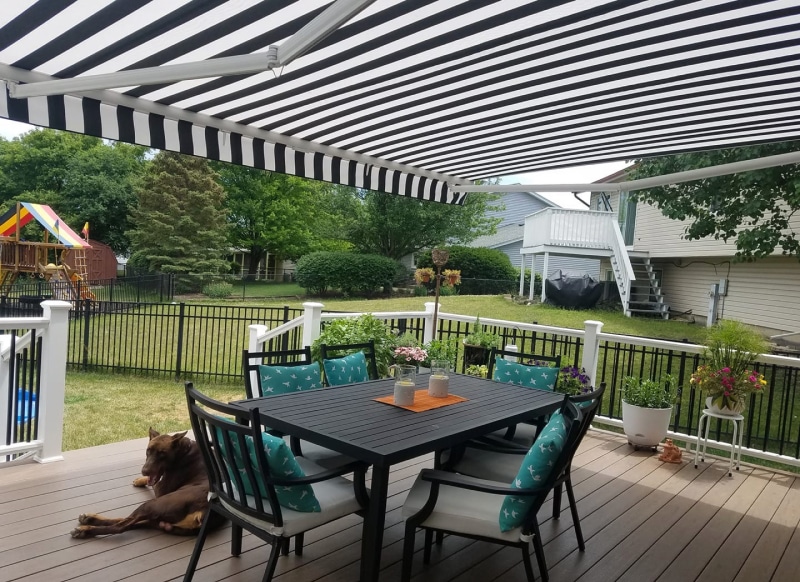 Frequently Asked Questions About Deck Awnings
Absolutely! Patio awnings are perfect for preserving the longevity of your outdoor furniture by shielding it from fading and the elements. Additionally, an awning can also protect furniture and rugs inside your home from fading, as it reduces the amount of sunlight that enters through doors and windows.
Maintaining your Marygrove is essential for its longevity. During the spring and summer, it's recommended to clean your awning approximately once a month. In the Midwest states like Michigan and Illinois, a quick hose down and brushing to remove loose dirt or debris is usually sufficient.   
To extend the life of your awning, a deep clean is recommended every two years. Use a brush with soft bristles and a mixture of mild soap and cold water to gently scrub the top and underside of your awning. Make sure to rinse the soap thoroughly and allow the awning to completely dry before storing it away.   
It's important to be mindful of plants near your retractable awning, as their leaves, vines, or shrubbery can damage the awning material. Avoid allowing taller plants to touch the rainproof fabric, and trim back any plants that may come into contact with the awning.   
If you have a retractable awning, always retract it when not in use to ensure its lifespan.
The ideal time to purchase a Marygrove is before the weather becomes extremely hot. However, you can buy them throughout the year, as awning manufacturers often offer special incentives based on the season. If you're tired of enduring the heat on your patio, it's probably the perfect time to invest. 
One of the significant benefits of installing a Marygrove is that they help cool down the area beneath them by approximately 20 degrees by offering premier sun protection and UV protection. This not only creates a more comfortable space on your patio but also reduces the need for additional energy consumption, resulting in potential energy cost savings for your home.  Sun protection, not only for your skin but for your house goes a long way in preserving patio furniture, flooring, and siding on your home.
Our speciality is deck awnings, retractable patio awnings, and porch awnings. These consist of 95% of our installation appointments in a given calendar year. Whether you are attaching to a second story home, a roof, or just under the gutter we offer many different mounting solutions to create the perfect aesthetic for your home.
No Interest if Paid in Full in 12 Months*
Everyone Deserves a Marygrove
Apply online or work with your Marygrove representative to find convenient payment options for your retractable awning, including monthly payments.
*Subject to credit approval. Apply online.
*Subject to credit approval. Interest is billed during the promotional period but all interest is waived if the purchase amount is paid in full within 12 months. GreenSky® and GreenSky Patient Solutions® are loan program names for certain consumer credit plans extended by participating lenders to borrowers for the purchase of goods and/or services from participating merchants/providers. Participating lenders are federally insured, federal and state chartered financial institutions providing credit without regard to age, race, color, religion, national origin, gender or familial status. GreenSky® and GreenSky Patient Solutions® are registered trademarks of GreenSky, LLC. GreenSky Servicing, LLC services the loans on behalf of participating lenders. NMLS #1416362. GreenSky, LLC and GreenSky Servicing, LLC are subsidiaries of Goldman Sachs Bank USA. Loans originated by Goldman Sachs are issued by Goldman Sachs Bank, USA, Salt Lake City Branch.
Your estimate is only a few steps away.  Fill out the form and we will call you promptly to set up an appointment.