Turn your patio into the place to be, no matter what the weather says. Designed to cover your back or front patio, Marygrove's awnings offer a mix of economical and stylish ways to spruce up your backyard. With a variety of options, your shaded oasis is right at your fingertips.
Are you starting to search for a patio shade solution for your yard or condo? Look no further, Marygrove offers years of experience and will deliver a customized solution for your home. With multiple fabric, frame, and size options backed by an industry leading warranty and customer service team, Marygrove has you covered.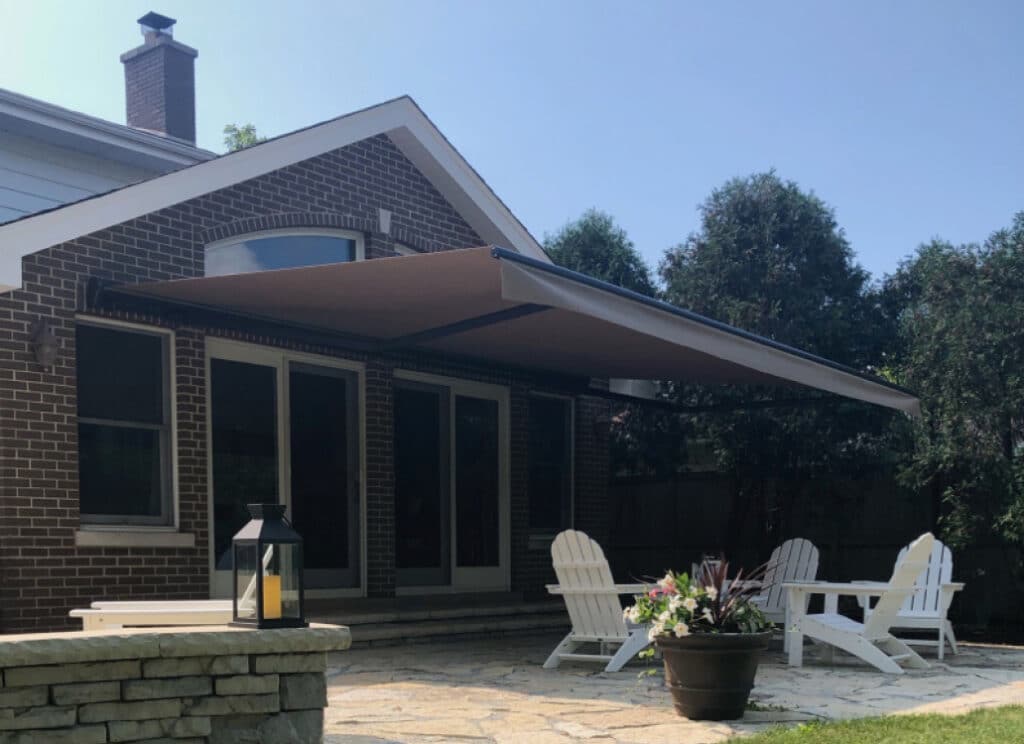 Ways to Protect Your Patio From The Sun
Benefits of Owning a Patio Awning
Whether you're looking to customize a retractable awning or for something simpler to cover your deck, there are a ton of benefits to patio awnings. From curb appeal to energy efficiency, an awning can have many advantages. Not only can awnings provide shade and keep the sun's rays off your deck, but they can also keep your home cooler, your energy costs down, and the good times rolling! 
All of our new models come with LED lights equipped, allowing you the perfect ambiance at any time of day. We also offer wind sensors and poles to secure your awning in inclement weather. Additionally, you can customize our retractable awnings with solar shades to filter more of the sun's rays and give you a perfectly shaded outdoor space.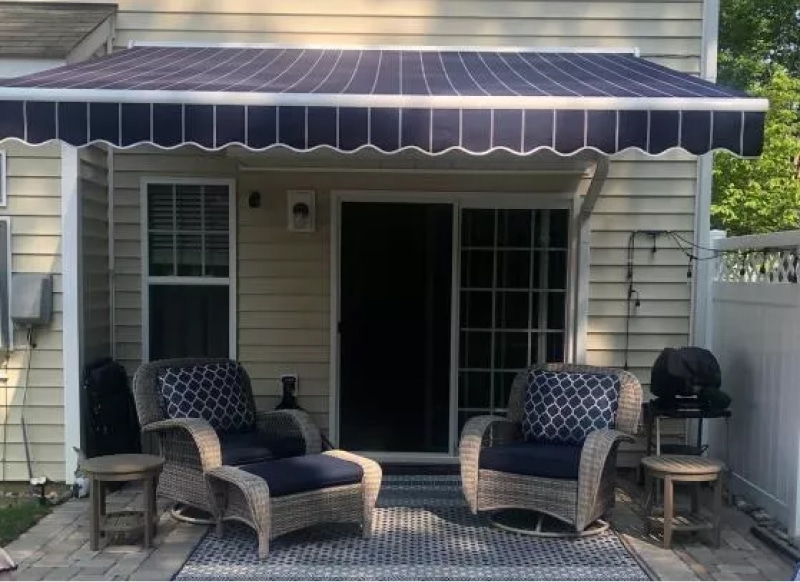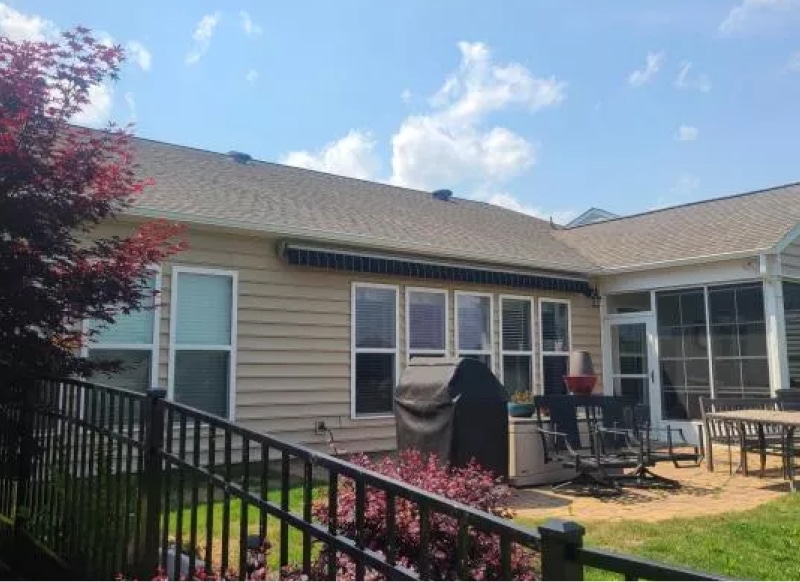 Which Awning is Right for You? 
Marygrove offers a variety of options. No shipping involved, we will hand-deliver your awning and help you install it on our visit. Interested in pricing or looking for more information as you shop? Call our dedicated customer service team for great ideas from design to picking a product you love.
For over 85 years, Marygrove has been installing high-quality awnings in Michigan and beyond. Get a free estimate when you call our customer services representatives about any retractable awning or facade when you schedule an appointment with Marygrove.
Frequently Asked Questions About Patio Awnings
Depending on the awning model and where it will be installed, the pricing will vary. Call us today for a free estimate! 
It is important to clean your awning approximately once a month during the spring and summer. On houses in midwestern states like Michigan and Illinois, this is as simple as a quick hose down and brushing to remove any loose dirt or debris.
To improve the life of your awning, it's recommended to perform a deep clean every two years. In addition to hosing it down and brushing away the dirt, using a brush with soft bristles, gently scrub the top and underside of your awning with a mix of cold water and mild soap. Be sure the soap is fully rinsed from your awning and that it is completely dry before you put it away. 
Many people don't realize that the material of their awnings can be damaged from overexposure to the acid in vines, leaves, and shrubberies. Taller plants should not be kept near your retractable awning. If you're unable to move your plants, trim them back so they don't touch the rainproof fabric of the awning. 
If you purchase a retractable awning, the awning should always be retracted when not in use to ensure its longevity. 
Absolutely not. After we form a plan for your home and customize the awnings you want to install, Marygrove will schedule an appointment with you and come to your home to take care of the entire installation process. You won't have to lift a finger! After installing, we will ensure that all your questions are answered and that you are fully comfortable with your new awnings and how to use them. 
Avoid DIY box kits from the average home improvement stores like Lowe's or Home Depot. A home improvement store won't send a seasoned pro to install your awning, and installation is no easy task.
If you want a retractable awning that will last, buy from a top-rated awning supplier that offers on-site installation. Pricing differs from out-of-the-box products and quality awnings by a reputable awning manufacturer, but if you do your research and read the awning reviews, you're sure to find a good sale. 
The experts at Marygrove Awnings® have got you covered. We can help determine the best spot on your home for a retractable awning. We offer no-hassle installation of awnings that come standard with a full range of industry-exclusive features like LED lights built into the folding arms, two valances, and eco-friendly polyester fabrics. With these features and more, Marygrove Awnings® creates prefab and custom affordable residential retractable awnings that fit your budget while allowing you to more easily customize your outdoor entertainment area. Our goal is to make the installation and user experience as hands-free for you as possible. If you're ready, contact us today to get rolling. 
No Interest if Paid in Full in 12 Months*
Everyone Deserves a Marygrove
Apply online or work with your Marygrove representative to find convenient payment options for your retractable awning, including monthly payments.
*Subject to credit approval. Apply online.
*Subject to credit approval. Interest is billed during the promotional period but all interest is waived if the purchase amount is paid in full within 12 months. GreenSky® and GreenSky Patient Solutions® are loan program names for certain consumer credit plans extended by participating lenders to borrowers for the purchase of goods and/or services from participating merchants/providers. Participating lenders are federally insured, federal and state chartered financial institutions providing credit without regard to age, race, color, religion, national origin, gender or familial status. GreenSky® and GreenSky Patient Solutions® are registered trademarks of GreenSky, LLC. GreenSky Servicing, LLC services the loans on behalf of participating lenders. NMLS #1416362. GreenSky, LLC and GreenSky Servicing, LLC are subsidiaries of Goldman Sachs Bank USA. Loans originated by Goldman Sachs are issued by Goldman Sachs Bank, USA, Salt Lake City Branch.
Your estimate is only a few steps away.  Fill out the form and we will call you promptly to set up an appointment.