Commercial Awning Options for Business Owners
Want to enhance your business and attract more customers? A commercial awning may be exactly what you're looking for! Commercial awnings can boost your curb appeal, provide shade for customers, create more space for outdoor seating, and leave a lasting impression on anyone who visits.

Let's discover the different types of commercial awnings to choose from and why a Marygrove awning is the perfect option for you!
Types of Commercial Awnings
Not all commercial awnings are alike. Whether it be a storefront awning, outdoor seating awning, or window shades, each type of awning has its own special features and purpose.
Below, we'll look in detail at the types of commercial awnings and the benefits of awnings for business fronts.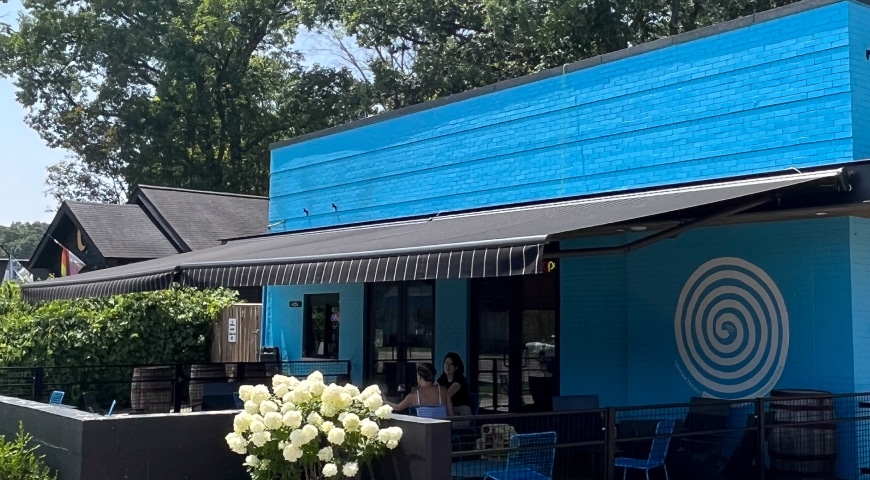 Outdoor Seating Awnings
Expand your business's seating area and outdoor seating season with an outdoor seating awning. Especially common for restaurants, outdoor seating awnings are a cost-effective way to provide more seating space for your customers. In fact, you may also attract more customers to your business because you offer outdoor seating.

In addition to providing shade, outdoor seating awnings also shelter your customers from rain, snow, wind and other harsh weather.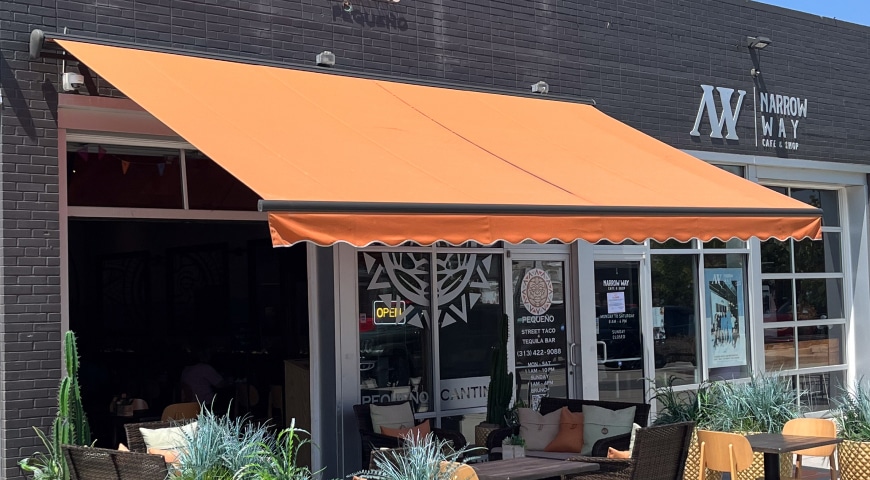 Storefront Awnings
Marygrove's commercial storefront awnings are the perfect way to elevate the look of your business and create a lasting impression on your customers. With our customized awnings, you can enhance your storefront's curb appeal and make it stand out from the rest. Add a touch of elegance and sophistication to your business with our high-quality awnings. 
Other Commercial Shade Applications To Consider
Marygrove offers a variety of different solutions to amplify your business and keep your customers comfortable. If an awning is not ideal for your location, consider one of our other premium products.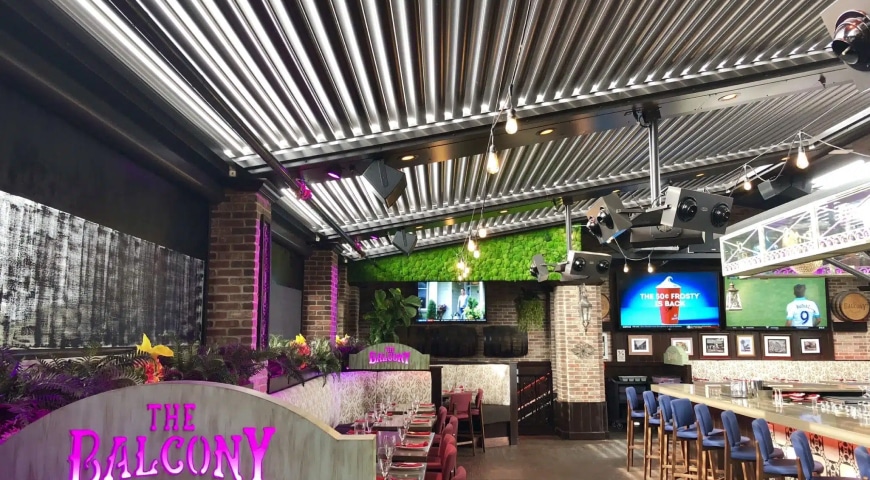 Louvered Roofs
Our Louvered Roof Systems, also known as retractable pergolas, are an effective way to block harmful sun rays and rain while still providing plenty of air circulation and a bright atmosphere. They are designed with a series of horizontal slats that are angled. These slats can be adjusted and will rotate 180 degrees with just the push of a button.

Retractable pergolas are an exceptional choice for restaurants, as they provide shade and shelter for your customers during all temperatures and weather.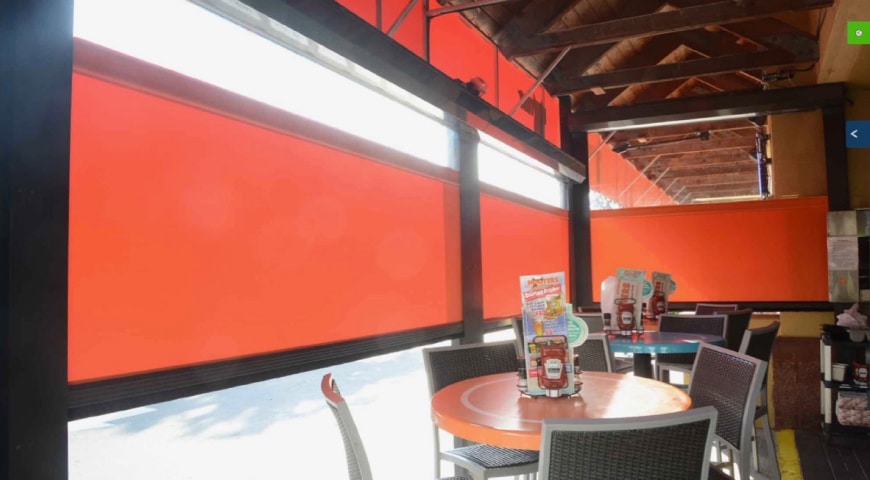 Window Shades and Solar Screens
Marygrove's remote-controlled window shades and solar screens are an excellent way to shield customers from the weather while still providing ventilation. Our commercial window shades are made with PVC-coated fiberglass, which is designed to block damaging sunlight from reaching the inside of your building. Marygrove window shades also feature a unique construction that allows for plenty of air circulation, helping your business remain cool and comfortable for customers. 
Summing Up: Commercial Awnings for Business Owners
Ready to boost the curb appeal of your business? Marygrove's custom awnings for business can improve your business' visibility, increase your outdoor seating space, protect indoor products and furniture from the sun, and make your facility attractive.
Looking for the best commercial awning company? Look to Marygrove Awnings. Our experts are ready to help create the commercial awning of your dreams.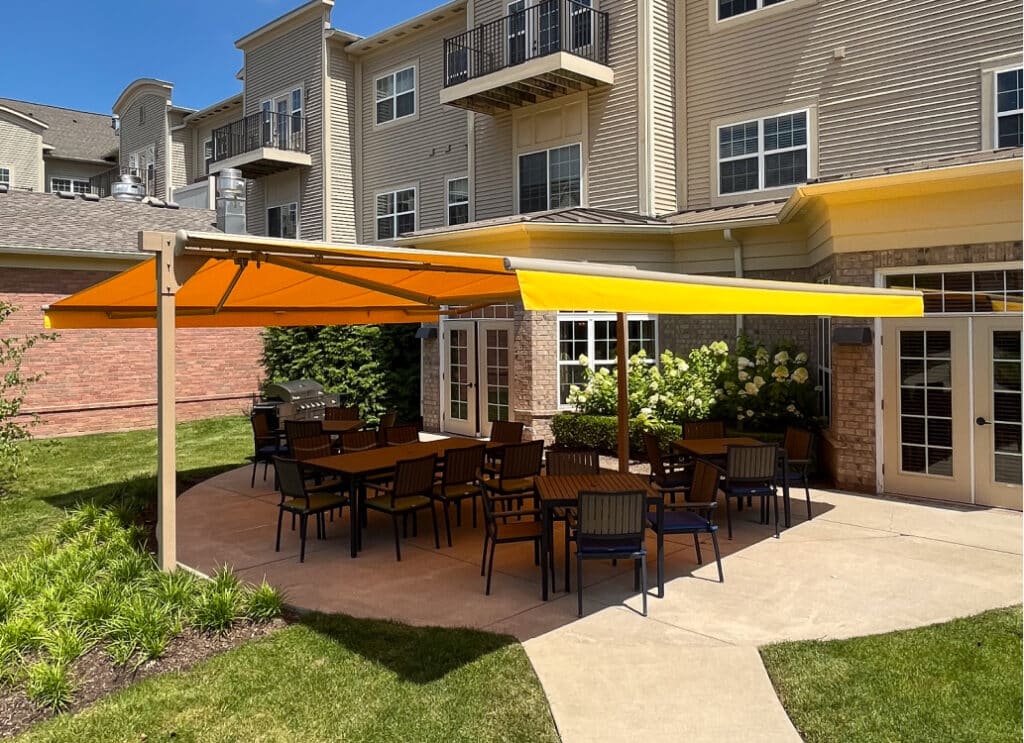 No Interest if Paid in Full in 12 Months*
Everyone Deserves a Marygrove
Apply online or work with your Marygrove representative to find convenient payment options for your retractable awning, including monthly payments.
*Subject to credit approval. Apply online.
*Subject to credit approval. Interest is billed during the promotional period but all interest is waived if the purchase amount is paid in full within 12 months. GreenSky® and GreenSky Patient Solutions® are loan program names for certain consumer credit plans extended by participating lenders to borrowers for the purchase of goods and/or services from participating merchants/providers. Participating lenders are federally insured, federal and state chartered financial institutions providing credit without regard to age, race, color, religion, national origin, gender or familial status. GreenSky® and GreenSky Patient Solutions® are registered trademarks of GreenSky, LLC. GreenSky Servicing, LLC services the loans on behalf of participating lenders. NMLS #1416362. GreenSky, LLC and GreenSky Servicing, LLC are subsidiaries of Goldman Sachs Bank USA. Loans originated by Goldman Sachs are issued by Goldman Sachs Bank, USA, Salt Lake City Branch.
Your estimate is only a few steps away.  Fill out the form and we will call you promptly to set up an appointment.