What Is A Retractable Louvered Pergola?
A retractable Louvered pergola is made from a series of horizontal slats that are angled to keep your outdoor space comfortable and relaxing for everyone. Because of this design, a retractable pergola can still admit light and air, but it will also keep out rain and sun.
Boost the value of your home and curb appeal with a Marygrove louvered pergola. We will work with you to integrate it perfectly with your outside space and architecture of your home. All that's left for you to do is escape into your backyard and create lasting memories.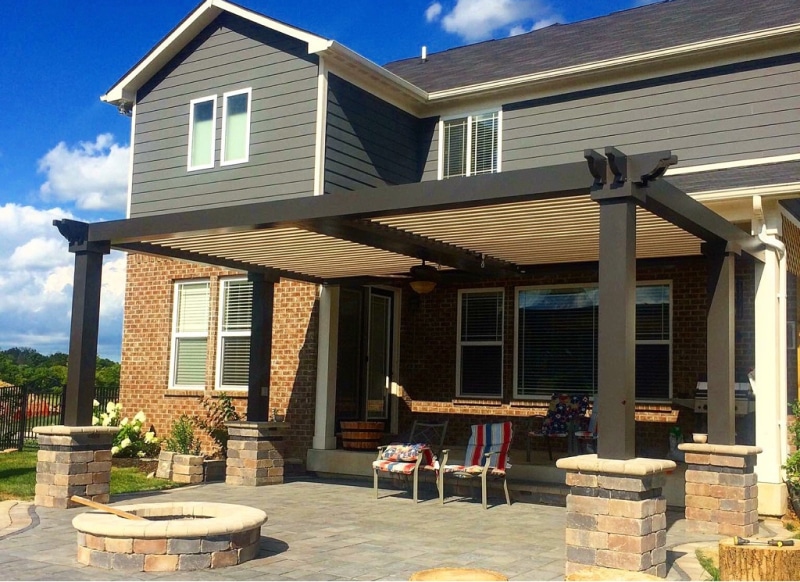 Retractable Louvered Pergola Benefits
Schedule an In-Home Estimate
Your estimate is only a few steps away.  Fill out a form and we will call you promptly to set up an appointment.
Ideas for Decorating My Retractable Pergola Canopy
Have plans to transform your outdoor space into a homier atmosphere? There are tons of options to customize a pergola and make it all your own.
When your roll screens aren't in use, tie back custom curtains to each post of the pergola. Curtain cloth comes in various degrees of thickness, colors and prints so you can choose a design that matches your outdoor decor. Hang lights around the perimeter of your pergola to keep the party going in the dark. With a louvered roof system on your pergola, you and your guests can admire the stars from the comfort of your outdoor furniture.
We've also seen a lot of our customers decorate the area around their pergola by planting a small flower garden on a few sides.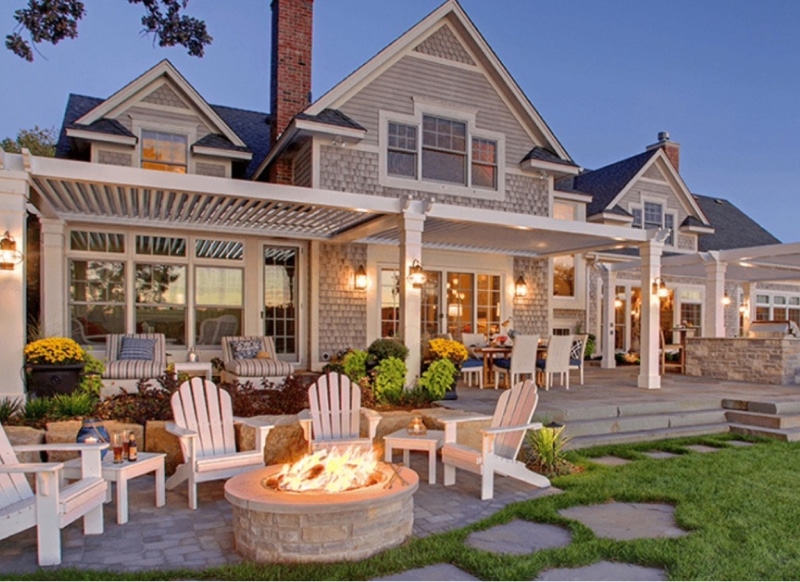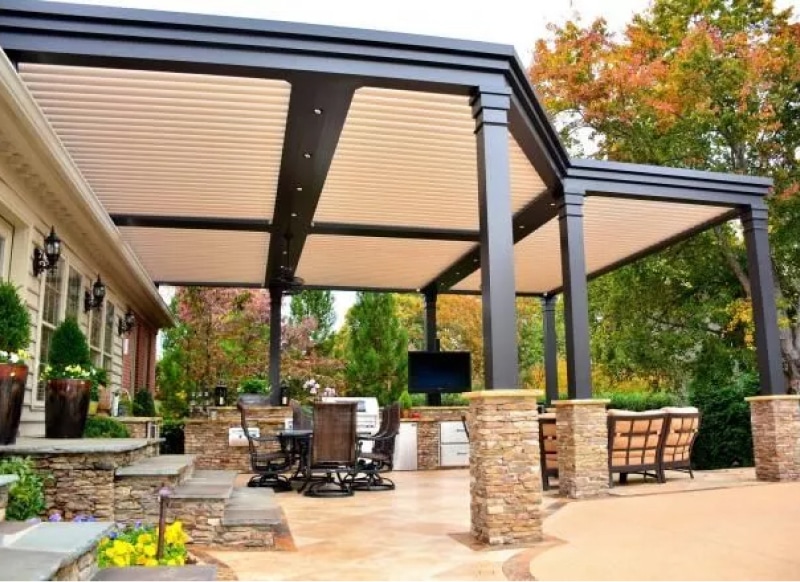 A Retractable Louvered Pergola Is Extremely Adaptable
A retractable pergola canopy has movable louvers and slats that rotate 180 degrees. This is all done with the push of a button. Adjusting to the changing weather has never been easier! The battery-powered system lets you quickly and precisely adjust the angle of your louvered roof. You have complete control of whether you need to adjust to the setting sun or a pop-up thunderstorm. 
Types of Louvered Roof Systems
Since its inception in 2011, the original louvered roof system has been improved and perfected. Its award-winning pivot design gives a full 170-degree range of motion to provide a cool oasis, regardless of the sun's position. Now integrated with iLouver technology, the Pivot can intuitively control the effects of the weather to enhance your outdoor lifestyle.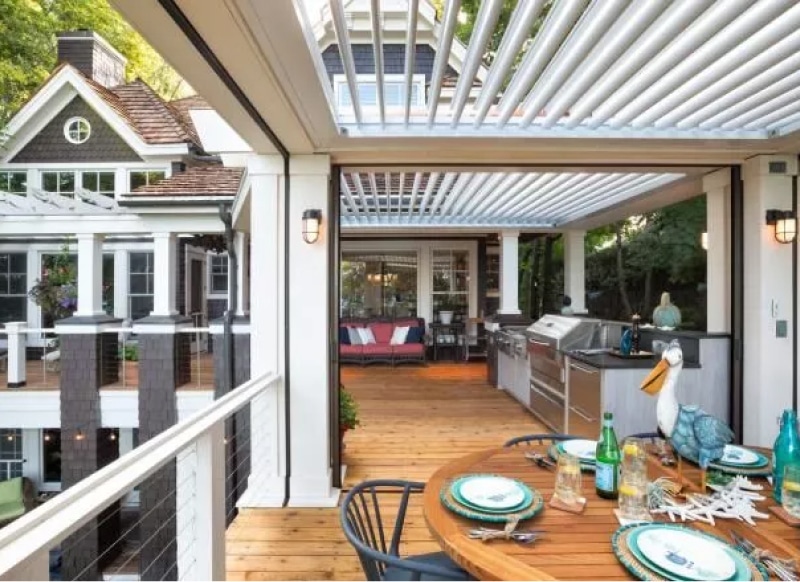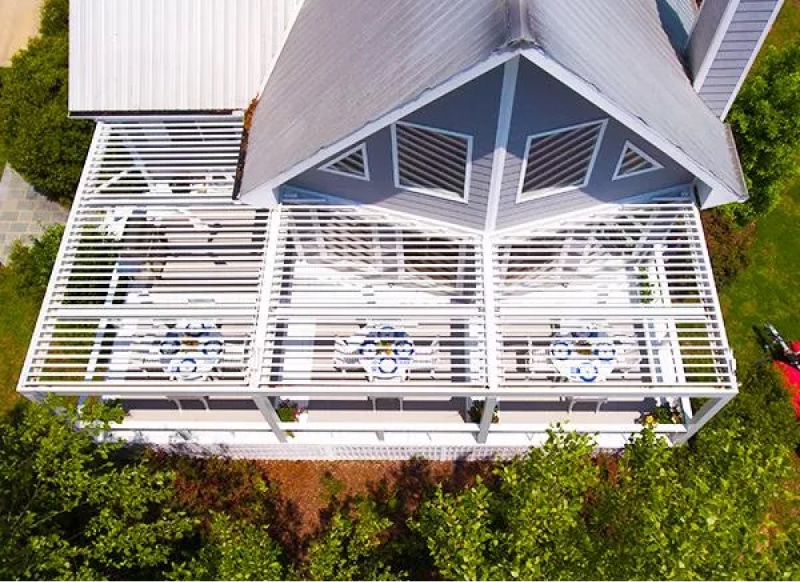 We listened and challenged our design team to do what no other louvered roof can do and that is to give you the full sky. Our Louvered Slide gives you the ability to open the space above you while maintaining the versatility of the Pivot. By combining these two features, the Slide will totally revolutionize the way you view outdoor living.
Awesome Retractable Louvered Pergola's Built by Marygrove
Frequently Asked Questions
Increase curb appeal and be talk of the town with an Louvered Roof System by Marygrove Awnings©. The pros far outweigh the cons when considering whether to add a residential louvered roof system to the exterior of your house: 
Control your exposure to the sun.
Spend more time relaxing outside.
Remote control makes opening and closing the system a breeze.
Increase your home's value.
Stronger than a retractable awning.
Protect your outdoor furniture.
Reduce the cost of cooling your home.
Use in conjunction with roll screens to enclose your outdoor space.
Add to a movable pergola or gazebo or mount a static louvered roof directly on your home. 
The only real downfall of a louvered roof is the potential for leaking if it's not closed correctly. Make sure your roof system is completely closed when rain is on its way, so it does not leak. 
When paired with motorized retractable screens, a louvered roof system over your patio or porch can transform your outdoor space into a cozy sunroom, too. 
Adding a louvered roof system adds a modern twist on the classic pergola look. A louvered roof (or louvered pergola) shades your outdoor space while allowing you to enjoy the look and feel of a traditional pergola. 
Outdoor entertainment can last for hours under a louvered roof. Slatted louver systems are designed to withstand varying weather conditions while a retractable awning is not made to withstand heavy rain or snow. The reason for this is because these elements can decrease the life of the product. 
A motorized adjustable pergola top is simple to operate. You won't have to manually slide a heavy canvas over your head or use a hand crank to turn the slats open or closed. Just press a button on your remote control to adjust the louvers and escape from hot sun rays while a breeze flows freely through your space. This feature will be a luxury to you on those sweltering summer days. 
All the hardware and miscellaneous parts that come with a retractable pergola kit make installation confusing and complicated, and instructions don't always make a DIY kit much easier. 
Whether you have a wall-mounted pergola attached to your home or freestanding pergola, it's wise to get a professional to deliver and install your pergola cover. You can upgrade your pergola system by adding a vinyl retractable screen to each side to create a mosquito-proof outdoor room. Save yourself the headaches and time by letting us install a retractable pergola canopy for you. 
Before you start scrubbing away at your pergola, be sure to do your research so you can best care for your investment. You don't want to damage the finish of your pergola's frame or slanted louvers. 
Lightly wet the louvers of the canopy with a garden hose to remove loose debris before scrubbing.
Wash each of the panels individually to ensure a thorough cleaning.
Don't wrestle with a tall, unsteady ladder. Use a long-handled, medium-bristled brush to reach the slats.
Rinse thoroughly without extreme water pressure.
Rinse soap away from the house if your pergola is attached to your home. 
 Avoid harsh chemicals that may tarnish the finish of your pergola and never use high water pressure. 
You can always consult Google and other search engines, but the best way to find out how to clean your system is to refer to its instructions. You are also always welcome to call Marygrove and one of our team members will be happy to help! 
When you rely on cheaper brands and home improvement stores like Lowe's or Home Depot, you don't receive the top-quality parts of a pergola canopy that will last for decades. The price of replacement parts can be quite costly and you may not be able to find the replacement parts you need. 
DIY canopy kits can also be dangerous, especially if you have no experience or lack the proper tools for installation. You may pour all your strength into installing a canopy or louvered roofing system on your wooden- or steel-framed pergola, but if it's not installed correctly, someone could get hurt. Consequently, you may be at risk of a lawsuit. We all know that no one wants to be involved in a lawsuit.  
Have you measured the square footage of your pergola? You need to know its size if you plan to buy a pergola canopy or adjustable roof system. No matter the length and width of your pergola, a reputable adjustable canopy manufacturing company can help you determine the best-sized canopy to install. 
When shopping for pergola covers, be sure to compare prices and pay attention to the latest product reviews to find the top-rated cover for your pergola. Also, consider whether the system comes with a warranty. If not, how much will one cost? What will it cover? 
Consult Marygrove Awnings® for your pergola cover needs. Adding an adjustable pergola canopy by Marygrove Awnings® to your existing pergola introduces unbeatable quality comfort to your space, making your backyard the place to be. We do a professional job that we are confident you will be pleased with.  
We also offer commercial louvered roofs to expand outdoor seating areas for restaurants and other venues in Detroit, Chicago, and their surrounding areas. 
Looking for a good sale? Contact us to learn more and enhance your outdoor living experience today. 
No Interest if Paid in Full in 12 Months*
Everyone Deserves a Marygrove
Apply online or work with your Marygrove representative to find convenient payment options for your retractable awning, including monthly payments.
*Subject to credit approval. Apply online.
*Subject to credit approval. Interest is billed during the promotional period but all interest is waived if the purchase amount is paid in full within 12 months. GreenSky® and GreenSky Patient Solutions® are loan program names for certain consumer credit plans extended by participating lenders to borrowers for the purchase of goods and/or services from participating merchants/providers. Participating lenders are federally insured, federal and state chartered financial institutions providing credit without regard to age, race, color, religion, national origin, gender or familial status. GreenSky® and GreenSky Patient Solutions® are registered trademarks of GreenSky, LLC. GreenSky Servicing, LLC services the loans on behalf of participating lenders. NMLS #1416362. GreenSky, LLC and GreenSky Servicing, LLC are subsidiaries of Goldman Sachs Bank USA. Loans originated by Goldman Sachs are issued by Goldman Sachs Bank, USA, Salt Lake City Branch.
Your estimate is only a few steps away.  Fill out the form and we will call you promptly to set up an appointment.