Turn your porch into the place to be with Marygrove's variety of porch awnings and shade-creating products. With a variety of options, we can keep you out of the sun and enjoying your porch in any weather.
Elevate your outdoor living experience with Marygrove's exceptional range of porch awnings and shade solutions. Your porch is more than just an outdoor space; it's an extension of your home, a haven for relaxation, and a place to gather with family and friends. Our porch awnings are designed to transform your porch into the ultimate retreat, providing you with comfortable shade and protection, no matter the weather. Explore our diverse selection and discover how you can make your porch the perfect place to unwind and create lasting memories.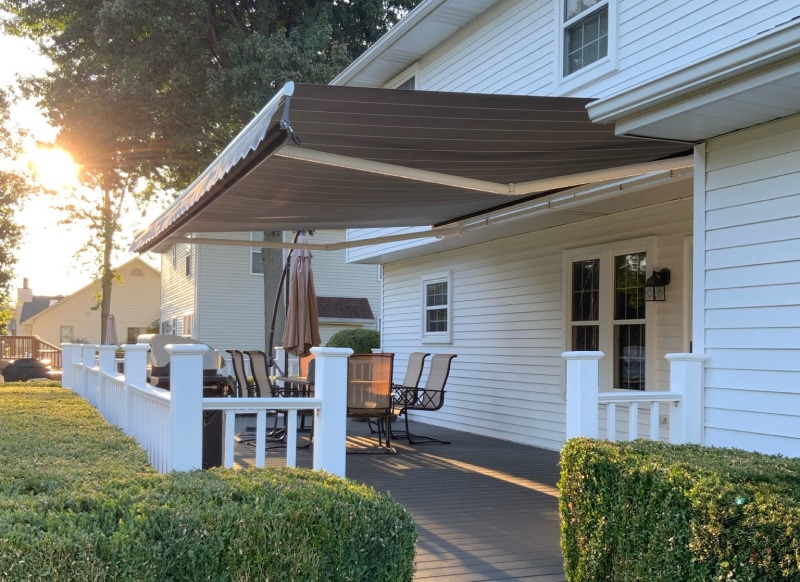 Enhance your home and leisure time with one of Marygrove's customized solutions that will leave you never wanting to go inside. Marygrove offers years of experience and will deliver the perfect addition for your home that you will absolutely love. With options from retractable awnings to louvered roofs, we quite literally have you covered.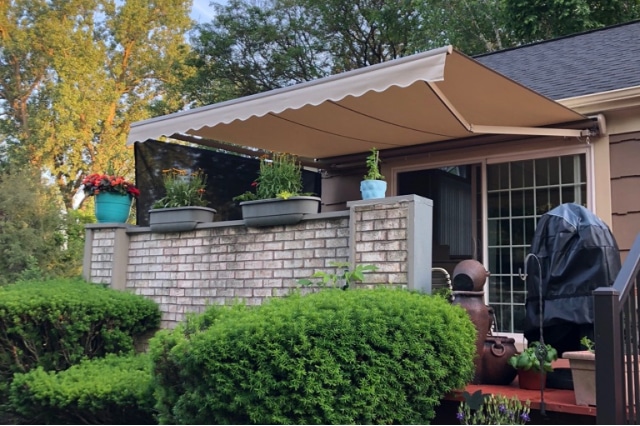 Retractable Awnings
Retractable Awnings are made for versatility. With custom styles, sizes, and accessory options, you can't go wrong with any of our awnings. Protecting you and your porch furniture from the sun, you have shade when you want it. With the touch of a button, your backyard oasis is seconds away.

With industry-leading features, our high-quality awnings are weather-resistant and will serve as a perfect addition to your home. If you live in a condo association and have specific requirements, we can also work with your HOA to make sure your awning is compliant.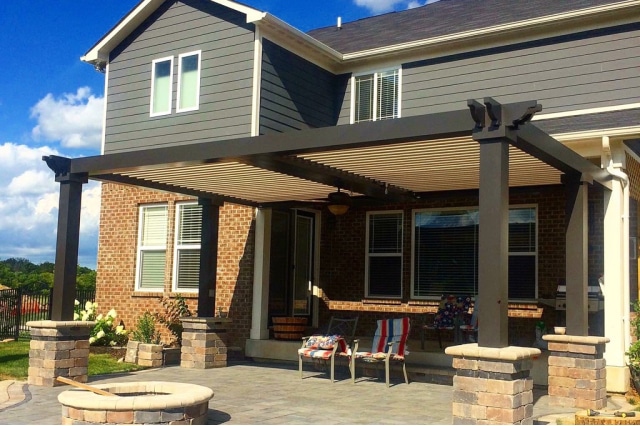 Louvered Roofs
Like an awning, custom pergolas are a great cover for porches. Offering a modern look, pergolas are a great addition to any backyard. However, pergolas do not offer any shade. Enter the louvered roof, constructed of aluminum slats that cover your pergola to provide your porch with on-demand shade or sun with the simple click of a button.
Benefits of Owning a Porch Awning
Marygrove offers a ton of awnings options. From an awning to cover your front door to retractable awnings with an electric motor, we have plenty of other options that will help cover any porch in any weather.
From curb appeal to energy efficiency, a porch awning can have many advantages. Not only can awnings provide added protection to your seating area by keeping out the sun and rain, but they can also keep your home cooler, your energy costs down, and great memories keep rolling in!
All of our new models come with LED lights equipped, allowing you the perfect ambiance at any time of day. We also offer wind sensors and poles to secure your awning in inclement weather. Additionally, you can customize our retractable awnings with solar shades to filter more of the sun's rays and give you a perfectly shaded outdoor space.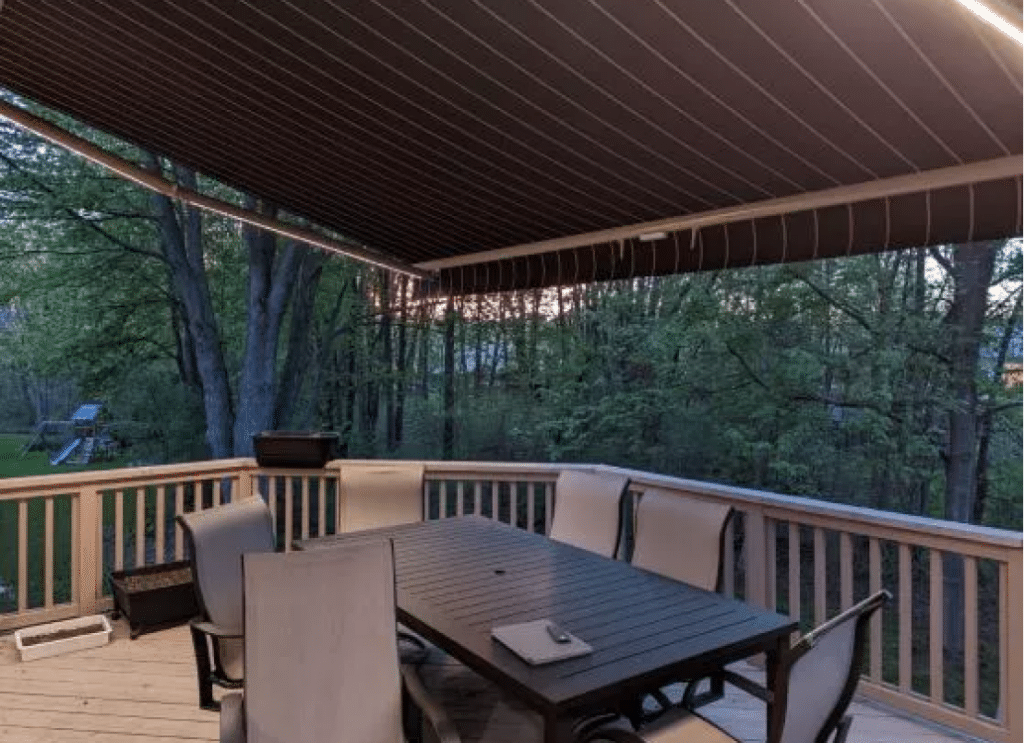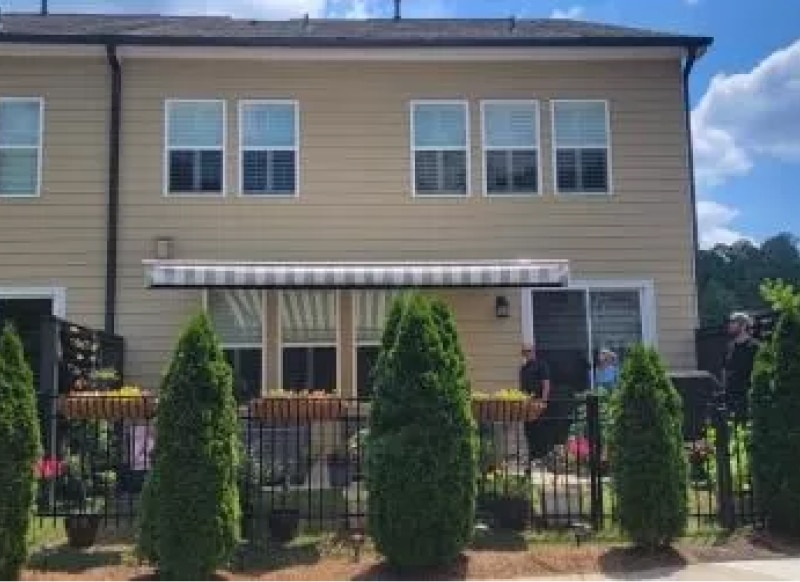 Which Awning is Right for You?  
Marygrove offers a variety of options. No shipping involved, we hand-deliver all the parts for our porch awnings and help you install them on our visit. Interested in pricing or looking for more information as you shop? Call our amazing customer service team at 1-800-442-9646 for great ideas from design to picking a product you'll love.
Looking for a commercial option to shelter your store or business from the sun and rain? We have commercial solutions, too!
Frequently Asked Questions About Porch Awnings
It is important to clean your awning approximately once a month during the spring and summer. On houses in midwestern states like Michigan and Illinois, this is as simple as a quick hose down and brushing to remove any loose dirt or debris.
To improve the life of your awning, it's recommended to perform a deep clean every two years. In addition to hosing it down and brushing away the dirt, using a brush with soft bristles, gently scrub the top and underside of your awning with a mix of cold water and mild soap. Be sure the soap is fully rinsed from your awning and that it is completely dry before you put it away.
Many people don't realize that the material of their awnings can be damaged from overexposure to the acid in vines, leaves, and shrubberies. Taller plants should not be kept near your retractable awning. If you're unable to move your plants, trim them back so they don't touch the rainproof fabric of the awning.
If you purchase a retractable awning, the awning should always be retracted when not in use to ensure its lifespan. 
Yes! This is a huge benefit of awnings, ours typically cool down the area underneath the awning by about 20 degrees. Saving on additional energy costs is also a huge benefit of our awnings. 
Absolutely! Porch awnings are great to increase the longevity of furniture on your patio from fading and from the elements. An awning can also protect furniture and rugs inside your home from fading because less of the sun's rays enter through the doors and windows! 
The best time to buy is before the weather gets extremely hot. You can however buy throughout the year, as awning manufacturers tend to offer special incentives based on the season. If you are tired of being hot outside on your porch, it's probably time to purchase a porch awning.  
No Interest if Paid in Full in 12 Months*
Everyone Deserves a Marygrove
Apply online or work with your Marygrove representative to find convenient payment options for your retractable awning, including monthly payments.
*Subject to credit approval. Apply online.
*Subject to credit approval. Interest is billed during the promotional period but all interest is waived if the purchase amount is paid in full within 12 months. GreenSky® and GreenSky Patient Solutions® are loan program names for certain consumer credit plans extended by participating lenders to borrowers for the purchase of goods and/or services from participating merchants/providers. Participating lenders are federally insured, federal and state chartered financial institutions providing credit without regard to age, race, color, religion, national origin, gender or familial status. GreenSky® and GreenSky Patient Solutions® are registered trademarks of GreenSky, LLC. GreenSky Servicing, LLC services the loans on behalf of participating lenders. NMLS #1416362. GreenSky, LLC and GreenSky Servicing, LLC are subsidiaries of Goldman Sachs Bank USA. Loans originated by Goldman Sachs are issued by Goldman Sachs Bank, USA, Salt Lake City Branch.
Your estimate is only a few steps away.  Fill out the form and we will call you promptly to set up an appointment.