What is a Retractable Screen?
Retractable screens shade the opening of windows and patios, providing a cooler environment away from the sun and adding more privacy to your home. They also serve as a transparent barrier between you and the outside. Retractable screens are a great way to protect patios, porches, decks, and more. Imagine being able to enjoy your outdoor patio without worrying about sun, wind, and pests. Our retractable screen options ensure you can enjoy your space all year long. Our screens really work!
We also offer commercial retractable screens for business use. Our motorized enclosures are just as easy to use for your business as they are for your home.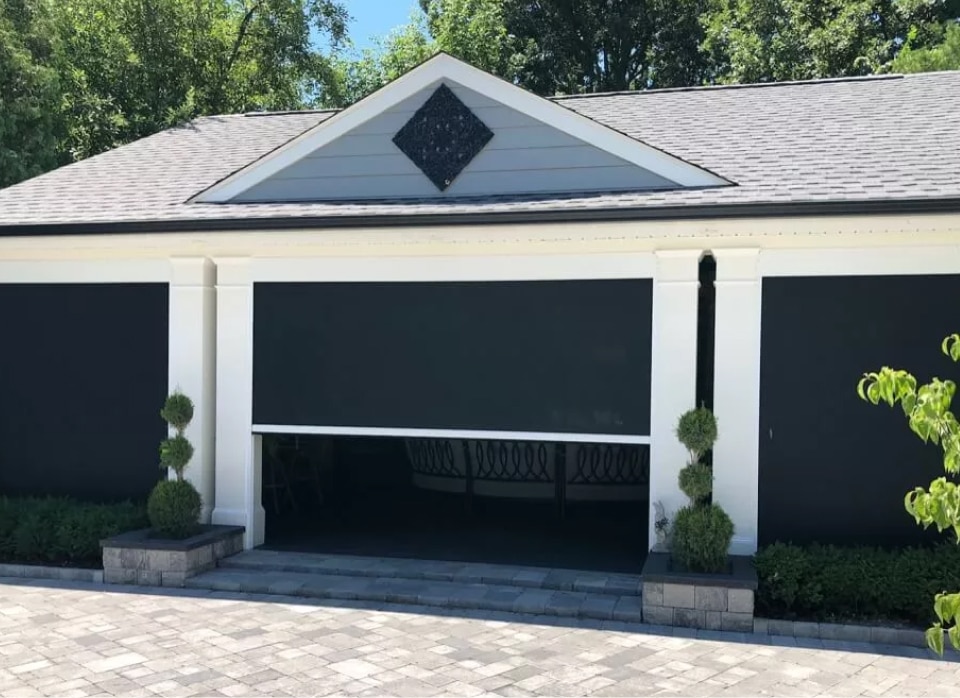 About Our Exterior Retractable Screens 
Providing you with fresh air and natural ventilation, retractable screens are a great way to get outside but still have some of the comforts and pleasures of the indoors. At Marygrove, we offer a variety of retractable screen solutions to provide shade for your windows, French doors, patios, and offer insect protection.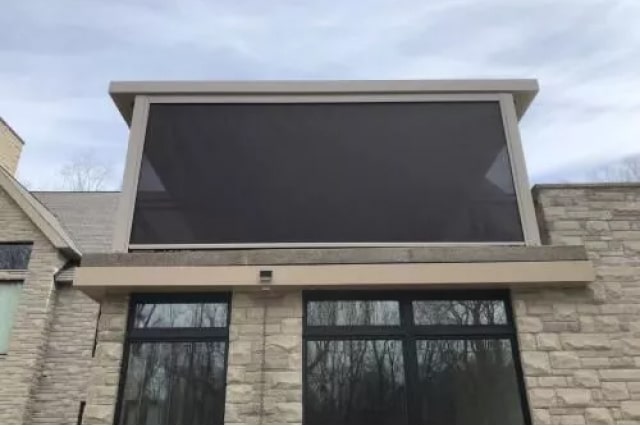 Solar screens are a great way to reduce heat and glare on your home or patio. They are motorized screens, utilizing a remote control for ease of use. With a simple click of a button, you can have motorized retractable solar screens cover your windows or your patio. With a custom fit and tighter mesh, they look great while also blicking out the sun's harmful rays.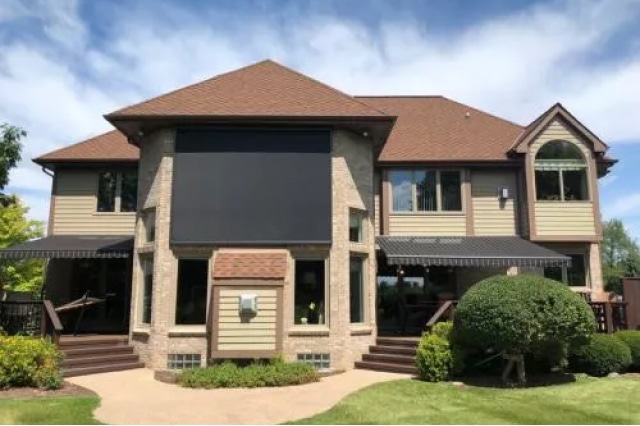 Marygrove makes window screens that block the sun's rays and can help cool down your house. Attaching directly to your window, our screens make it easy to enjoy the breeze while keeping the heat out. Install a new screen on your window and continue to appreciate the panoramic views. Unlike other window screens, ours simply roll up and are perfectly discreet and therefore are perfect for year-round use.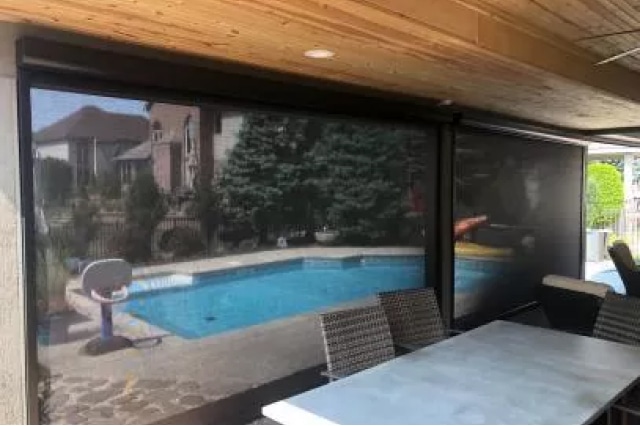 Retractable Patio Screens
Patio enclosures are a great way to spend time outdoors while providing shade with an attached screen door. Whether you are attaching the motorized retractable screen doors to pergolas, garages, or a patio, you will find that they are easy to use and provide a great outdoor environment for entertaining friends and family.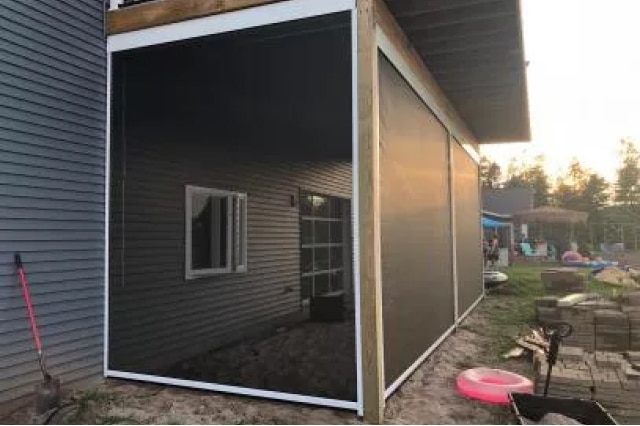 Our retractable patio screens double as insect protection. You can get outside, without the annoyance of bugs flitting around your patio. Comprised of mesh that's more open than our other screens, these speciality screens provide more ventilation and visibility while reducing up to 55% of UV rays.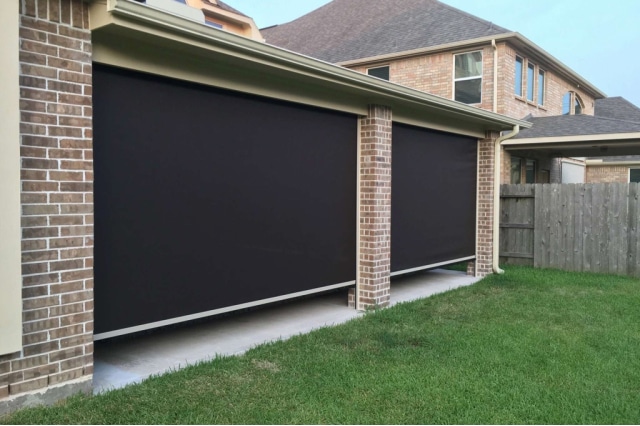 Needing to create a safe space from preying eyes of neighbors or the outside world?  Look no further than our finely-woven privacy mesh designed to block 100% of the suns rays. Available in a multitude of colors and fabrics, they can match or contrast your house as needed. These screens are perfect for blocking out unwanted intrusions on your personal space.
Schedule an In-Home Estimate
Your estimate is only a few steps away.  Fill out a form and we will call you promptly to set up an appointment.
Advantages of Retractable Screens 
How Retractable Screens Work 
Once your exterior window screens are installed, we promise there will be no confusion on how to maintain or operate your motorized porch sunscreens. Using our straightforward remote, you can easily point and click to see your shades ascend and descend on their own. As the screen goes upwards, the fiberglass fabric neatly retracts around itself leaving a seamless look no matter its position.
We have designed our remote to be accessible to everyone! No matter your age or technology savviness, we are confident that you will enjoy the ease of using a Marygrove retractable screen for sun and wind. Our expert team will ensure that you are familiar with the functions of your retractable screen prior to leaving the install and we are always more than happy to answer any questions.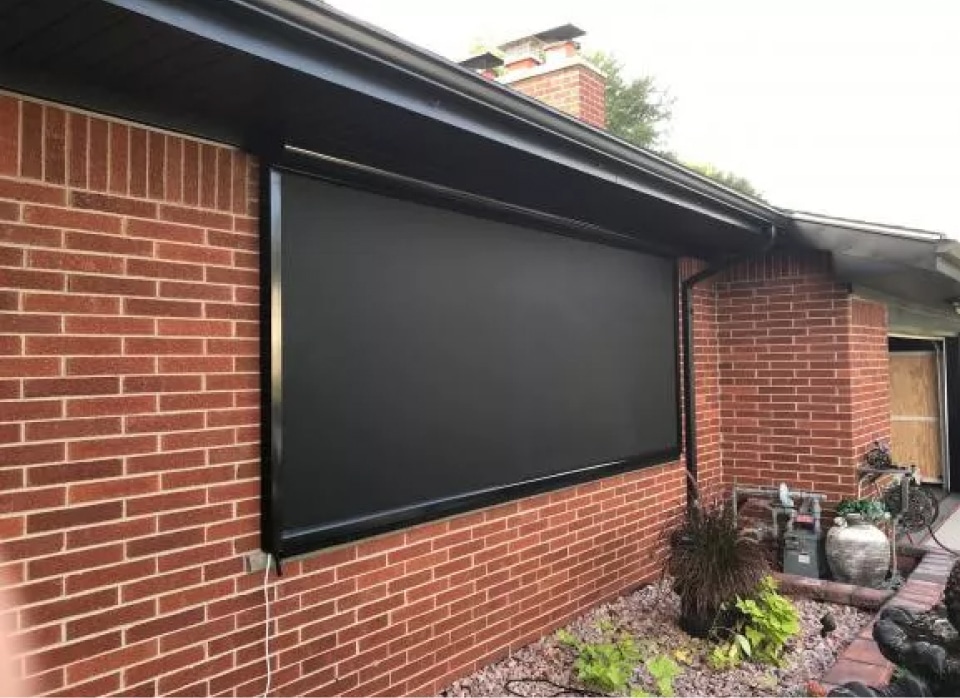 Frequently Asked Questions About Retractable Screens
Our pricing is based on the size and quantity of windows and entryways you need to have installed. To receive more information and the most accurate estimate for your home, please contact us at 1-866-806-4785 to schedule an appointment.
Our retractable screens will not have to be cleaned nearly as often as traditional screens do, simply because they won't have to endure the elements every day of every year.
Here's how to clean them: begin by brushing off the easy stuff with a microfiber towel. Then, gently run water over them with a hose to eliminate any excess dirt. Finally, mix some water with an all-purpose cleaner and lightly scrub with a sponge.
Rinse and repeat until they are really clean, and lightly dab them on a towel to let them dry. Inspect the mechanics of your retractable outdoor shades regularly to make sure there is no rust or damage. Do not use a power washer to clean the screens.
They do! Just ask our many happy customers! Our screens are great for blocking the sun. Our exterior retractable shades are an excellent way to cool down your home, patio, deck, or pool area.
After we form a plan for your home and understand the screens you want to install, Marygrove will schedule an appointment with you and come to your home to take care of the entire installation process. After installing, we will ensure that all your questions are answered and that you are fully comfortable with your new screens and how to use them.
When traditional solar screens for windows, doors, or other structures are properly installed, you can expect them to last about 10 years or more. Our retractable exterior window screens (or roll-up sun screens) are capable of lasting up to 30 years as long as they are taken care of properly and rolled up when not in use.
No Interest if Paid in Full in 12 Months*
Everyone Deserves a Marygrove
Apply online or work with your Marygrove representative to find convenient payment options for your retractable awning, including monthly payments.
*Subject to credit approval. Apply online.
*Subject to credit approval. Interest is billed during the promotional period but all interest is waived if the purchase amount is paid in full within 12 months. GreenSky® and GreenSky Patient Solutions® are loan program names for certain consumer credit plans extended by participating lenders to borrowers for the purchase of goods and/or services from participating merchants/providers. Participating lenders are federally insured, federal and state chartered financial institutions providing credit without regard to age, race, color, religion, national origin, gender or familial status. GreenSky® and GreenSky Patient Solutions® are registered trademarks of GreenSky, LLC. GreenSky Servicing, LLC services the loans on behalf of participating lenders. NMLS #1416362. GreenSky, LLC and GreenSky Servicing, LLC are subsidiaries of Goldman Sachs Bank USA. Loans originated by Goldman Sachs are issued by Goldman Sachs Bank, USA, Salt Lake City Branch.
Your estimate is only a few steps away.  Fill out the form and we will call you promptly to set up an appointment.