Awning Options for
Golf Courses
Give your members and guests the ultimate experience with a custom awning for your golf course or country club. With many styles and types of awnings to choose from, Marygrove will help you find the perfect fit to enhance your amenities and protect your customers. 
As a leader among awning companies for more than 90 years, Marygrove Awnings is dedicated to providing high-grade awnings for commercial businesses. Our experienced team of awning experts is at your service to create a golf course awning that will precisely fit your needs. 
Ready to discover the many awning options for golf courses? Let's dive in!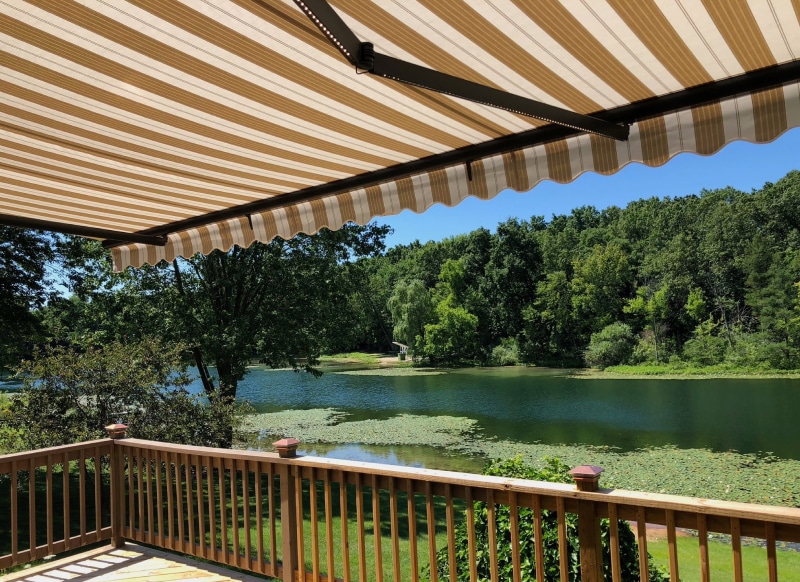 Golf Course Awnings Can Serve Many Purposes
Country club awnings open a world of possibilities for your golf club. From their ability to increase outdoor seating to the sun protection and rain protection they offer for golfers during scorching-hot days and light rainfall, awnings have many benefits for country clubs. 
Our commercial awnings come in a range of designs, from retractable awnings to louvered roof systems. Whichever awning design you choose, it will be an investment quickly returned. 
Below, let's explore the many uses of golf course awnings.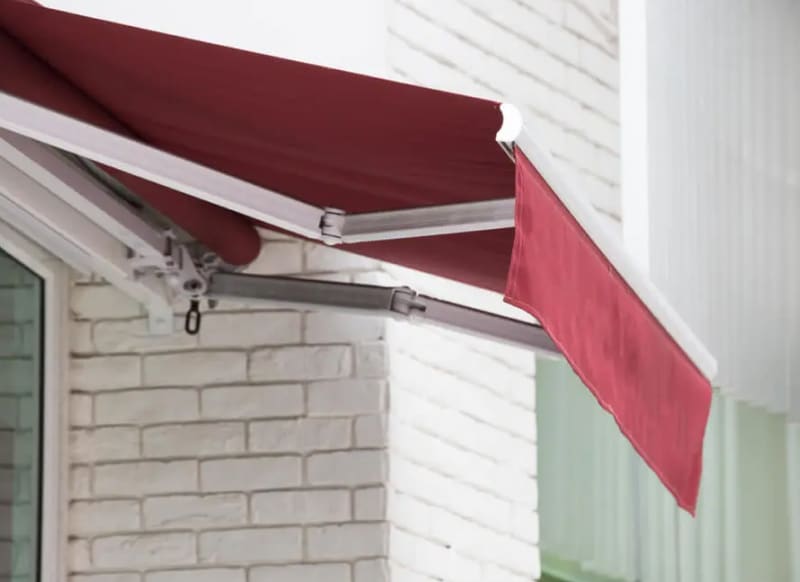 Golf Course Entrance Awnings
Start creating a memorable experience for your customers the moment they walk in the door. With a golf course entrance awning, you will elevate the appearance of your clubhouse and leave guests with a lasting impression.

Another added perk is eliminating slippery floors and dangerous conditions whenever the weather takes a turn for the worse. With a golf course entrance awning, you no longer have to worry about the entrance of your building getting wet. In addition to preventing umbrella rainwater from dripping, golf course awnings also shelter customers from the weather upon entering the building.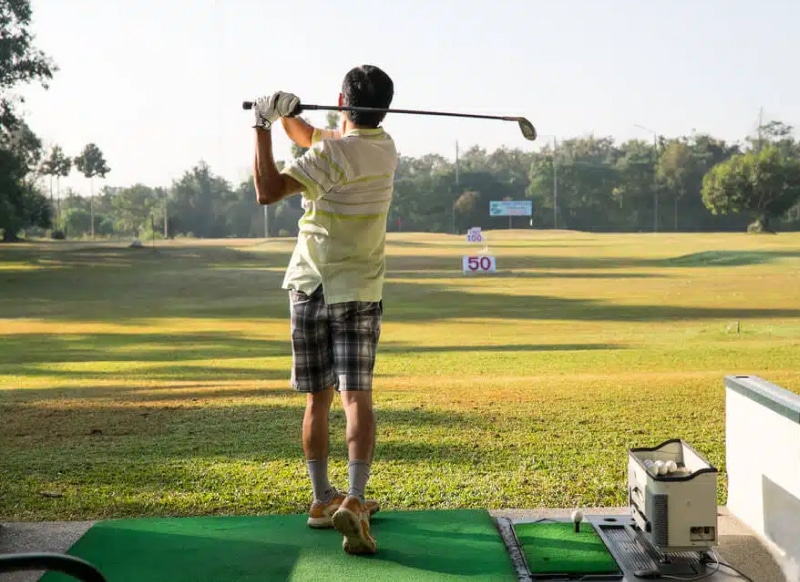 Driving Range Awnings
Keep your club's golfers sheltered during misting and light rainfall with a driving range awning. There are many benefits to installing driving range awnings. In addition to protecting golfers during inclement weather, driving range awnings will attract more customers to your business on rainy days and keep your revenue stream more consistent throughout the year.

Marygrove's driving range awnings come in a plethora of structures and designs. Whether you're interested in a small shelter or a large structure, the design options are practically limitless for your golf course.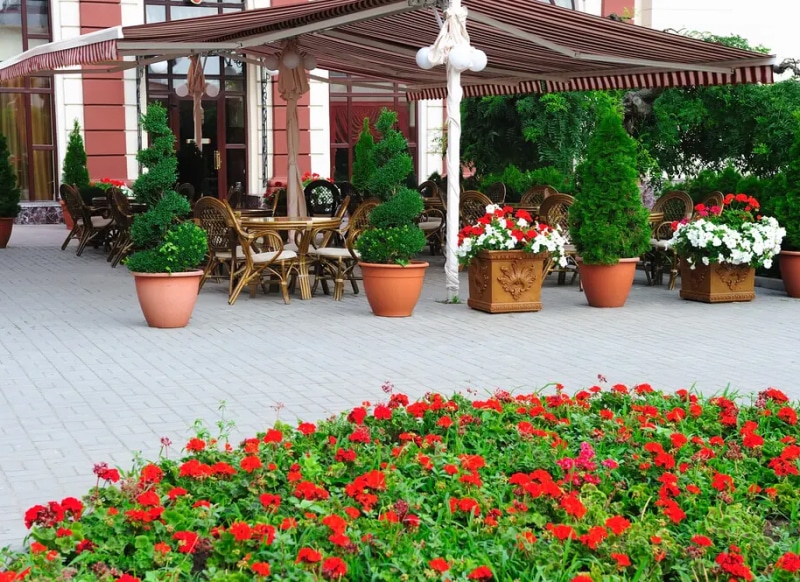 Want to expand the outdoor seating capacity of your business? A country club awning is the perfect option for you. Country club awnings provide covered seating for customers, allowing room for more tables and chairs. As a result, your business can generate more income.

Another benefit of country club canopies is their ability to boost the curb appeal of your business. In addition to improving your visibility, outdoor seating attracts customers who desire fresh air as they sit and dine.

Marygrove's outdoor seating awnings are compatible with our rolling screens. Also called window shades, country club rolling screens are multifunctional and can be used year-round. Built with PVC-coated fiberglass properties, country club rolling screens are easy to see through and offer exceptional ventilation.

Window shades have many advantages for businesses. Country club window shades extend the outdoor seating season of businesses and create a more intimate setting without sacrificing comfort for customers. Additionally, country club solar screens provide excellent ventilation while still protecting guests from harmful UV rays.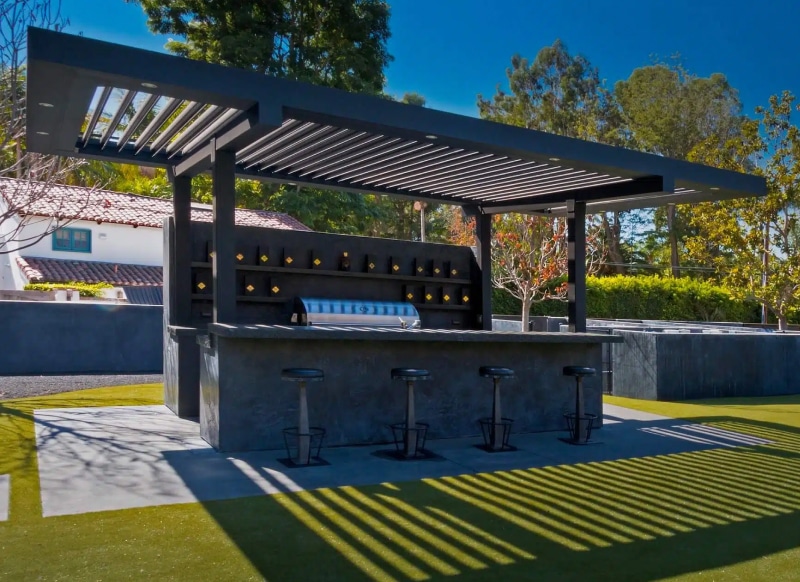 A louvered roof system offers many possibilities for country clubs and creates an unforgettable aesthetic for customers. Also known as retractable pergolas, country club louvered roofs are extremely adaptable to the weather. Built with a battery-powered system, louvered roofs feature movable louvers and slats that rotate 180 degrees. With just the push of a button, these slats can be adjusted to protect your customers from either the sun's rays or a sudden thunderstorm.

In addition to providing the ultimate comfort at all times, a country club louvered roof system also increases the visibility of your business. As a result, your country club may generate more revenue. Furthermore, country club louvered roof systems provide extra seating room for your golf clubhouse.

A country club louvered roof system will make a wonderful addition to your golf course and is an investment quickly returned. Contact us to learn more about our louvered roof system options for country clubs.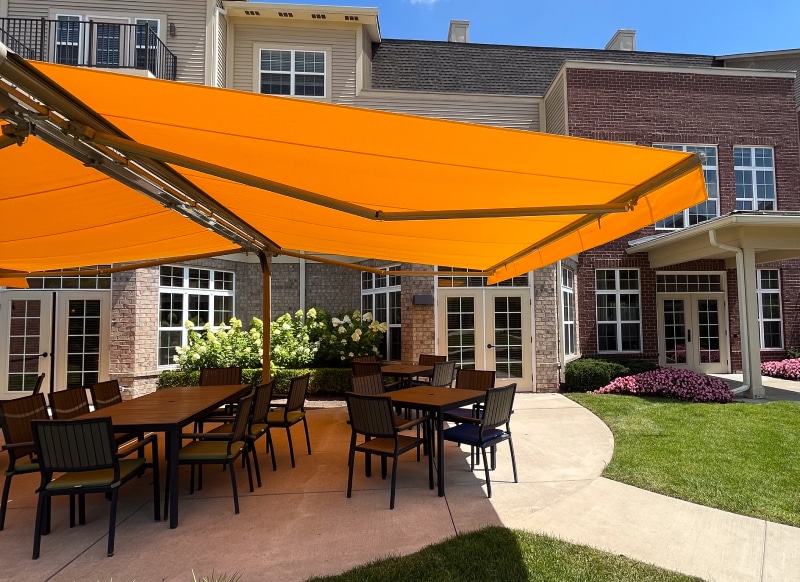 Custom Awning Options for Golf Courses and Country Clubs
Looking for custom awning options for golf courses? Marygrove Awnings is your ultimate source for high-quality golf course custom awnings. We will diligently work with you to create an awning and setting that you and your customers will absolutely love. 
Marygrove Awnings' team of experts and professionals are at your service to craft an awning of practically any size or color. We provide a variety of custom awning options for country clubs, including a large selection of fabrics, patterns, sizes and styles to choose from. 
Our country club custom awnings are built with the highest-quality materials and will certainly fit the needs of your business. Whether you're interested in a custom retractable awning or a custom outdoor seating awning, Marygrove Awnings has you covered from the initial conversation to installation and beyond. 
Not only will your customers be grateful for a golf course awning, but your business can generate more income. In short, a country club awning is a quick return on investment. 
Are you ready to have Marygrove Awnings build and install a country club awning for you? Contact us today to begin the short and easy process of designing the awning of your dreams! 
No Interest if Paid in Full in 12 Months*
Everyone Deserves a Marygrove
Apply online or work with your Marygrove representative to find convenient payment options for your retractable awning, including monthly payments.
*Subject to credit approval. Apply online.
*Subject to credit approval. Interest is billed during the promotional period but all interest is waived if the purchase amount is paid in full within 12 months. GreenSky® and GreenSky Patient Solutions® are loan program names for certain consumer credit plans extended by participating lenders to borrowers for the purchase of goods and/or services from participating merchants/providers. Participating lenders are federally insured, federal and state chartered financial institutions providing credit without regard to age, race, color, religion, national origin, gender or familial status. GreenSky® and GreenSky Patient Solutions® are registered trademarks of GreenSky, LLC. GreenSky Servicing, LLC services the loans on behalf of participating lenders. NMLS #1416362. GreenSky, LLC and GreenSky Servicing, LLC are subsidiaries of Goldman Sachs Bank USA. Loans originated by Goldman Sachs are issued by Goldman Sachs Bank, USA, Salt Lake City Branch.
Your estimate is only a few steps away.  Fill out the form and we will call you promptly to set up an appointment.