Commercial Louvered
Roof Systems
Turn Your Business into the Place to Be
Louvered roofs open a world of possibilities for your outdoor seating area. A series of horizontal slats (louvers) angled in a way to admit air and light while keeping out rain, the concept of louvered systems has been around for ages. With a Marygrove, your outdoor space will become a main attraction for your customers and employees.
It encompasses everything from the classic window shutters to modernized motor-operated louvered roof systems. Whether you run a restaurant or are looking for a patio cover for your home, an Arcadia Louvered Roof System can revolutionize how you use your outdoor space.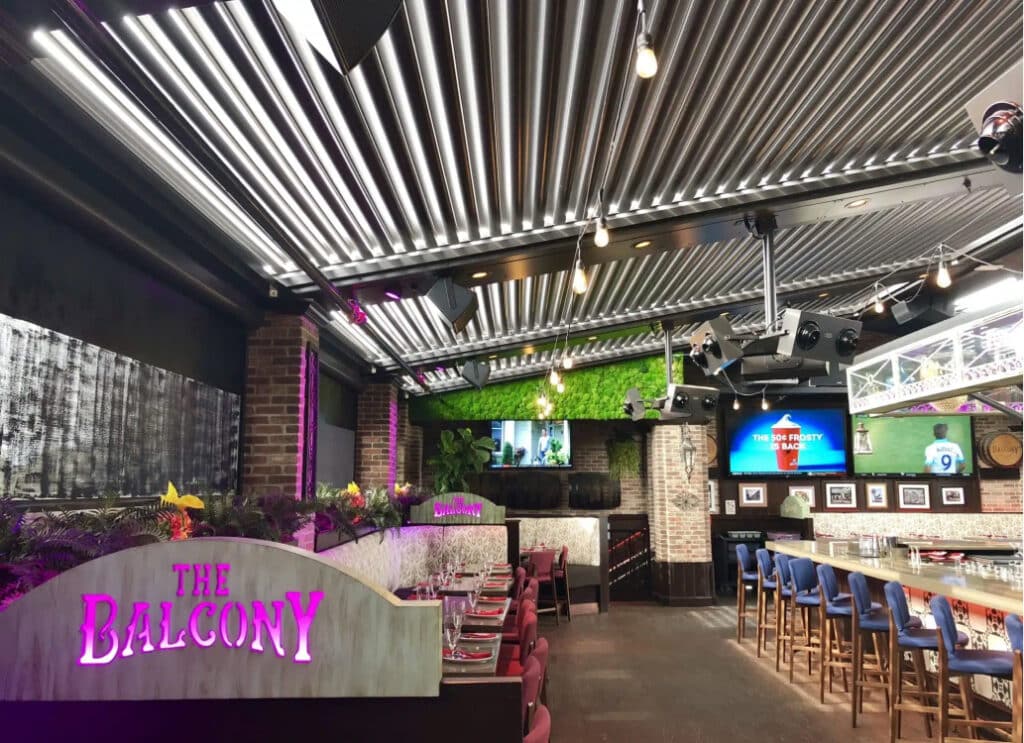 Adding patio covers can increase your establishment's visibility and make it draw in more passersby. Louvered roof system makes it easy to create a climate- and light-controlled environment that will please any guest. Adding a Marygrove is the perfect way to create an outdoor space for your customers to relax in. 
Investment Quickly Returned
Louvered roof seating is a smart decision for many businesses and usually provides a quick return on investment. Not only are you adding a new revenue area, but customers will flock to your new, sleek outdoor seating area. And the louvered roof system is just the start – transform your patio into the perfect hangout with LED lights, decorations, and music.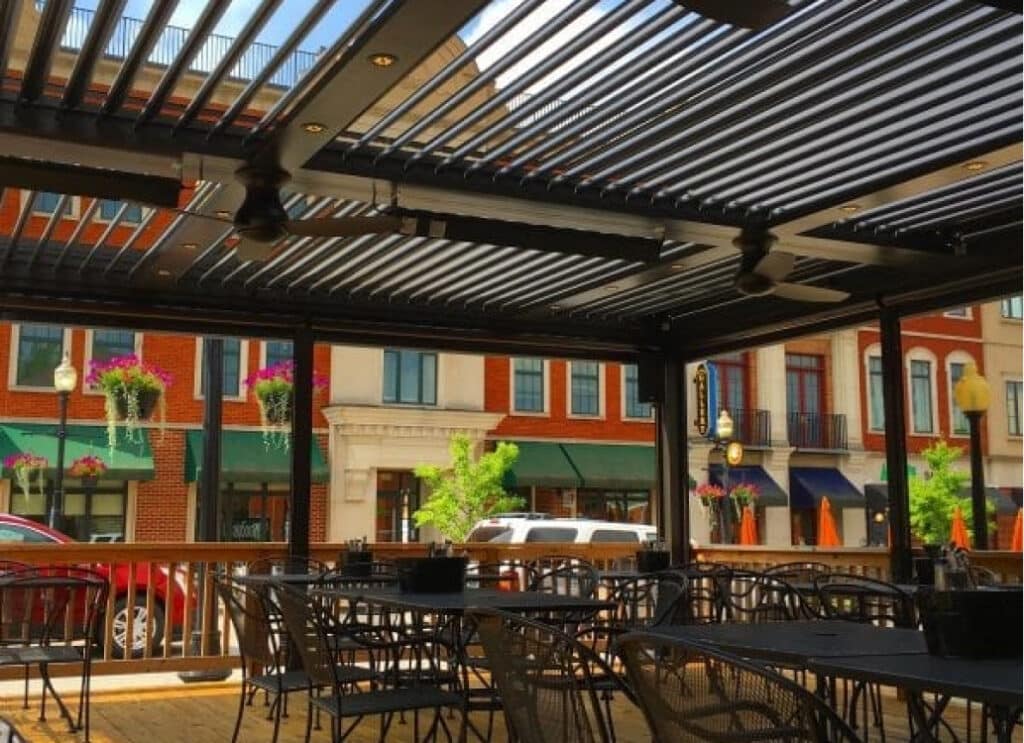 Frequently Asked Questions
At Marygrove Awnings©, we've found that customers near the Detroit and Chicago areas prefer having their louvered roof systems installed in the spring, so they're ready to use throughout summer and fall. 
Ready to get started? Book your free estimate with one of our pros now! 
It's highly recommended that you follow the instructions from the installation expert about cleaning your louvered roof system. Have a louvered roof without cleaning instructions? Here's some advice: 
Google the different cleaning solutions you can use for the materials of your system. They may differ based on whether you have an aluminum or a wood louvered roof.
Rinse the panels of your louvered roof before you begin scrubbing.
Use a long-handled brush to avoid balancing on a tall ladder.
Be sure to wash all slats individually, getting both the top and bottom side of each.
Rinse all soap thoroughly, directing the water away from the house. 
Prices may differ between manufacturers and dealers. Of course, you want the best price for a high-quality roof system, so it's important to do your research. Avoid home improvement stores like Lowe's and The Home Depot because DIY louvered roof kits can lead to hospital trips. If a system isn't properly installed, roof brackets could come loose, causing damage not only to the structure but to you and your loved ones, as well. 
When researching louvered roof systems, it's important not only to look at the pricing but warranty comparisons, as well. Make sure you know every little detail that each warranty covers. 
And don't forget about the reviews! Complaints should never be taken lightly. Read each review carefully. Cheap quality louvered roofs often require additional maintenance. If you don't want to constantly repair loose louvers or broken parts, invest in a reputable brand with professionally crafted products.
Check out the raving reviews of Marygrove Awnings© products. 
Awesome Commercial Louvered Roof Systems Built by Marygrove
No Interest if Paid in Full in 12 Months*
Everyone Deserves a Marygrove
Apply online or work with your Marygrove representative to find convenient payment options for your retractable awning, including monthly payments.
*Subject to credit approval. Apply online.
*Subject to credit approval. Interest is billed during the promotional period but all interest is waived if the purchase amount is paid in full within 12 months. GreenSky® and GreenSky Patient Solutions® are loan program names for certain consumer credit plans extended by participating lenders to borrowers for the purchase of goods and/or services from participating merchants/providers. Participating lenders are federally insured, federal and state chartered financial institutions providing credit without regard to age, race, color, religion, national origin, gender or familial status. GreenSky® and GreenSky Patient Solutions® are registered trademarks of GreenSky, LLC. GreenSky Servicing, LLC services the loans on behalf of participating lenders. NMLS #1416362. GreenSky, LLC and GreenSky Servicing, LLC are subsidiaries of Goldman Sachs Bank USA. Loans originated by Goldman Sachs are issued by Goldman Sachs Bank, USA, Salt Lake City Branch.
Your estimate is only a few steps away.  Fill out the form and we will call you promptly to set up an appointment.