Retractable Awnings
for Businesses
Commercial Retractable Awnings by Marygrove
Looking to protect your customers or provide your hardworking employees with a much-needed break? Look no further than Marygrove's impressive selection of retractable awnings, designed to meet your specific needs and elevate your business to new heights.
At Marygrove, we take pride in offering unparalleled services for commercial retractable awnings. Our team of experienced installers guarantees swift delivery and flawless installation, ensuring that your business not only looks stylish but also receives the professional treatment it deserves.
With Marygrove, it's always the right time to enhance your business. As a leading manufacturer of top-quality commercial retractable awnings, we bring style to your business and patio all year round. Whether you prefer our standard-size options or require a custom solution, we've got you covered. Simply call Marygrove today to schedule a site visit, and we'll handle the rest – from supply to delivery and installation. It's as easy as that!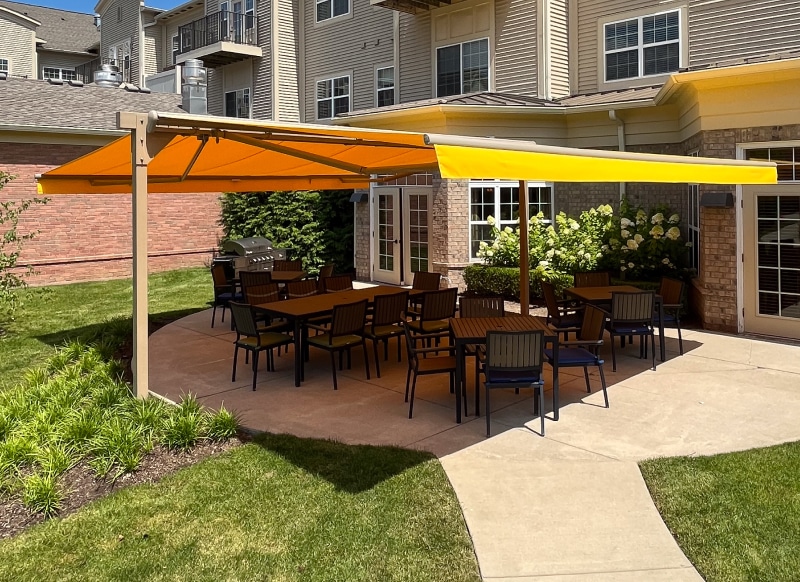 Frequently Asked Questions
Placement is key for getting the most use out of an awning. When looking to install an awning at your business, it's important to consider not only location but awning size and how you plan on using your awning as well.
Installing an awning over your storefront offers additional shade for customers and provides a great beacon to highlight your business. If you operate a business that has customers congregating on an outdoor patio, a retractable awning is perfect to provide them with the ideal environment no matter the weather.
When installed and extended over windows and doors, the shade from a retractable awning can also help lower the cost of cooling your business during warmer months. The cover of a retractable awning also helps prevent light rain showers from blowing into your business through window screens and screen doors.
Retractable awnings are made in different sizes to accommodate various areas and needs. How you plan to use your awning and the size of the area are the two main factors to consider when choosing what size retractable awning is best for your business.
Our expert installers will work with you to come up with the best custom solution that fits your company's needs.
After installation is complete, a new retractable awning is easy to operate. If you have a mechanical retractable awning attached to your business, rolling out the collapsible arms is as simple as pushing a button until the canopy covers your outdoor area.
Manual retractable awnings are less common nowadays. They are more complicated and require more muscle to crank open, making the metal arms tougher to unfold and fold back into the protective hood of the awning. This increases the likelihood of failure especially when operated by undertrained employees. The new trend is owning a power-operated, motorized awning that opens with a click of the button.
Benefits of Installing a Retractable Awning for Your Business
Retractable Awnings Can Improve Visibility
A commercial awning can help your business stick out and become more visible to the public. A Marygrove awning will also make your store become more eye-catching for would-be customers. If you have a known store color or perhaps if you have multiple store locations, people will be able to immediately pick out your brand by the color and type of awning you have.
A Retractable Awning Can Increase Your Usable Space
Restaurants have been using commercial awnings for many years. A commercial awning at a restaurant provides shade and increases the outdoor space where customers can dine. There are always people who want to eat outside in the fresh air and a Marygrove commercial awning will help keep people comfortable on your patio and out of the elements. In addition to restaurants, an awning can also be used for just about any type of store.
A clothing store could display products outside its building without having to bring them all in if rain were to come down. A commercial awning is great to have for sidewalk sales, too. An awning allows customers to shop longer without being baked by the hot summer sun. A commercial awning provides protection for products and customers while increasing your usable space.
A Retractable Awning Can Protect Indoor Products, Too
The sun's powerful UV rays can have a harmful effect on products kept in store windows. That is true unless you have a commercial awning to keep the sunlight from directly beaming in. A storefront commercial awning could save you money in the long run by protecting your valuable merchandise.
Not only is merchandise affected by the sun but furniture, walls, and flooring can also take an irreversible beating. A commercial awning also can also keep snow and rainwater from being tracked into your store.
A Business With a Commercial Awning Looks Attractive
People like businesses to look professional, clean, and attractive. All three of these components can be achieved by adding a commercial awning to your business.
An Awning Can Cool Off Customers Outside and In
Retractable awnings create the perfect environment for your customers to enjoy the fresh air. With a Marygrove, you can keep your customers up to 15 degrees cooler, all while lowering your energy bills.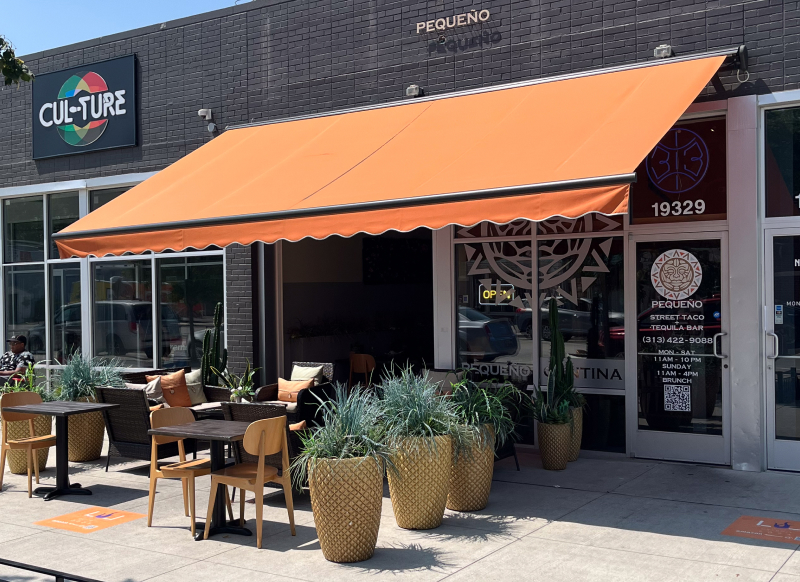 How to Care for Your Retractable Awning
Performing proper maintenance and cleaning your retractable awning are essential for preserving the longevity of even the best awnings on the market.
Caring for your own patio or deck awning starts with knowing how it operates. Motorized retractable awnings can be controlled just by holding down a button. You can avoid sagging by fully extending the awning over your porch or patio whenever possible to prevent sagging.
Avoid keeping your awning open in bad weather conditions. Extendable awnings should never be exposed to snow, harsh rain, or wind blowing at least 20 mph. Weight applied by snow can cause the heavy duty fabric to sag. In some cases, too much weight may cause the arms to bend, preventing your awning from properly retracting when you finally put it away.
Marygrove offers wind sensors to put on your retractable awning. These sensors detect when the wind is getting too strong and automatically retract your awning.
Overexposure to the elements also reduces the longevity of the fabric and can damage the electric motor. To maintain a long-lasting awning, be sure to always slide back the awning before bad weather hits.
If rolled up when wet, mold and mildew may grow on the canopy fabric. Mold can stain and damage the material of the awning, so always be sure your awning is dry before you store it back in its casing.
However, Marygrove's fully enclosed casing allows you to keep your awning safe from weather and extreme conditions.
If you need replacement parts, be sure to contact the manufacturer as soon as possible so you have very little downtime.
Rest assured that your Marygrove awning is built to last.
All of our products are conceived and designed with strict adherence to the highest standards of quality, and we are proud to state that many of our innovations in awning design have set the pace for the rest of the industry. We manufacture everything in-house — from engineering and design to metalwork and fabrication, to cutting and sewing and printing. All Marygrove products also come with a 10-year warranty to ensure your business is safeguarded against any issues that could arise.
Not only should you retract your awning when it is not being used, it is also important to clean your awning approximately once a month during the spring and summer. On houses in midwestern states like Michigan and Illinois, this is as simple as a quick hose down and brushing to remove any loose dirt or debris. Don't forget to let the awning air dry before retracting it back into its aluminum cassette housing.
To improve the life of your retractable awning, it's recommended to perform a deep clean every two years. In addition to hosing it down and brushing away the dirt, using a brush with soft bristles, gently scrub the top and underside of your awning with a mix of cold water and mild soap. Be sure the soap is fully rinsed from your awning and that it is completely dry before you put it away.
Many people don't realize that the material of their awnings can be damaged from overexposure to the acid in vines, leaves, and shrubberies. Taller plants should not be kept near your retractable awning. If you're unable to move your plants, trim them back so they don't touch the rainproof fabric of the awning.
No Interest if Paid in Full in 12 Months*
Everyone Deserves a Marygrove
Apply online or work with your Marygrove representative to find convenient payment options for your retractable awning, including monthly payments.
*Subject to credit approval. Apply online.
*Subject to credit approval. Interest is billed during the promotional period but all interest is waived if the purchase amount is paid in full within 12 months. GreenSky® and GreenSky Patient Solutions® are loan program names for certain consumer credit plans extended by participating lenders to borrowers for the purchase of goods and/or services from participating merchants/providers. Participating lenders are federally insured, federal and state chartered financial institutions providing credit without regard to age, race, color, religion, national origin, gender or familial status. GreenSky® and GreenSky Patient Solutions® are registered trademarks of GreenSky, LLC. GreenSky Servicing, LLC services the loans on behalf of participating lenders. NMLS #1416362. GreenSky, LLC and GreenSky Servicing, LLC are subsidiaries of Goldman Sachs Bank USA. Loans originated by Goldman Sachs are issued by Goldman Sachs Bank, USA, Salt Lake City Branch.
Your estimate is only a few steps away.  Fill out the form and we will call you promptly to set up an appointment.