Are you considering installing an awning at your home or businesses in Ohio? Choosing the perfect awning for your home or facility requires deep consideration, as awnings range in a variety of patterns and designs. Among the many considerations to ponder is the idea of what color will best match your building's color scheme.
If you've been searching for awnings in Ohio, Marygrove Awnings is here to help. As the premier awning company for over 90+ years, Marygrove offers a plethora of awning styles for both residential homeowners and commercial businesses. Our large selection of awning colors in Ohio allows you to find an awning that perfectly suits your building's aesthetics.
Ready to discover Marygrove Awnings' awning color options in Ohio? Below, we've put together a list of our many color selections for residential and commercial buildings. Let's dive in!
Marygrove Awnings Fabric Options in Ohio
As you search for awnings, it's important to realize that finding the perfect awning design goes beyond selecting the ideal color for your building. While finding an appropriate awning color is important, it's even more necessary to select an awning that's structure is solid and long-lasting.
At Marygrove Awnings, we take pride in the quality of our residential and commercial awnings' fabrics. Crafted with solution-dyed acrylic and solution-dyed polyester, our awnings are both UV-resistant and fade-resistant. Because our awnings are designed with such durable fabrics, you won't have to worry about unsightly fade marks appearing on awning.
Marygrove Awnings Color Options in Ohio
In addition to being crafted with long-lasting, high-quality fabrics, Marygrove Awnings' awning designs are available in an array of color options. Whether you're leaning towards a retractable awning or you're interested in a fixed awning, Marygrove Awnings' color options are guaranteed to suit the needs of every residential and commercial building.
Are you ready to select the perfect awning color for your home? Below, we'll explore the many awning color options Marygrove Awnings offers for homes and businesses in Ohio.
If you want to spruce up your building's curb appeal with vivid tones of red and brown combined, the Cafe Burgundy is a fabric color that will likely catch your attention. Crafted with deep tones of red, Marygrove Awnings' Cafe Burgundy is an ideal color for buildings in Ohio with warm color schemes. Its bold design helps commercial buildings stand out, while its rich beauty works to improve the exterior appearance of residential homes.
Cafe Burgundy's frames are available in three color options: White, Beige and Bronze. These frame color options allow you to further match the awning with your building's facade.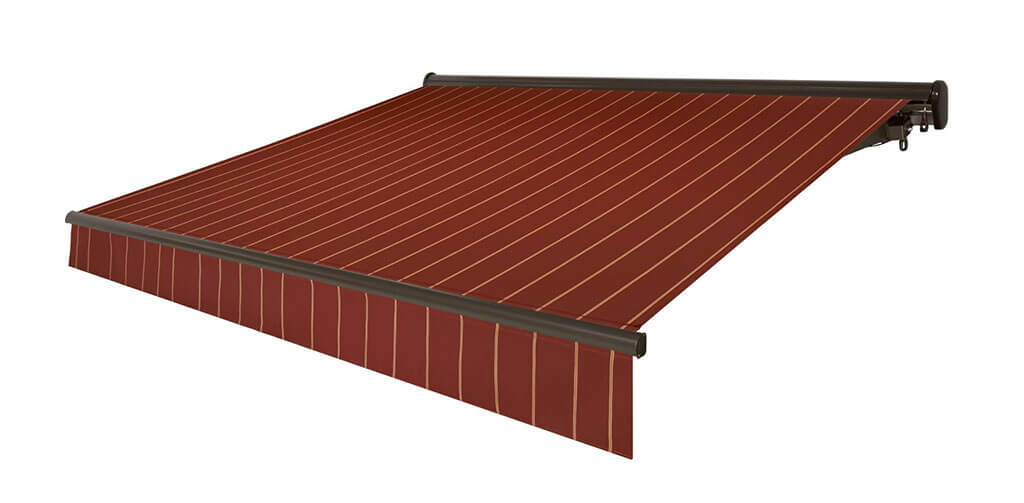 If you're leaning towards a modern awning color for your home or establishment in Ohio, you can't go wrong with Marygrove Awnings' Khaki Beige color option. Featuring alternating stripes of khaki and beige, this awning fabric creates a warm and inviting appearance to your backyard or business' exterior.
Available in white, beige and bronze frames, the Khaki Beige is ideal for homes of practically any color scheme. Its solid appearance improves your home's curb appeal while creating a pleasant environment for friends and family to gather together.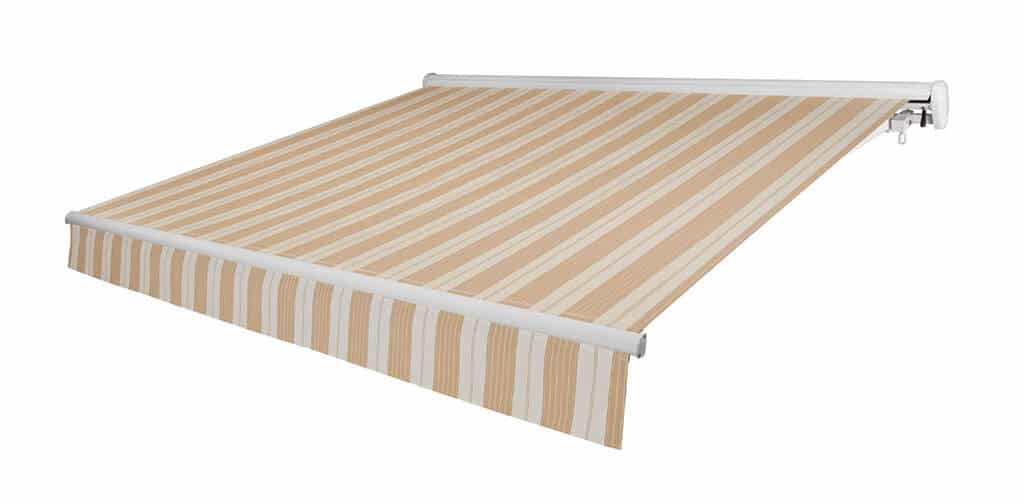 Homeowners searching for a traditional awning design will appreciate the classic pattern of Marygrove Awnings' Natural Cabernet. Combining deep red tones with bands of beige, the Natural Cabernet is ideal for homes seeking a warm awning fabric.
The Natural Cabernet is a lovely addition to not only residential homes but commercial businesses as well. Featuring classical stripes, this fabric option boosts the appearance of several types of businesses, including restaurants, hair salons, pizza shops, and stores.
Designed with hues of red and brown with deep tones of beige, Desert Sand is once again a classic fabric for residential homes and commercial businesses. Its warm, inviting appearance allows this awning color to coordinate well with other color schemes.
Available with white, beige or bronze frames, Marygrove Awnings' Desert Sand color option is an ideal fabric for homeowners and businesses.
While patterns and designs add a decorative appearance to homes and facilities, there is nothing quite like the rich beauty of a solid-colored awning. Marygrove Awnings' Linen fabric features a deep beige color to add warmth to your building's exterior.
Whether you're seeking a residential awning or commercial awning, the Linen color option provides a unique appearance to improve curb appeal for your building in Ohio.
Consider sprucing your building's aesthetics with the rich beauty of Atlantic Glacier fabric. Featuring stripes of Atlantic blue and white, Atlantic Glacier makes a fantastic color for homes with modern exteriors.In addition to sprucing up residential homes, the Atlantic Glacier fabric makes a wonderful addition to commercial businesses. Whether you own a café or a restaurant, the Marygrove Awnings' Atlantic Glacier fabric is guaranteed to be greatly valued by your business.
Make a bold statement at your establishment or home with the addition of a Marygrove Awning crafted with Cafe Black fabric. This fabric color offers a deep black color with a rich shade of tan. Cafe Black's rich color makes a lovely addition to residential and commercial buildings alike.
Harbor Gray is the perfect color option for homes seeking a modern awning color. Its combination of gray with beige creates a contemporary style for a fresh appearance. Harbor Gray is available with frames in the following colors: White, Beige and Bronze.
Whether you own a commercial facility, or you're seeking a residential awning for your home, Harbor Gray may just be the perfect color option for you.
Homeowners and business owners seeking a modern awning design will value the simplicity of Marygrove Awnings' fabric color Cafe Gray. This awning color is perfect for luring customers into business facilities, as well as creating a comfortable atmosphere for residential backyards. Its frame is available in the colors White, Beige and Bronze.
Whether you're searching for residential or commercial awning, Marygrove Awnings is your source for high-quality awnings made with durable fabrics. In addition to offering a large assortment of awning colors, Marygrove Awnings provides custom awning options. Our team of professionals and experts are willing to work with you to create an awning that perfectly suits your home in Ohio.
Ready to order the awning color of your dreams? Contact Marygrove Awnings today for an awning design you'll forever love!