At Marygrove, we specialize in providing solar screens that offer shade and privacy for commercial businesses. Our solar screens are designed to create a cooler and more enjoyable environment while protecting you and your customers from harmful UV rays and insects. They serve as a transparent barrier, allowing you to enjoy the fresh air while maintaining privacy. Discover how our commercial solar screens can benefit your business and help you save on energy costs.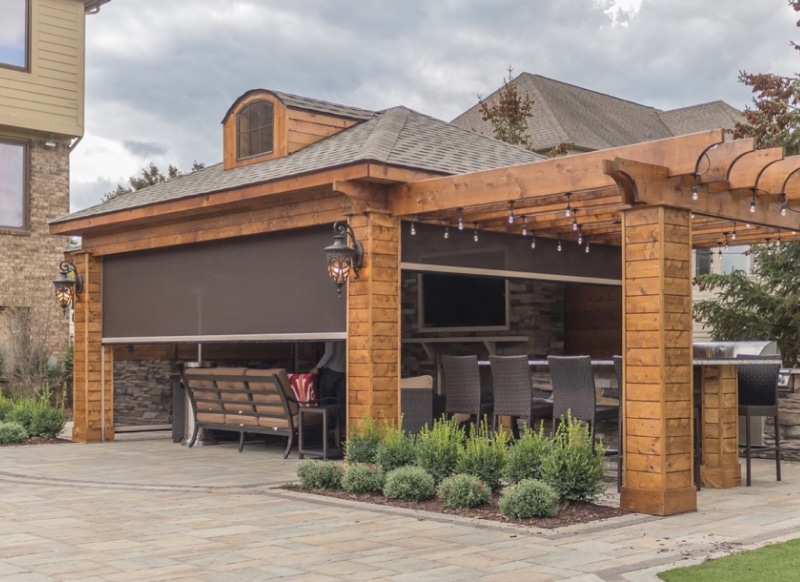 Advantages of Solar Screens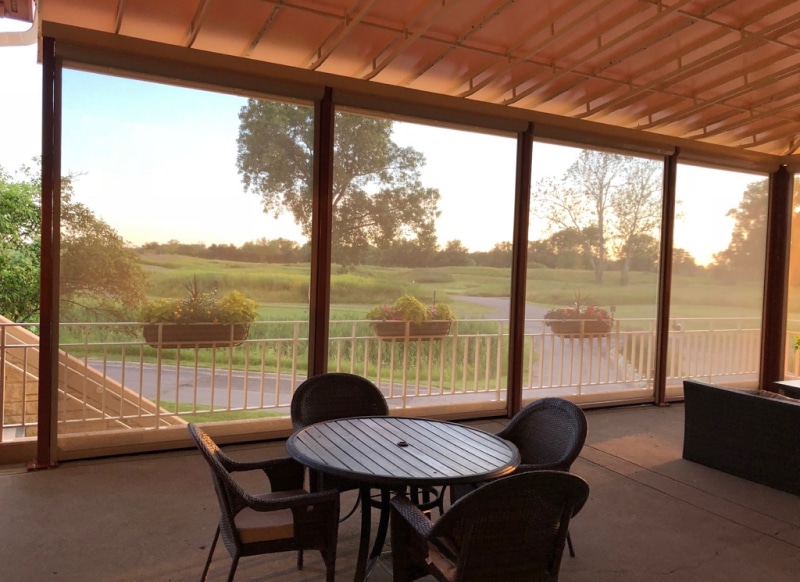 Investing in commercial solar screens from Marygrove provides numerous benefits, including customizable solutions, unobstructed views, easy operation, bug protection, and environmental advantages. Experience the comfort, privacy, and energy savings these screens offer. Contact us at 1-800-442-9646 or book an appointment now to explore how our solar screens can enhance your commercial business. 
Frequently Asked Questions
Pricing is based on the size and quantity of windows and entryways requiring installation. Contact us at 1-866-806-4785 to schedule an appointment and receive a customized estimate for your business.
Our retractable solar screens require less frequent cleaning compared to traditional screens. Use a microfiber towel to brush off debris, then gently rinse the screens with water. If needed, mix water with an all-purpose cleaner and lightly scrub with a sponge. Avoid using a power washer. Regularly inspect the mechanics for any signs of rust or damage. 
Absolutely! Our screens effectively block heat, reducing glare and providing cost savings on your AC bill. They can block 65% to 90% of heat from entering your commercial space. 
Once we have a plan in place, our team will schedule an appointment to handle the entire installation process. We will also provide guidance on using and maintaining your new screens. 
When properly installed and cared for, traditional solar screens can last around 10 years or more. With proper maintenance and rolling them up when not in use, our solar screens can last up to 30 years. 
No Interest if Paid in Full in 12 Months*
Everyone Deserves a Marygrove
Apply online or work with your Marygrove representative to find convenient payment options for your retractable awning, including monthly payments.
*Subject to credit approval. Apply online.
*Subject to credit approval. Interest is billed during the promotional period but all interest is waived if the purchase amount is paid in full within 12 months. GreenSky® and GreenSky Patient Solutions® are loan program names for certain consumer credit plans extended by participating lenders to borrowers for the purchase of goods and/or services from participating merchants/providers. Participating lenders are federally insured, federal and state chartered financial institutions providing credit without regard to age, race, color, religion, national origin, gender or familial status. GreenSky® and GreenSky Patient Solutions® are registered trademarks of GreenSky, LLC. GreenSky Servicing, LLC services the loans on behalf of participating lenders. NMLS #1416362. GreenSky, LLC and GreenSky Servicing, LLC are subsidiaries of Goldman Sachs Bank USA. Loans originated by Goldman Sachs are issued by Goldman Sachs Bank, USA, Salt Lake City Branch.
Your estimate is only a few steps away.  Fill out the form and we will call you promptly to set up an appointment.