Adding an awning to your front door can be a great way to provide dimension and protection to your home's facade. Delivering shade from the sun and the elements, an awning provides a great addition to your front door. With a variety of color and style options, you can't go wrong.  Marygrove offers the best in fully retractable fabric front door awnings designed to fit your needs.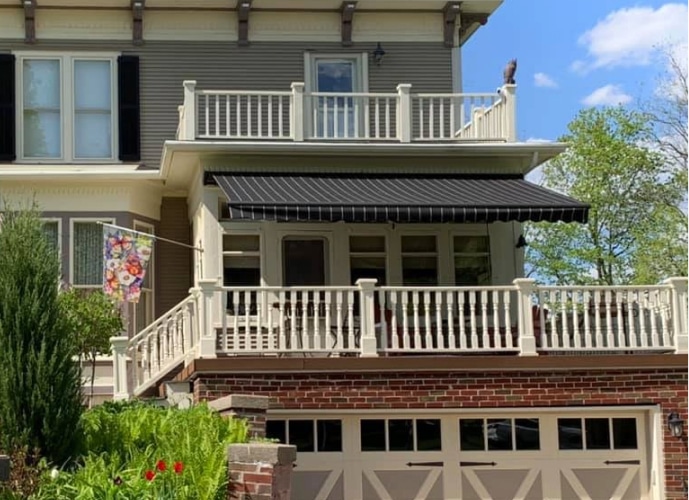 Frequently Asked Questions About Front Door Awnings
You may be wondering why you'd want to add an awning to your front door. Not only do awnings add a ton of dimension to your home, but a well-designed awning can help your porch stand out for greater curb appeal. With colors and style to match your home, Marygrove door awnings are a great way to keep you and your guests protected from the sun and the elements.
A properly installed door awning can also keep your home cool, reduce energy costs and provide shade and protection from moisture. Whether you're looking for a fixed or retractable awning, both can be installed on your home with ease.
Door awnings come in many shapes and sizes and are designed to fit perfectly over your door frame. When you're choosing a style, you will want to assess whether your home is more classic or contemporary. The colors and fabric of your awning are also important and can help you add value to your home. Ensure that the colors match your current home and coordinate with the color scheme.
Whether you choose a fixed or retractable awning, you'll want to make sure you love your awning. Contact Marygrove for a free estimate and to have our experts help you choose which of our products will work for you.
Placement is key for getting the most use out of an awning. When looking to install an awning on your house, it's important to consider your door size and how big of an area that you want to cover in order to properly size your awning.
Our sizing guide can be a great place to get started. 
Performing proper maintenance and cleaning your awning is essential for preserving the longevity of any awning on the market.
It is important to clean your awning approximately once a month during the spring and summer. On houses in midwestern states like Michigan and Illinois, this is as simple as a quick hose down and brushing to remove any loose dirt or debris. Don't forget to let the awning air dry before retracting it back into its aluminum cassette housing.
To improve the life of your retractable awning, it's recommended to perform a deep clean every two years. In addition to hosing it down and brushing away the dirt, using a brush with soft bristles, gently scrub the top and underside of your awning with a mix of cold water and mild soap. Be sure the soap is fully rinsed from your awning and that it is completely dry before you put it away.
Many people don't realize that the material of their awnings can be damaged from overexposure to the acid in vines, leaves, and shrubberies. Taller plants should not be kept near your retractable awning. If you're unable to move your plants, trim them back so they don't touch the rainproof fabric of the awning.
It's important to note that when most people refer to "front door awnings" they are referring to two different products.  
Product #1: a fixed, permanent awning made of fabric of metal that just covers the space above the doorway. 
Product #2: a retractable or fixed awning that extends beyond the doorway to cover the space in front of and around the doorway. 

At Marygrove we only offer product #2 in retractable form.  Our awnings are designed to be enjoyed with a click of the button and provide much more shade than traditional options. For more information check out our retractable awning page. 
We do. We offer commercial awnings in a ton of different sizes and shapes. Perfect for doors, windows, or patios, contact Marygrove Awnings and we'll help you with the perfect solution for your business.
No Interest if Paid in Full in 12 Months*
Everyone Deserves a Marygrove
Apply online or work with your Marygrove representative to find convenient payment options for your retractable awning, including monthly payments.
*Subject to credit approval. Apply online.
*Subject to credit approval. Interest is billed during the promotional period but all interest is waived if the purchase amount is paid in full within 12 months. GreenSky® and GreenSky Patient Solutions® are loan program names for certain consumer credit plans extended by participating lenders to borrowers for the purchase of goods and/or services from participating merchants/providers. Participating lenders are federally insured, federal and state chartered financial institutions providing credit without regard to age, race, color, religion, national origin, gender or familial status. GreenSky® and GreenSky Patient Solutions® are registered trademarks of GreenSky, LLC. GreenSky Servicing, LLC services the loans on behalf of participating lenders. NMLS #1416362. GreenSky, LLC and GreenSky Servicing, LLC are subsidiaries of Goldman Sachs Bank USA. Loans originated by Goldman Sachs are issued by Goldman Sachs Bank, USA, Salt Lake City Branch.
Your estimate is only a few steps away.  Fill out the form and we will call you promptly to set up an appointment.