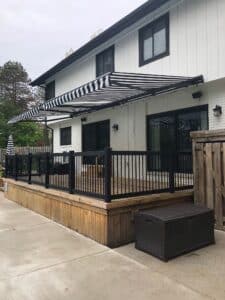 Are you considering installing a retractable awning in your Chicago, Illinois, home? We'll walk you through how to choose the best awning for your home in Chicago, IL, and showcase the many benefits of awnings.
Retractable awnings make great additions to homes for a number of reasons. Not only do they provide shade on your deck but they boost your curb appeal and increase your home's value. Awnings in the Chicago area make backyard parties and family gatherings more enjoyable, as they block harmful sun rays and shelter guests from inclement weather such as showers and storms.
Marygrove Awnings is dedicated to providing high-quality, easy-to-use retractable awnings for homes in Chicago, Illinois. In addition to using high-grade materials, we provide speedy delivery and professional installation. We are at your service year-round to craft a durable retractable awning you can be proud of.
Ready to explore the benefits of retractable awnings and tips for choosing the best one for your Chicago home? Well, let's get started!
Retractable Awnings for Your Chicago, Illinois, Home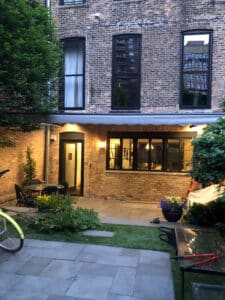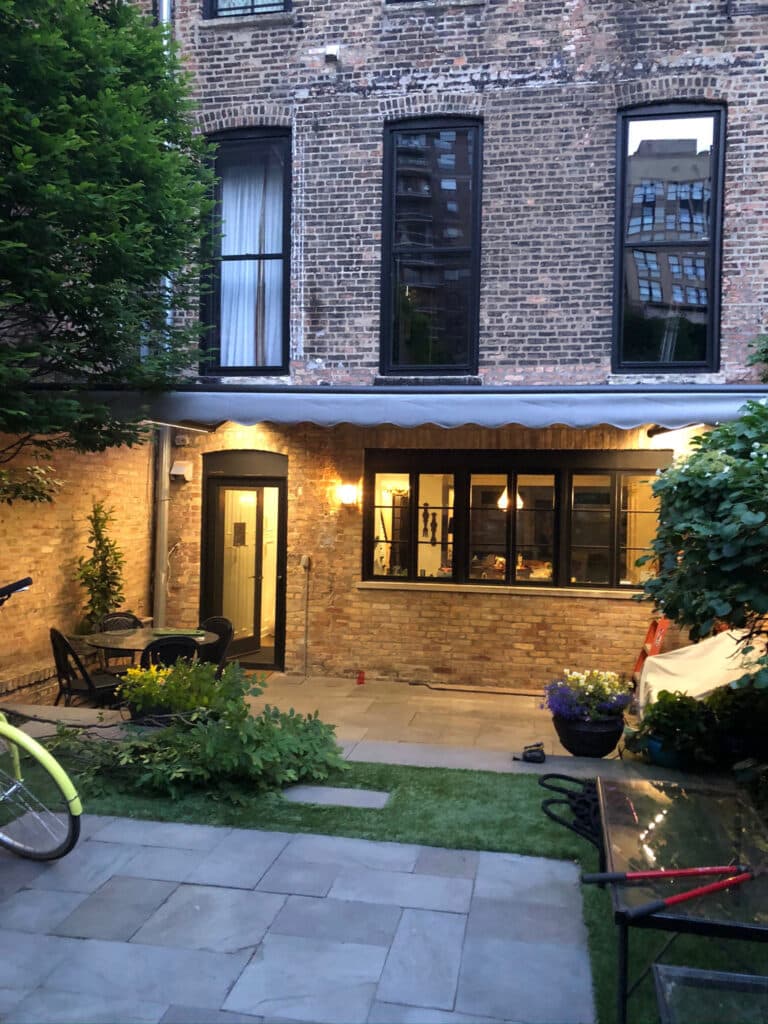 There is an endless list of reasons why a retractable awning can make a lovely addition to your Chicago, Illinois home. Retractable awnings in the Chicago area provide shade for your porch and a comfortable space for family and friends to gather. In addition to creating a pleasant environment for entertainment, retractable awnings in Chicago spruce up your patio and improve your curb appeal.
Our Chicago residential awnings can be designed in practically any color or pattern, allowing you to match your home's color scheme with your awning. Furthermore, we can craft your retractable awning in any size to fit your deck or patio.
No matter what style awning you're interested in, we are at your service to create a retractable awning that will fit the needs of your Chicago, Illinois, home. Contact us today to get started on designing the retractable awning of your dreams!
Awnings Chicago IL: How to Choose a Retractable Awning for Your Deck
Wondering how to choose a retractable awning for your home in Chicago, IL? Have no worries! Choosing a retractable awning for your deck is a fairly simple process. Mainly, you'll need to decide what size awning will fit your deck and which colors will best complement your house. Additionally, you may want to decide if you'd like your retractable awning to have specific features.
If you're having trouble choosing what style awning you'd like, we are here to help. Contact us and we'll walk you through how to choose the best awning style for your home.
Sizing of Your Retractable Awning
The first factor to consider is the sizing of your retractable awning. Large retractable awnings provide plenty of space for outdoor activities and gatherings while small awnings are ideal for small patios or apartment balconies. Be sure to measure the size of your deck or patio so that your awning is the appropriate size.
Our retractable awnings are available in a variety of sizes. Additionally, we create custom awnings in Chicago that can be any size or shape. Contact us today to learn more about our retractable awning sizing options.
Colors of Your Retractable Awning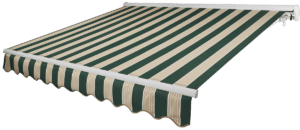 Once you've chosen the sizing of your awning, the second step is considering the color you'd like. Here at Marygrove Awnings, our retractable awnings come in a large assortment of color options from which you can choose. Whether you're looking for a bold contemporary style awning or a more classic design awning, our plethora of fabric colors are guaranteed to meet your needs.
Need a specific color or pattern for your Chicago, Illinois, home? Reach out to us and we can craft a custom-designed retractable awning just for you.
Other Retractable Awning Features to Consider
When choosing the best retractable awning for your home, you'll want to consider whether you want a manual retractable awning or motorized awning. Manual retractable awnings are less common these days as they require more muscle to crank open. Motorized retractable awnings, on the other hand, are operated with just the push of a button. Many of our retractable awnings also include an adjustable pitch, enabling you to angle your awning to block sunlight.
Other features that our Chicago, IL, awnings are equipped with include double cable arms, an integrated cover housing system and an adjustable slope. Not only do these features make our awnings easy to operate but quick to retract if a storm should pop up.
Looking for the best custom awnings Chicago has to offer? Look no further than Marygrove Awnings! We provide custom awnings in all shapes and sizes. Whether you're interested in a specific color or special size, we can craft an awning to fit your needs.
We provide a large selection of fabrics, patterns, styles and sizes to choose from, allowing you to decide which awning style will best suit your Chicago, IL, home. Let us know which type of awning you have in mind, and our experts will work with you to create the custom retractable awning you've been dreaming of!
Benefits of Retractable Awnings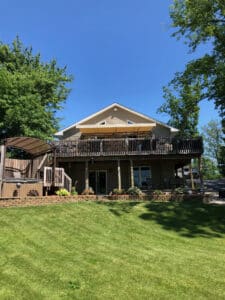 A retractable awning can make a lovely addition to your home for many reasons. Firstly, retractable awnings provide shade for you and guests, thus protecting you from the sun's harmful rays. Additionally, our retractable awnings will shelter you from rain and wind.
Secondly, retractable awnings add value to your home and spruce up your curb appeal. Whether it's installed over a doorway or a backyard patio, a retractable awning will add a welcoming touch to your home.
Lastly, a retractable awning in Chicago, Illinois, provides a pleasant environment in which friends and family can gather. Whether you're hosting a party or having an outdoor family game night, a retractable awning creates a comfortable space to gather outside.
Looking for the best Chicago awning company? You've found it with Marygrove Awnings! We are a leader among awning companies in Chicago, IL, as we provide high-quality, ready-to-install residential awnings for homes. Everything is manufactured in-house, from the engineering and design to fabrication and metalwork as well as the cutting, sewing and printing.
In addition to crafting high-grade materials and products, we provide fast delivery and professional installation. Whether it's January or July or any other month, we are at your service to craft, deliver and install a retractable awning you'll positively enjoy for many years to come.
Summing Up: Retractable Awnings Chicago Area
In summary, a retractable awning can make an excellent addition to your Chicago, IL, home. Crafted with high-grade materials, our awnings are built to last. Whether you have a large patio or small balcony, installing a retractable awning is an investment you'll never regret.
Ready to have us install a retractable awning for you in Chicago, Illinois? Contact us today and we'll get started on designing an awning you'll absolutely love!