If you've been looking for the best patio awning companies in North Carolina, look no further. From Charlotte to Raleigh, Marygrove has the perfect retractable awning for your home. With our help, choosing a retractable awning in North Carolina is simple. 
Retractable awnings are a valuable investment for any residential property. From extending your outdoor space to protecting you from inclement weather – retractable awnings have you covered. With a myriad of color choices, you can be certain an awning will fit in seamlessly with your home.
Why should Marygrove Awnings be your got to North Carolina awning company? We have over 85+ years of experience installing the perfect residential awning. This and our superior quality make us leaders among awning companies. We serve Wilmington to Ashville and Charlotte to Greensboro, and everywhere in between for residential retractable awnings.
How to Choose The Best Retractable Patio Awning
Choosing the ideal retractable awning for your North Carolina home should be uncomplicated. The three main attributes to keep in mind when shopping for an awning are awning size, awning color, and awning features. Below, we'll explain how to choose the best retractable awning for your patio in North Carolina.
Need additional help selecting an awning for your home? That's what we're here for, Marygrove Awnings is happy to help! Give us a call or contact us online. We'll guide you through our various color and size options, as well as our retractable awning features.
Retractable Awning Sizing Options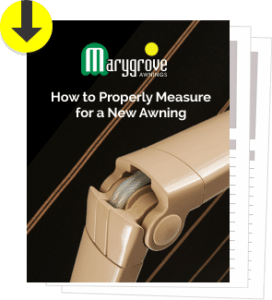 Your first consideration when choosing a retractable awning will be awning size. Before purchasing a retractable awning, measure your porch or patio. This will help determine the correct size awning.
Marygrove Awnings offers several awning sizing options as well as custom size retractable awning designs. Get in touch with us to learn more about our retractable awning size possibilities or download our handy measuring guide.
Retractable Awning Color Selections
Once you've chosen the size of your awning, the second option to contemplate is color. It is likely that you will want your retractable awning to match the color scheme and style of your home.
Here at Marygrove Awnings, we offer a wide range of retractable awning color selections for residential properties in North Carolina. Our fabrics are available in several color choices and patterns. Additionally, all of our fabrics are made with UV and fade-resistant material.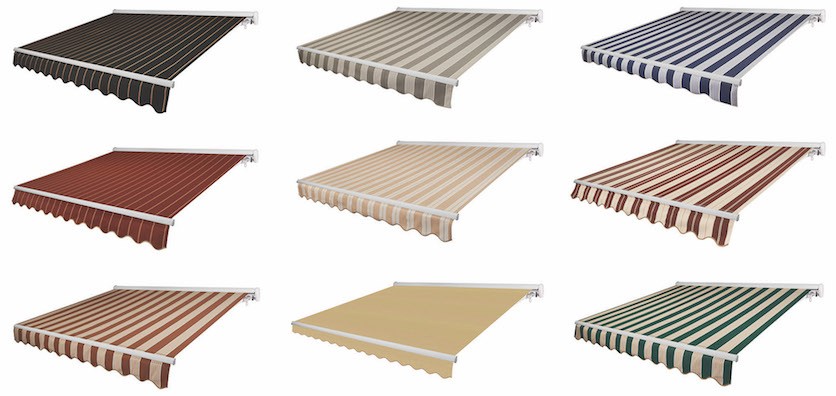 Additional Retractable Awning Features
Finally, you'll want to consider any additional features for your North Carolina retractable awning. Such features can include adjustable pitch, double cable arms, an integrated cover housing system, and an adjustable slope. Furthermore, the decision is yours as to whether you'd like a manual retractable awning or a motorized retractable awning. Additional accessories can also be included in your awning purchase. From the addition of LED lights to wind sensors and supplementary screens, you can design the awning of your dreams. 
Have other awning features you're interested in? Marygrove Awnings is here to create a retractable awning that is ideal for your home in North Carolina. View our awning accessories page to get a better idea of all your options or contact us today and we'll begin designing a retractable awning you'll always love!
Service and Quality Gaurantee
For a superior, ready-to-install retractable awning in North Carolina, look no further than Marygrove Awnings. With a wide selection of color choices and sizes, we also offer custom awnings to fit your home's exact specifications.
Beyond crafting high-quality retractable awnings, we offer fast delivery and professional installation. All of our awnings are installed by our team members, no outsourced vendors or third parties to deal with.  Regardless of the time of year, we are at your service to design the perfect retractable awning for your North Carolina residence.  Our company motto is "5 star customer service" from contact through installation.  Often this means going above and beyond to make sure our customers needs are met.  With over 1,000+ 5 star reviews our quality speaks for itself.   The best part is you never have to leave your house, our mobile showroom can come to you, showcasing all Marygrove has to offer in person.

Capitalize on Retractable Awnings' Many Benefits
There are many benefits to installing a retractable awning at your home. Residential retractable awnings transform back yards into luxurious hang-out spots for family and friends to gather. Furthermore, retractable awnings protect patio furniture from the elements and can reduce cooling costs for your home.
Simply, retractable awnings make an outstanding addition to any residential property. If you're searching for the best retractable awning company in North Carolina, you've found it with Marygrove Awnings. Contact us today to begin the process of creating the perfect awning for your North Carolina home.
Residential awnings in North Carolina make it easy to entertain friends and family or have a comfortable dinner outside. Further, your retractable awning can protect your patio from the weather with the simple push of a button.
Marygrove Awnings provides high-quality residential awnings throughout North Carolina. As a leader among awnings companies in NC, Marygrove can help you make the outdoors a place you want to spend time. We are at your service to design a residential awning that suits your needs completely.