Are you wondering how to pick an awning color for your home or business? Choosing the right awning design for the exterior of your building is a crucial step, as your awning's color speaks everything about your home or establishment. If you're struggling with finding the ideal awning color for your property, we are here to help. Today, we'll uncover the top factors to consider when picking an awning color to match your building's color scheme.
Marygrove Awnings, a leader among awning companies, excels in producing high-quality awnings in a variety of colors. Our awnings are crafted in a plethora of designs, ranging from contemporary styles to classic patterns. Additionally, we provide custom awning colors and designs, allowing you to find an awning color that precisely fits your needs.
Whether you're searching for residential awning colors or commercial awning colors, there are many things to consider when selecting the ideal awning design for your building. Below, we'll explore the top factors to keep in mind when choosing an awning color for your home or facility.
Factors to Consider When Picking Awning Color
There are many considerations to contemplate when selecting an awning color. Your building's architectural style, color and size all play an important role during the awning selection process.
While learning how to pick an awning color may seem overwhelming, it is a fairly easy process once you understand the steps to selecting the perfect awning design. Below, we've put together a list of the main factors to consider when choosing an awning color for your home or business.
Your Home's Architectural Style
The first consideration to keep in mind when picking an awning color is your home's architectural style. Many architectural designs go well with certain awning fabrics. For instance, a traditional styled home may benefit from the addition of a subdued awning color, such as navy blue, forest green, or even awning standard colors such as black, gray or white. A contemporary-styled home, however, may coordinate well with modern awnings crafted with bright colors.
Although making a bold statement is important, especially for commercial businesses, it's necessary to understand what colors don't go well together. Take the time to consider the architectural style of your home before selecting an awning color for your home or establishment.
An awning's accent colors is another important consideration to note when exploring awning colors fabric. Unlike matching an awning to a building's exterior color, using accent colors gives your building a balanced appearance. Its purpose is to give your home or business emphasis and beauty, resulting in an attractive appearance. As previously mentioned, understanding your building's exterior design and color scheme allows you to choose an accent color that coordinates well with your building.
The possibilities for using awning accent colors are practically endless. Homeowners who want to add emphasis to their home may consider installing a dark-colored awning to a beige-colored house. Or, business owners who want to stand out from the crowd may invest in a bold-colored awning crafted with vivid colors.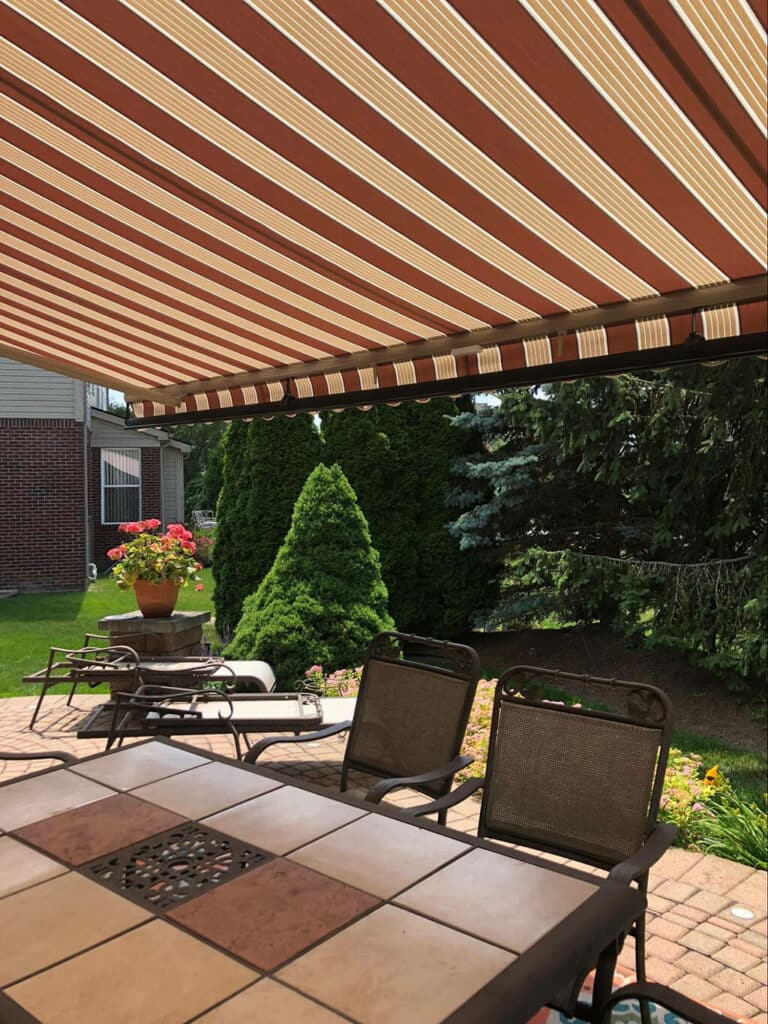 An awning design should match not only your building's color scheme but also your building's size. The size of your building impacts how well your awning stands out, thus making it an important consideration to ponder when selecting canvas awning colors.
If your building is a large traditional-styled structure, you will likely want to select a classic awning design. Smaller modern-styled buildings, on the other hand, may benefit from the addition of contemporary awnings with dazzling colors.
Whether you own a business or a residential property, matching an awning's color with a building's size is an important step for finding the perfect awning design to complement your building.
Other Things to Consider When Choosing Canvas Awning Colors
Among the many factors to consider when choosing canvas awning colors are how resistant a color is to fading and how well a fabric will hide stains.
Light colors, including whites, yellows and light blues, are most resistant to fading, while bold colors such as red may fade quicker from the sun's rays. That being said, a high-quality awning should withstand the rays of the sun and last for many years before revealing fade marks, regardless of the color awning you choose.
While cleaning your awning is an essential part of awning maintenance, selecting certain awning colors can prevent unsightly stains from standing out on the fabric. Dark colors such as black work well for hiding stains on the awning material, as do colors such as navy blue and dark gray. Remember, however, that proper maintenance is the key to keeping an awning in top shape. Learning how to clean your awning will not only prevent stain marks but will also improve the awning's performance.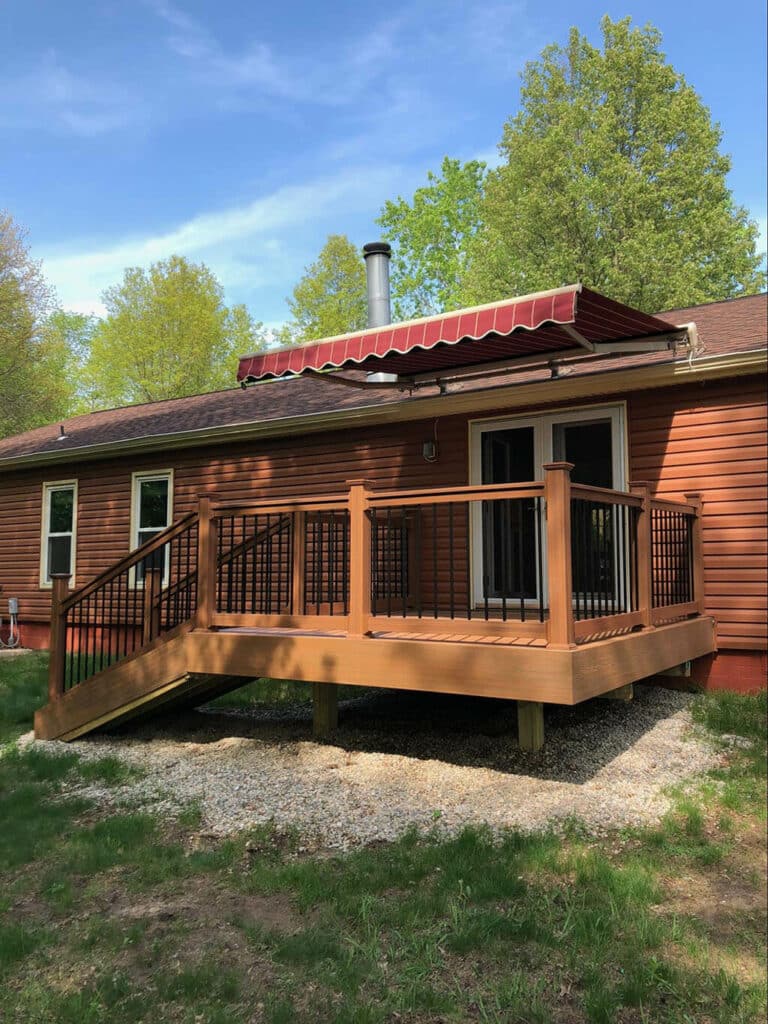 Marygrove Awnings Can Help You Choose Awning Colors Fabric
If you're still struggling with understanding how to pick an awning color for your home or business, Marygrove Awnings is here to help! As the leading awning company for over 80 years, Marygrove Awnings offers excellent customer service, as well as countless awning fabric colors.
Marygrove Awnings provides services to several locations, including Michigan, New Jersey, Illinois, and multiple cities in Ohio. As the premier manufacturer of high-quality awnings, Marygrove Awnings offers durable, long-lasting awnings made with the strongest materials guaranteed to withstand the elements.
In addition to offering a plethora of awning colors, Marygrove Awnings provides custom awning designs, allowing you to precisely match your awning with your building's color scheme. Furthermore, we can craft commercial awning colors to include business logos and services, providing effective branding solutions to commercial facilities.
Whether you're in the market for residential awning colors or commercial awning designs, Marygrove Awnings is your ultimate source for high-grade awnings available in large selections of glamorous awning colors.
Ready to bring your awning dreams to life? Contact us today to begin the process of designing a Marygrove Awning in the color you love!