When planning to add a retractable awning to your home, there are many things to consider. You will probably spend most of your time thinking about the color and design of your awning, and comparing features and warranties between different manufacturers. One important detail you won't want to overlook is deciding the method for mounting your new awning to your home, because you have multiple options.
Awnings can be mounted to either the wall or roof of your home, and knowing which style to use for your application will ensure you get the most enjoyment out of your awning. You may even find that you can mount an awning in a location you thought would be inaccessible.
As their name implies, these awnings are mounted to the wall of your home. They can be mounted below the eaves of your roof or on the gable ends of a house with a peaked roof. This is probably the installation style you first picture when thinking about an awning. Mounting a retractable awning on a wall is popular because it provides easy access to the frame, arms, full cassette and fabric of the awning in the event of a service call. However, they do have drawbacks in certain applications.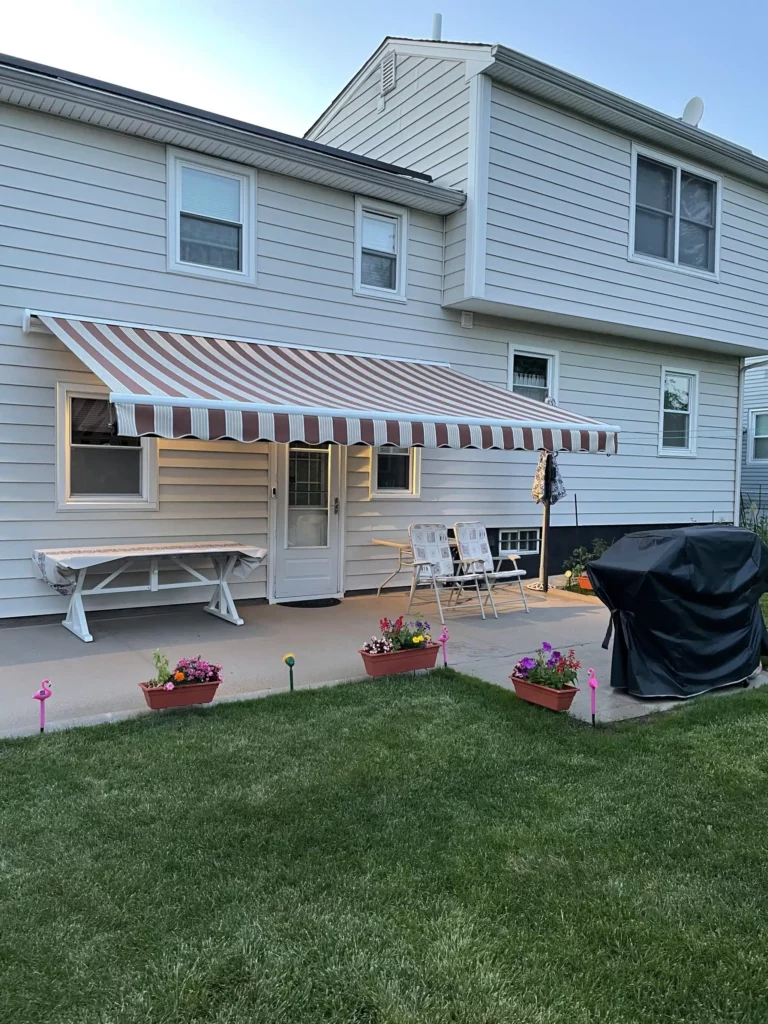 If you're planning to mount your awning on a side of your house with a low roof edge, a roof mount awning may be a better fit for you. A major advantage of roof mounting is the increased headroom for you and your guests, because the awning is mounted higher than would be possible with a traditional wall mount. Ideally your front bar should be at least 7ft off the ground once the arms are fully extended to accommodate guests of taller height and the adjustable pitch. It also adds visual height to the exterior of your home.
Also consider that placing a wall mount retractable awning on the side of a single story building may block access to the soffit or fascia of the roof, depending on how close to the edge of the roof you need to go.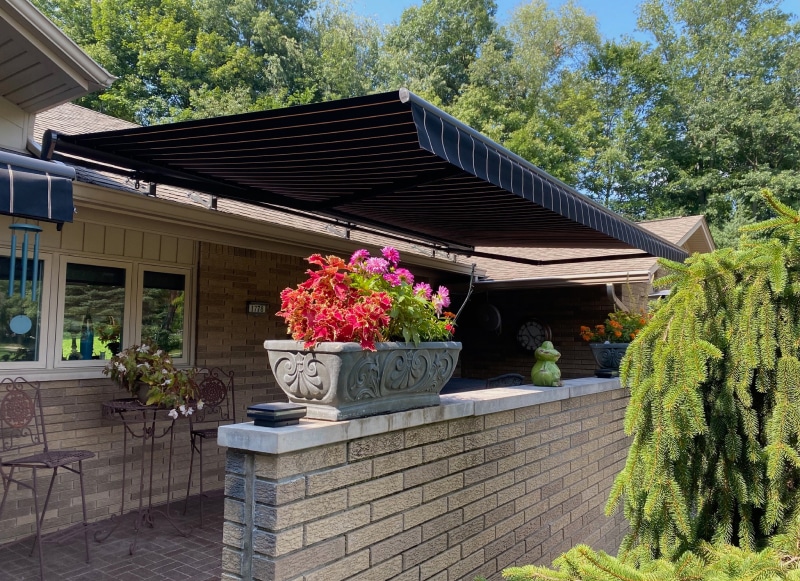 When to Use Roof-Mounted Retractable Awnings:
Do you own a ranch or other single story style home? If so, mounting an awning below the eave of your roof may make your outdoor space feel cramped from the lack of headroom. A roof mount awning increases the headroom available, giving you and your guests sun and rain protection out on your deck or patio without feeling stifled by a low hanging awning. Remember the full cassette needs room to operate, so often mounting the awning below a low-hanging gutter or eaves will result in the awning extending at a low height.
With a motorized awning, this mounting location is possible since you won't need to reach the awning frame with a hand crank to extend and retract it.
Second-Story Installations
If you own a two-story home with a raised deck or balcony on the second story, adding a roof mounted awning can provide shade to that raised area. Much like using a roof mount for a ranch style home, you can add shade to your second story outdoor living space with a roof mount retractable awning.
Maybe you have room on the side wall of your house for the awning of your dreams, but there are objects in the way of the brackets for your new retractable awning. Downspouts and lighting fixtures are two of the most common obstructions that can prevent mounting an awning on a wall.
By roof mounting your awning, you can enjoy the benefits of a retractable awning over your deck or patio without needing to do major remodeling to an exterior wall.
Sometimes, a roof mounted retractable awning just looks best. Mounting an awning to your roof gives a sense of height and lightness to your home when it's extended, and showcases the roof mount brackets and cassette of the awning when retracted. This can be a great fit if you want a mid-century modern or industrial vibe for your outdoor living space.
Another consideration is the siding material of your house. If your house is sided with a surface such as stone veneer, the best solution may be a roof mounted retractable awning. You can showcase your unique siding material without the cassette and hardware of your retractable awning covering part of it up.
All retractable awnings should be professionally installed. This is especially true when installing a roof-mounted awning, as the installation process involves mounting the brackets to the surface of the roof. A professional installation team will make sure that your new retractable awning is roof mounted without damaging the roof surface or creating leaks.
Marygrove uses teams of full-time installers instead of relying on outside contractors, so whether you choose a roof mount or wall mount retractable awning, you can be sure it will be correctly installed.
Maintaining Your New Awning
Now that you have your new retractable awning in place, it's time to enjoy your improved outdoor living area. Consider signing up for an annual service plan with your awning's manufacturer. Marygrove offers annual service plans for our awnings, so you won't need to climb up on a ladder to inspect and service your retractable awning.