Backyards are an escape from the everyday. Whether they boast a ton of green space, an entertainment mecca, or a pool – having outdoor living space is a wonderful addition to your home. Like your home, keeping your backyard up to date creates a space where you want to spend time (and also increases the value of your home!) Awnings add a beautiful element to your patio and they don't have to look outdated. From colors to new functionalities – an updated retractable awning can create a modern backyard landscape.
Pick a Retractable Awning with a Modern Color Palette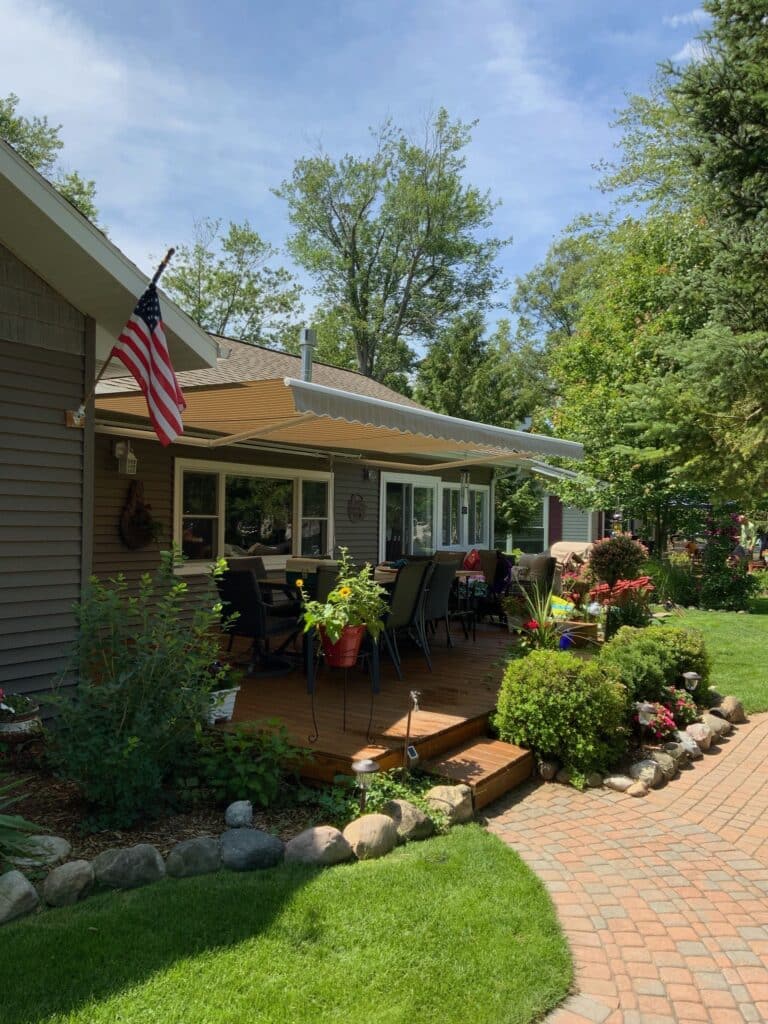 The color of a retractable awning makes a huge difference for your home. For a modern backyard – you'll want to pick minimalistic colors that naturally enhance the style and color palette of your home. Modern awnings tend to look best in neutrals, complementing almost any style of home.
Looking for a solid color? Solid black or white really pop as the focal point of your outdoor area. Want a pattern that doesn't feel outdated? Gray and white stripes are a beautiful addition to any modern patio. Vintage can be cool again! Opt for a black and white awning to give your deck some definite French bistro vibes.
As you choose your fabric, ensure that the frame color matches as well. Simply coordinate your fabric to the frame color to integrate it seamlessly into your home for an effortlessly cool look.
Marygrove offers a wide range of fabric colors and frame colors. Made with top-of-the-line fabric, our retractable awnings are UV resistant and are made to withstand the harsh sun. Interested in a custom fabric? Marygrove can help you with that, give us a call today to have our experts help you design the awning of your dreams.
Opt for Modern Functionality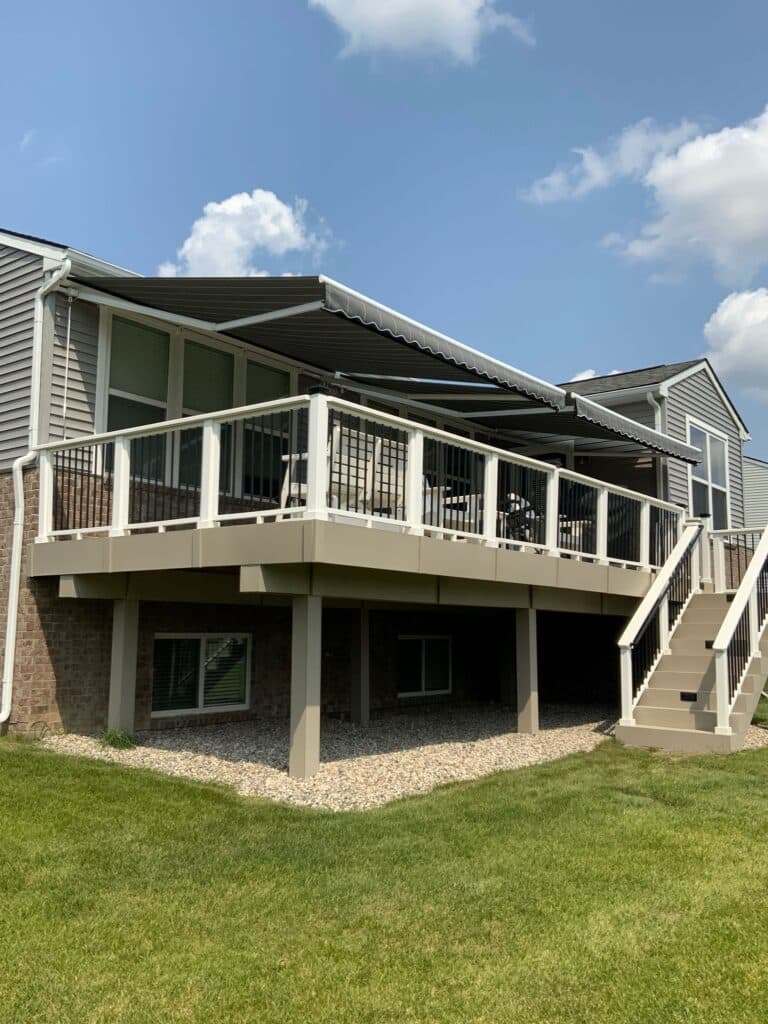 Contemporary retractable awnings boast plenty of tech-enhanced features. From a mechanical motor to an adaptable pitch, awnings are no longer relegated to your Grandma's backyard.  Add them to the front porch, over an outdoor seating area or combine them (like the image above) to create your perfect backyard oasis.
Manually operated retractable awnings tend to feel dated and are tough to manually crank in and out. The new trend is to own a completely motorized awning that is simple to operate. With the push of a button, your awning canopy rolls out to cover your outdoor space, creating much more usable space.
Other features to look for? New, stylish awnings are equipped with an adjustable pitch, adjustable slope, and double cable arms. These features allow a ton of versatility. As the day turns into night, your awning adjusts with you to continue blocking the sunlight.
Add Accessories for Privacy and Convenience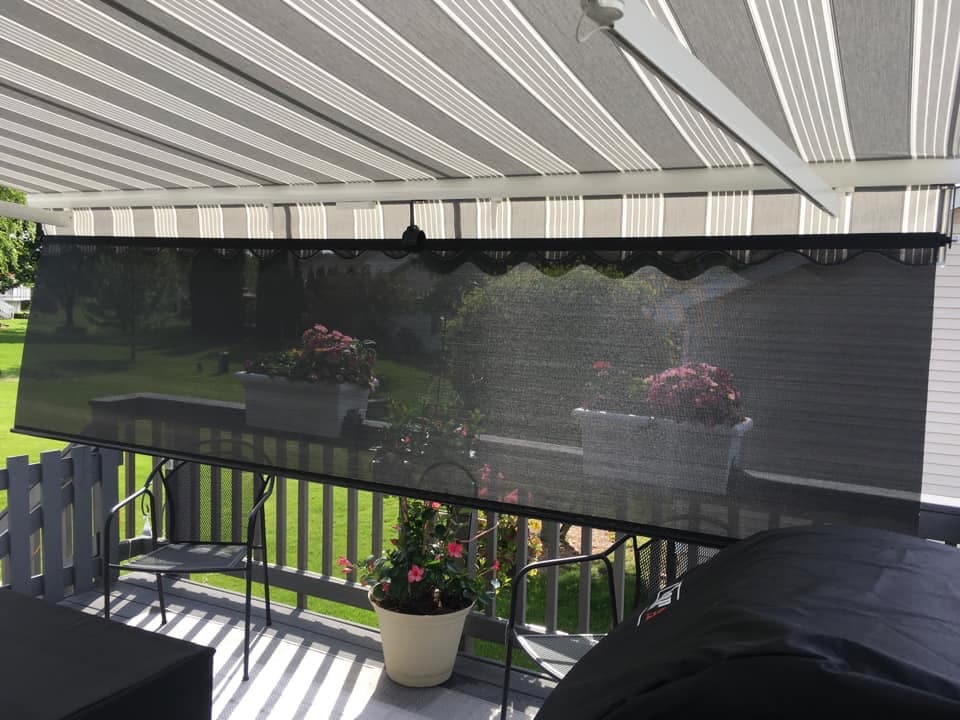 Adding accessories is a great way to keep your awning trendy. If you are worried about the sun, the addition of a front or side screen can provide additional shade and added privacy for your patio. Screens can also reduce your exposure to harmful UV rays and help keep your home cool in those warm summer months.
Near a lake or a windy area? Adding wind poles and wind sensors can help in inclement weather. Wind poles stabilize your awning and provide extra support to keep it from shifting up and down. Wind sensors can provide added peace of mind, rolling your awning in for you as the wind picks up.
Marygrove offers a range of accessories that will work to make your outdoor space beautiful and functional.
Add Lighting and Plants to Create a Picturesque Landscape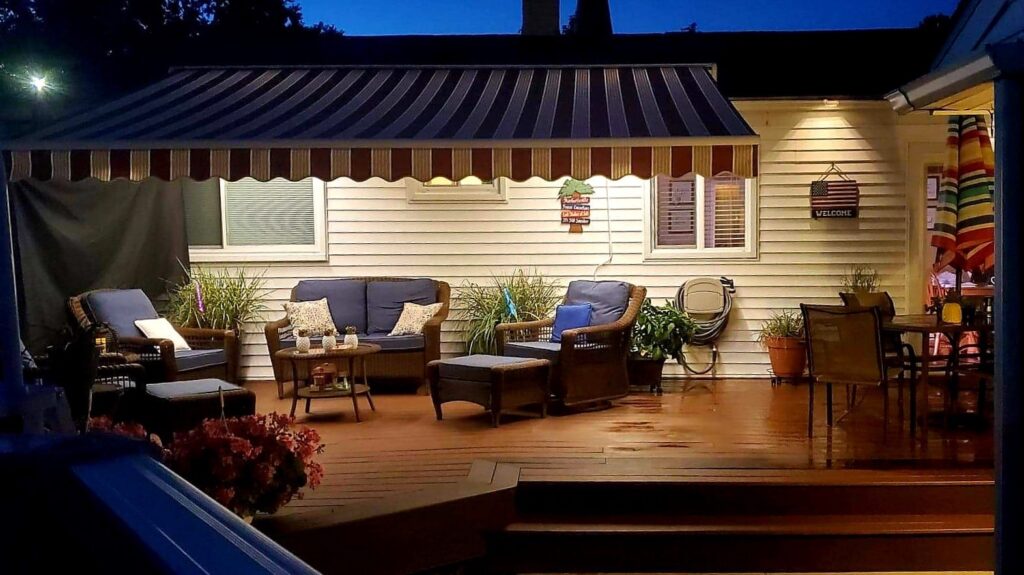 With modern awning styles, it isn't just about the functionality. When you're considering additions to your property, you want them to be functional and beautiful. We mentioned trendy colors above, but there are other ways to give your awning and backyard a contemporary feel.
The addition of LED lighting can create a warm ambiance perfect for entertaining. As the sun goes down, you don't have to go inside. Your awning can still provide the perfect addition to your patio at any time of day. Want even more variety? Dimmable lights can shift the mood from boisterous to quiet and keep you outdoors all year round.
While lights can help with ambiance, plants can help make your space more stylish and comfortable. Mix it up with hanging plants, flowers, or an herb garden to really bring your patio to life.
All Marygrove awnings are installed with LED lights built right in and roll right up when you're headed inside. No need to install your own lights or go searching for that string of lights in the back of the garage. Your landscape is complete with a retractable awning from Marygrove.
Upscale Your Awning to A Louvered Roof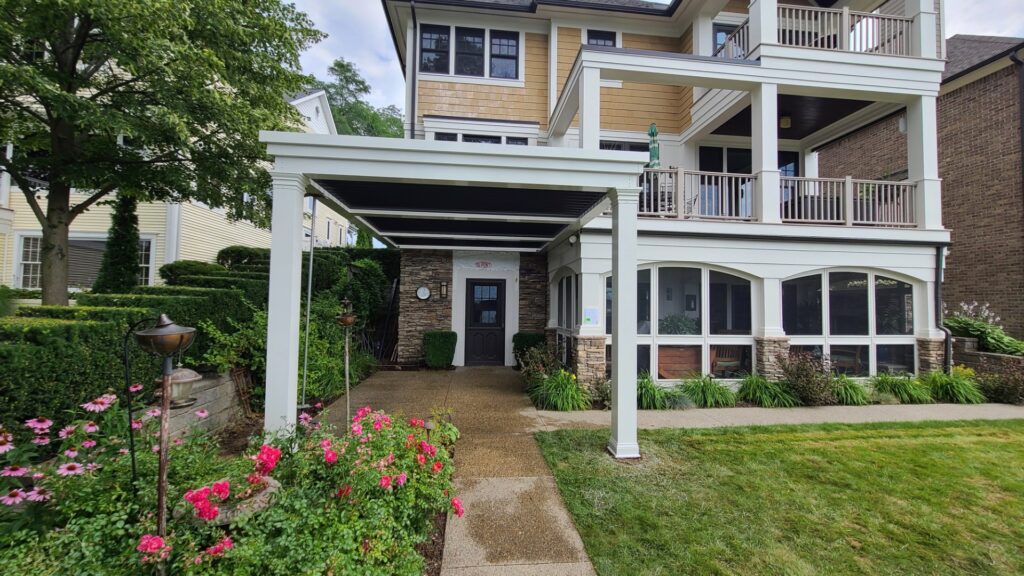 There are many modern backyard ideas that are perfect for your home. Classic pergolas add a ton of beauty to any deck or seating area. However, they do not protect you from changing weather conditions. Retractable pergolas or louvered roofs are just what you need. Providing sun to your backyard when you want it and shade when you don't, a retractable pergola is a lavish addition to any backyard design.
Made with angled aluminum slats, a louvered roof is completely adjustable. Simple to operate and easy to modify, the louvers can let in as much light as you choose. With the push of a button, you escape the heat of the sun and can relax in your breezy, shaded yard.
Creating Your Own Paradise
Making your home yours is a priceless feeling.  The outdoor space of your house is an amazing place to gather, share food, play games or just relax.  Hopefully, we have given you some more modern, updated ideas on how you can create an outdoor oasis with awnings. 
For more information about what Marygrove offers, simply schedule a no-obligation in-home appointment. With over 85 years of experience, our awning experts can help you design the perfect solution. From fabric color to custom accessories, you can create a perfectly shaded modern outdoor space.