When it comes to your backyard patio, it should feel like an extension of your home. Cozy and inviting, a modern backyard should be the perfect place to entertain friends and family or sit quietly and enjoy a good book.
With multiple patio ideas, you'll soon be living your best outdoor life. Whether it's a fire pit, a hot tub, an outdoor kitchen, or as simple as string lights, these patio ideas will help take your large or small patio to a new level. Let your ideas be guided by your existing backyard patio to enhance the perfect space that you already have.
10 Backyard Patio Design Ideas
When there is perfect weather outside, there is nothing better than dining with friends and family. Some of the most perfect moments come from creating memories around a dining table.
When you're thinking about adding outdoor dining space to your patio, there are a few things you need to consider. From how many people will use it to what will fit in your current space. Measuring your current space is a great start and finding the table shape you like is the next piece. Does it seat enough people? If not, adding a small bistro table or a sofa on the side will help give you some seating space.
Looking to add to the ambiance of your dining area? Modern touches can include mismatched scatter cushions, an umbrella to keep you in the shade, and lighting to give your outdoor dining area those extra special details. Looking for ways to make the dining experience even better? Add a grilling station, a patio kitchen, or a fireplace to your patio area for the ultimate entertainment outdoor oasis.
2. Add an Awning To Stay Cool in the Shade
Shade is essential when you're designing a modern patio. Whether you're looking to stay cool or protect your outdoor living area, an awning can help you do both. Weather will no longer interfere with your plans because you have a perfectly covered patio that will work no matter the situation.
Awnings come in many sizes and colors, allowing you to perfectly match the architecture and style of your home. Customizing an awning will give you the outdoor space of your dreams, allowing you to entertain friends and family from sun up to sundown.
With Marygrove Awnings, you can rest assured that we'll provide you with the best options for your home. From our color choices to our accessories, our retractable awnings are the perfect covered patio solution. Interested in learning more? Call us today to speak to one of our design experts about our retractable awnings.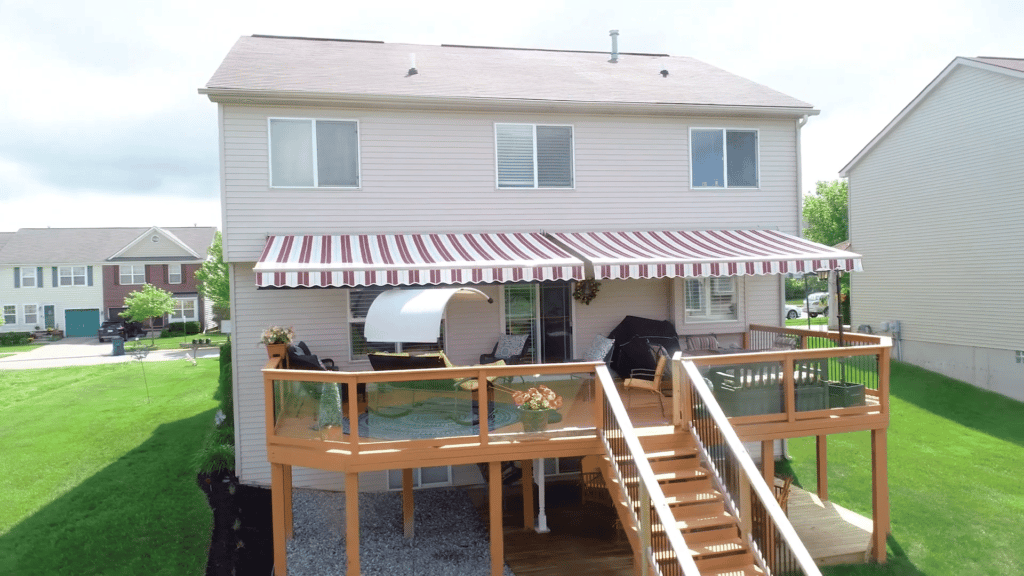 3. Add Twinkly Lights for Ambiance
When you're designing your outdoor space, don't forget to bring in cozy lighting. Adding a warm contrast to any design, lights will help seamlessly take your patio from day to night. Twinkly lights come in many forms and what is right for you will be based on your current patio design.
Have a brick patio? Line the patio with LED candles, perfect for creating a warm and restful atmosphere. If you have a concrete patio, you can string lights overhead for a perfectly modern touch. If you have stone pavers or a raised patio design, Tiki torches or even Christmas lights are a welcome addition to any outdoor space.
To keep the bugs away, add privacy, and enhance the character of your modern patio, plant a garden. Certain plants can help keep bugs at bay, they smell wonderful, and you can cook with them! Plant herbs like basil, mint, lavender, or rosemary to deter bugs and enjoy your time outside.
Looking for a more colorful alternative? Petunias and chrysanthemums are great additions for a pop of color to make your patio really stand out. If you have a small backyard patio, potted plants are a good alternative to a large garden. They can help provide privacy and make it feel like a much more livable space.
5. Add Some Character with a Pergola
Another modern patio idea that adds tons of character is the pergola. Synonymous with outdoor living, pergolas really add a modern flair to any patio. Regardless of whether you have a concrete patio area or a wood deck, pergolas can be installed almost anywhere. When you're looking to really up the design quality, hanging or climbing plants can really create a beautiful, botanic sanctuary. Pergolas give your outdoor space an intimate feel and will be really inviting when friends and family are over.
If a pergola does not provide enough shade, look to a louvered roof to help you have shade only when you want it. Marygrove has louvered roof systems that will fit perfectly onto any pergola. Aluminum slats are installed on your pergola and with the push of a button will open and close to allow light in or out, giving you the perfect environment in any weather.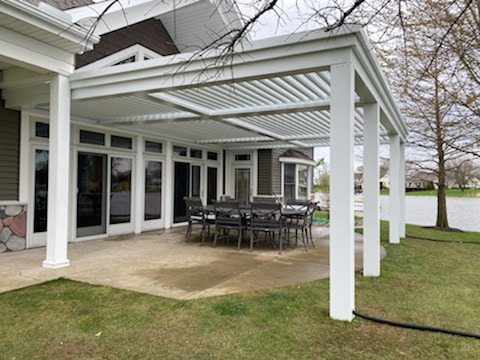 Looking for backyard patio ideas that can help you rest and relax? Look no further than a hammock. The ultimate relaxation tool, a hammock is perfect for a midsummer nap or snuggling up with a good book. Have a small backyard patio? Hammocks come in a ton of different shapes and sizes and some are portable so you can take them with you anywhere. Having a hammock is a simple way to ensure that your time outdoors is restful and relaxing.
7. Outdoor Patio Furniture That Makes a Statement
The design of modern outdoor furniture has exploded in the last few years. Well-designed pieces at a good price are available from many retailers. It is easy to bring amazing style to your backyard patio. When you're searching for modern patio ideas, searching for minimalistic furniture in neutral colors will really make your furniture stand out from your patio and all the natural colors of your yard. You have the option to add sofas, lounge chairs, cushions, or even throw rugs to create a sociable lounge seating area.
Looking for something a little extra? A hot tub is a great choice to make your patio available to you all year round.
8. Amp Up Your Sitting Area with Greenery
Every backyard patio needs to come equipped with a plethora of plants. From the shade they provide to the beautiful smattering of colors they offer, plants are a fresh way to make any patio design modern.
If you're looking for ways to add plants, there are numerous options available. For simpler solutions, you can try hanging or potted plants. If you're looking to make your greenery more of a focal point, surround your patio with plants. Not only will it make your space more inviting, but it will help make the space feel more intimate and create privacy around your patio.
Need some extra incentive to add plants? They can help provide shade, keep bugs away, and help soften any hard edges that stones or pavers create. Adding textures is essential for modern design and plants definitely give any space some extra contemporary elements.
9. Cozy Up Around a Fire Pit
When the nights start to get cold, a fire pit is a great way to warm up and stay outside. From making s'mores to heating up after a swim, a fire pit is a great way to make sure your patio has all the cozy vibes. There are a ton of different styles available. Whether you make a brick fire pit, buy one from the store or install an outdoor fireplace instead, you'll have the perfect atmosphere for your new outdoor room.
10. Utilize Colorful Textiles and Modern Materials
Modern backyard patio ideas include the use of many different materials and textiles. It all starts with how your patio is constructed, whether your patio is made of concrete, wood, bricks, or flagstone, each one can be styled to give you the perfect backyard patio.
From marble to stone, to colorful rugs and pillows. Mixing many different textures will give your patio a personal expression and personality. The materials you choose should be selected based on personal preference and include items that complement each other.
Have minimalistic furniture? Try colorful cushions and pillows to really complement the style. Have a lot of lush greens? Use marble or install a paver patio to really give the design some depth.
Let Marygrove Modernize Your Patio
Patios come in many shapes and sizes and creating perfect patio areas can be a challenge. If you need help creating a perfectly shaded oasis in your yard, call Marygrove Awnings. We're the best at turning a backyard or outdoor space into the place to be! We can help you design the perfect awning to complement your home and your patio all year long.