Before you know it, we'll be into the dog days of summer looking for ways to keep our patio cool. Want to learn how to cool down your deck on those hot summer days? Look no further, we've compiled a list of six different ways to cool your deck this summer and we can't wait to share it with you.
Install a Retractable Awning for Much Needed Shade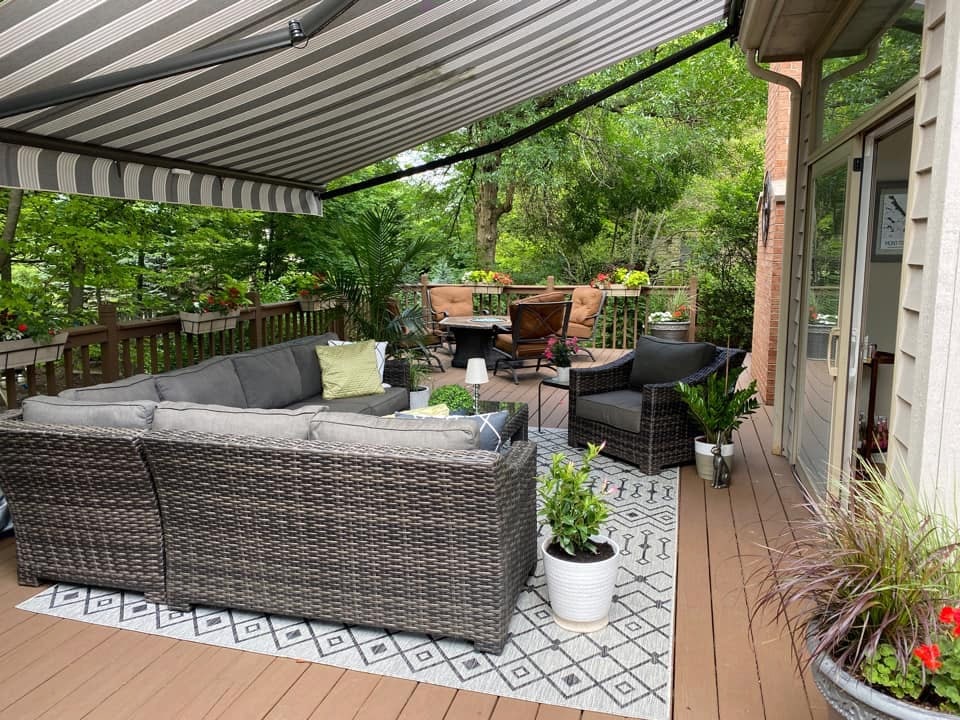 Retractable Awnings are the perfect accessory during those hot summer months. Offering more shade than patio umbrellas and also more versatility, an awning provides you with cover when you want it. More tech-enabled than ever, adjusting the pitch of your awning is straightforward. With the push of a button, you can retract your awning for the perfectly shaded outdoor space. If you're still looking for a cool breeze, awnings provide ample shade while still allowing a cool breeze to pass through. Easy to install and with a multitude of colors and fabrics, awnings make an impeccable choice to add function and beauty to your home.
Looking for additional shade or to bring down the temperature? Add front and side screens to your awning. Extending five feet, they provide even greater protection from the sun and create a cooler patio environment.
Add Greenery or Plant Trees for Natural Shade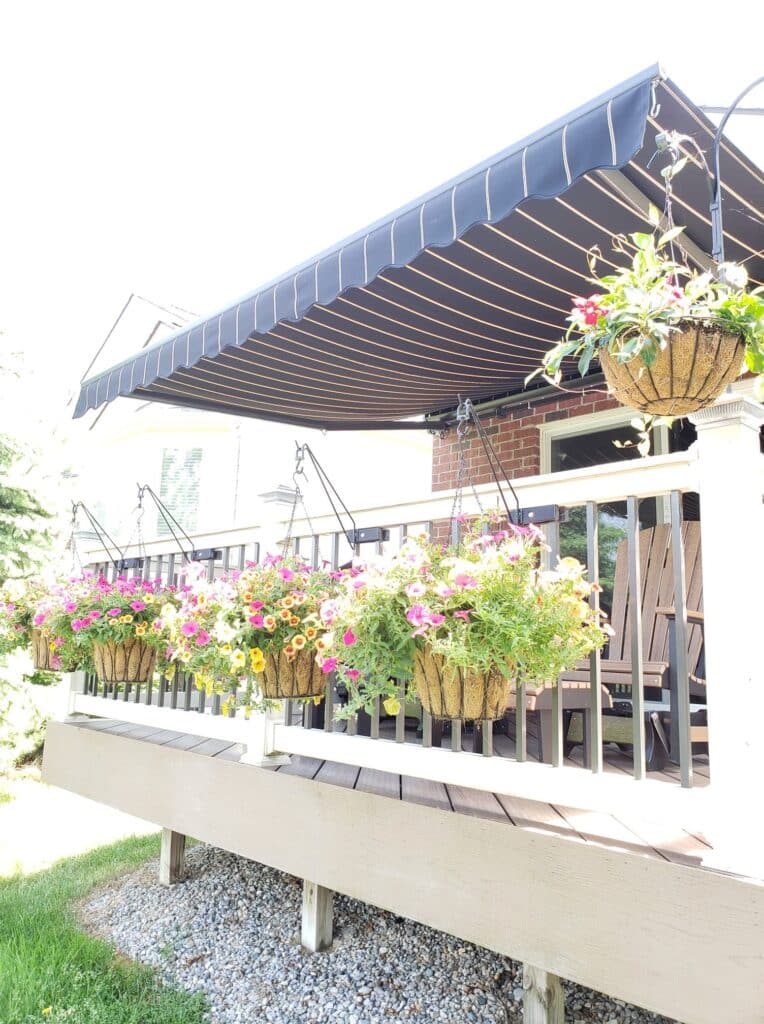 Shrubs, mature trees, and hanging plants are all great shade options for your deck. While tall mature trees provide shade, hanging plants and large shrubs, if placed strategically, can also provide some respite from the sun.
Potted plants are another great option to bring cooling relief on a hot summer's day. Not only do they make your space more inviting, but they also absorb heat on your deck creating a cooler environment. What plants should you look for? For color, rhododendrons and azaleas are great options. Looking for something with a little more function? Potted herbs are great to keep your deck cool and also keep the bugs away.
Add a Pergola with a Louvered Roof to Your Outdoor Space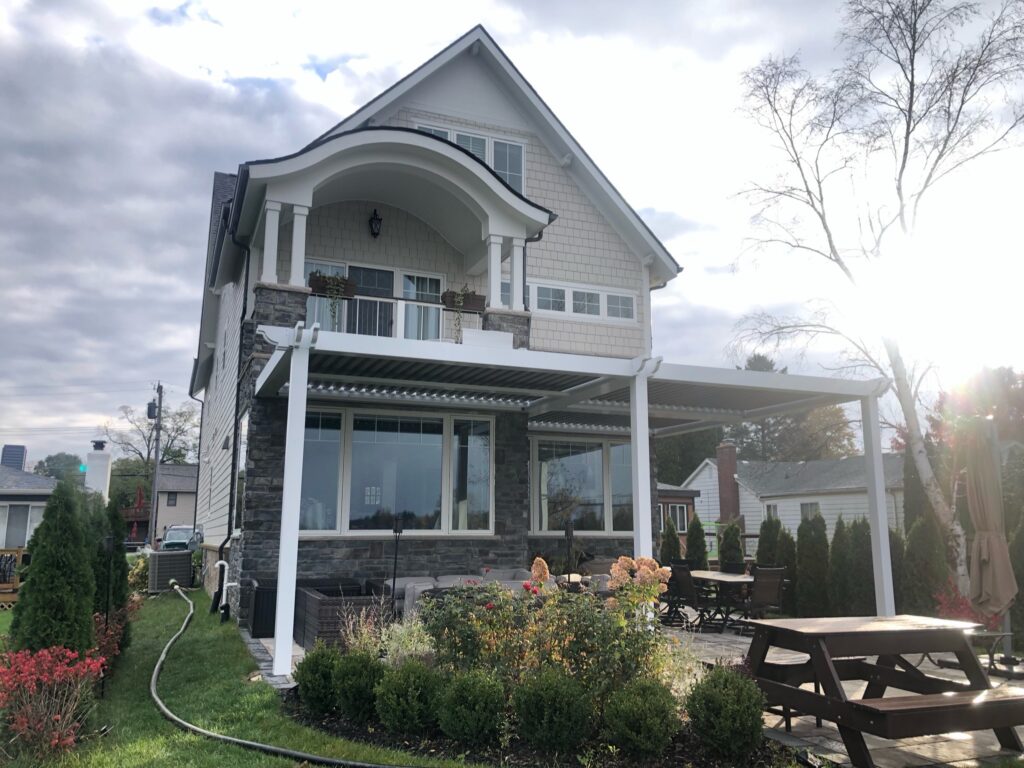 Pergolas are outdoor structures that are built into your patio to provide much-needed shade. They also increase the beauty of your home and add fantastic curb appeal. Looking for some more variety? A Louvered roof is a terrific addition to any home, equipping you with shade when you want it and sun when you don't. Angled horizontal slats are installed and with the push of a button, open or close on demand.
Creating a perfect atmosphere, a pergola with a louvered roof provides a great environment for a patio table, or a seating area to entertain family and friends. Want more sun on your composite deck? Open the slats. Looking for a little more shade and a way to keep your deck cool? Close the slats and enjoy your perfect outdoor space.
Water Misters and Fans Provide a Cooling Effect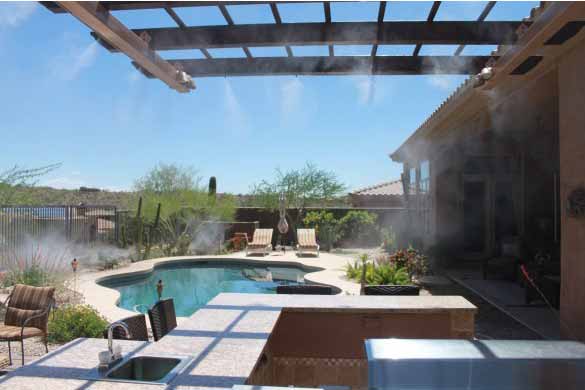 Looking for something a little more substantial to quickly cool you off? You may want to add ceiling fans, misting fans, or evaporative coolers that can help provide some much-needed relief from the heat.
If you have access to a pergola or a roof over your patio, ceiling fans can be installed to help circulate the air around your deck. If you're looking for a simpler solution, a large fan placed in a shaded part of your yard can help blow cooler air towards your deck.
Water misters are a great tool to have at your disposal if you're looking for some relief from the summer heat. Small droplets of cold water are blown into the air to help cool down your deck and your guests! Especially welcome in dry environments, a water mister or misting fan can quickly cool the surrounding air.
Looking for something a little more drastic? Evaporative coolers embrace the power of water evaporation to bring cool air to your deck. As hot air enters the evaporative cooler, the water evaporates and leads to a drop in temperature on a hot summer day.
Image: https://www.advancedmistingsystems.com/patio-misting-systems/
Pick Furniture and Rugs That Beat the Heat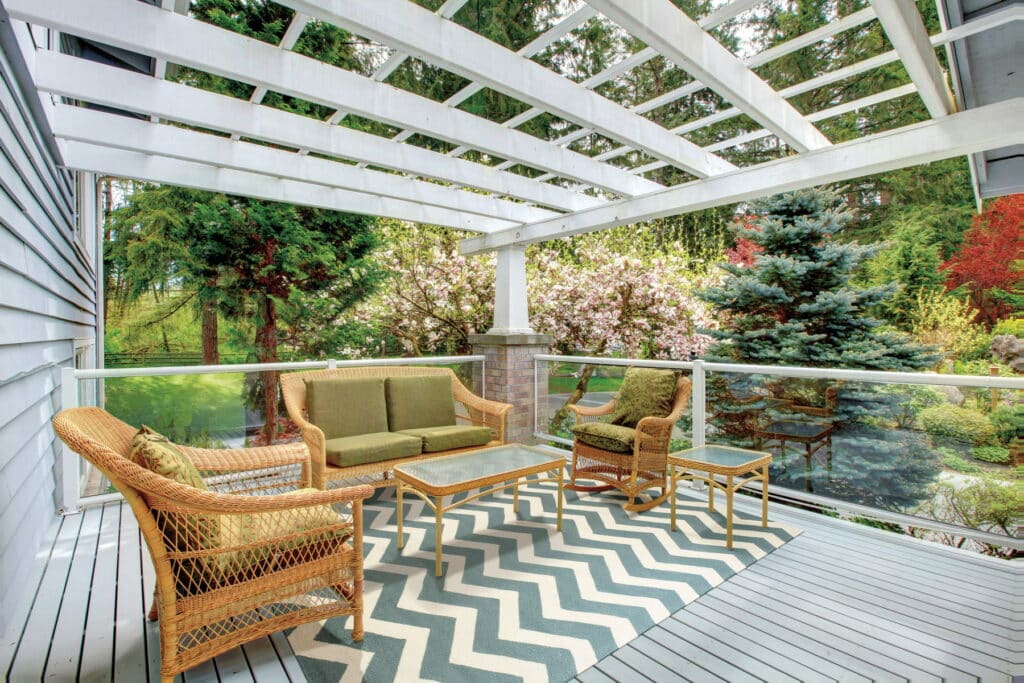 This may seem like a small thing, but details like furniture can play a huge role in how warm your deck is. Metal and plastic furniture tend to retain more heat, but choosing a material like wicker gives you something cool to sit on.
Another option is upholstered furniture, preferably in a light color. Not only providing a comfortable place to sit, but somewhere cool to rest. Want to drop the temperature even more? Put a towel in the freezer for about an hour and take it out to drape over the furniture.
Now let's talk about what's under your bare feet. Does your patio or deck get too warm to walk on? Outdoor rugs are a great choice and there is an abundance of options – you can pick one that is decorative and functional.
Look for an outdoor rug that is resistant to UV rays, mildew, and stains. Not only will these options make your life easier, but your rug will also last longer. Other things to consider: where your rug will be placed and how it feels underfoot. Additionally, is it easy to wash? Something you can throw in the washing machine or spray with a garden hose is a must.
Image: https://plushrugs.com/blog/how-to-store-your-outdoor-rug-for-winter/
Choose Light Deck Boards to Stay Cool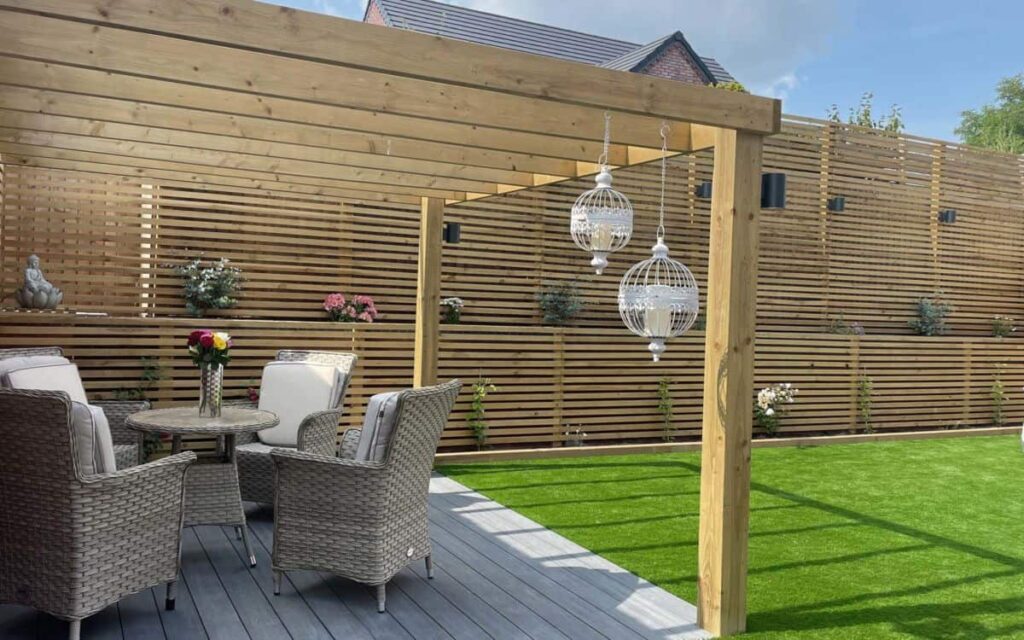 When you are constructing a deck, not all materials are created equal. Especially when you want that material to stay cool. If you're looking to construct a new deck – you may want to consider cedar which is a less dense wood allowing it to remain cooler on really warm days. Another option is using composite decking. While some composite decks run warmer than wood, they are currently manufacturing heat-resistant options that take longer to heat up.
Another option is to paint your wood a light color or choose a lighter composite decking. Absorbing less of the sun's rays – lighter material stays cooler longer, giving you some much-needed respite on those hot days.
As we approach those hot summer days, finding ways to keep cool is essential. Marygrove can help. From awnings to louvered roofs, we can provide you with quality solutions that are perfect and ready to install. Looking for a custom solution? We can do that too. Just contact us and we can find the perfect option to fit your home's exact measurements.
Image: https://neotimber.com/decking/composite-deck-lighting-ideas/