Atlanta backyards are a prime place to spend time in the gorgeous Georgia weather. We've rounded up seven Atlanta patios and landscapes that will give you a ton of ideas and quite possibly make you jealous.
From awnings to the perfect pool, placing a creative stamp on your backyard design will help increase your home value and make your outdoors an even greater place to spend time. Looking for your house to stand out in your neighborhood? These backyards will surely bring you a ton of inspiration.
1. Add a Little Shade with Awnings in Atlanta, GA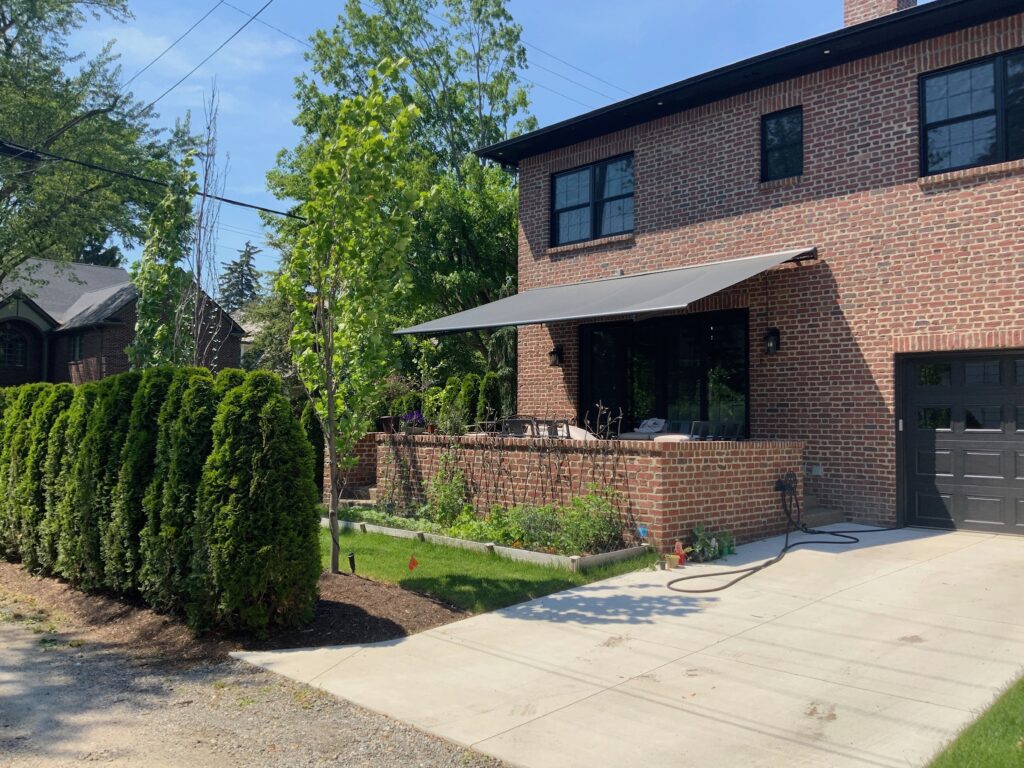 This home in Atlanta boasts a beautiful awning covering a paved patio perfect for everyday use. This patio becomes an extension of the home. Providing shade, the awning is a perfect accompaniment to your yard. Surrounded by lush greenery, this front yard has a ton of privacy. Entertaining is easy with a lovely patio set and small fireplace – making this a perfect yard for year-round use. This patio has built-in LED lights in the awning perfect for use at any time of day. Functional and beautiful, this setup checks a lot of boxes.
Here at Marygrove we can help you choose the perfect awning. We offer design and installation in Atlanta, GA and our experts are on call to help you make your yard the perfect place to be.
2. Add Lush Greenery to Escape the City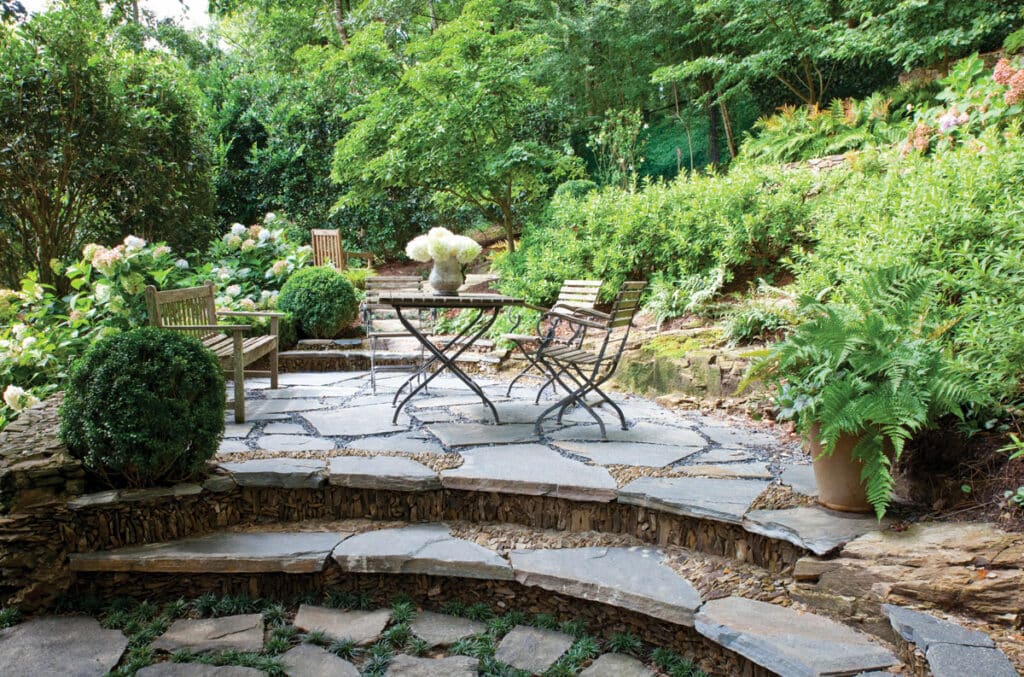 This Atlanta backyard is full of lush plants and a tiered patio. Hydrangeas and ferns surround the stone, making this yard feel like a definite escape from the city. Not only do these plants provide beautiful color, but they also help cut down the city noise. This backyard is perfect for a garden party, invite friends and family over to sip drinks, and enjoy the flowers. Ready to create your own oasis? Head to your local nursery and talk to an expert about what might do well in your yard. Have shade? Try ferns or hydrangeas. Does your backyard boast a ton of sun? Lantanas or snapdragons should do the trick. If you're looking for additions to crawl a pergola or a fence, look no further than Jasmine or Ivy. With the addition of all these plants, you'll have a thriving garden escape in no time!
Photo credit: https://www.atlantamagazine.com/homeandgarden/these-3-atlanta-backyards-are-oases-with-lush-plantings-meandering-paths-and-artful-touches/
3. In Atlanta, a Pool Beats the Heat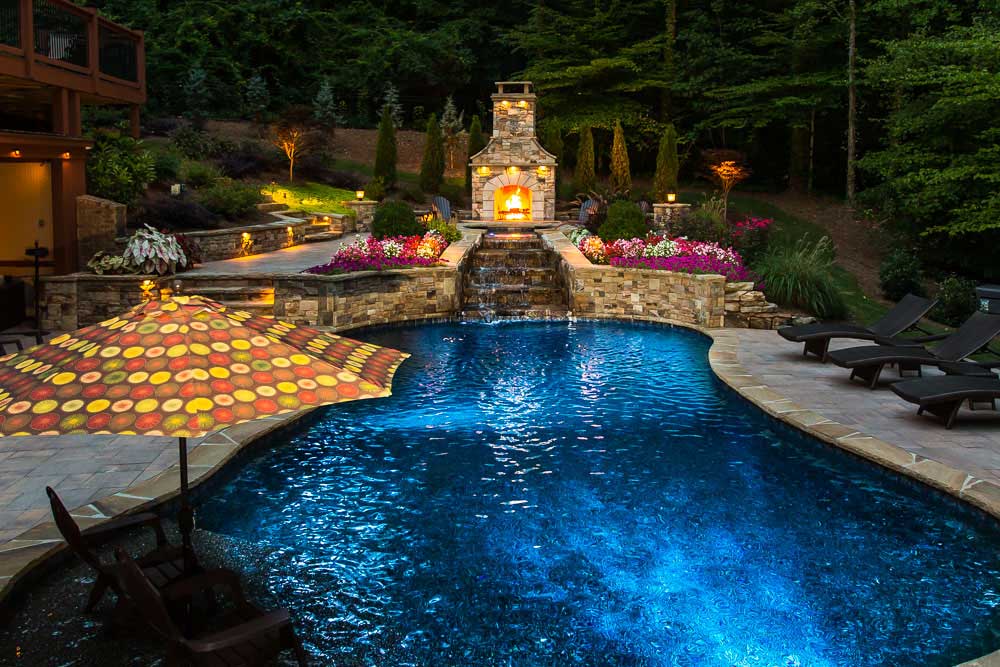 Complete with a hot tub and a pool, this Atlanta backyard beats the heat. From the lush landscape to the beautiful lounge area – this yard has it all. Take a dip in the pool to cool off and then enjoy a nice cold beverage near the bar area. Not just for personal use, this backyard is perfect for entertaining. Adults and kids alike will love this yard to bring friends and family together. Cooler night? Sit around the fireplace for a lovely evening looking up at the stars.
Image Credit: https://www.artisticlandscapes.com/outdoor-living/atlanta-pools/
4. Add Character and Privacy to Your Backyard with a Pergola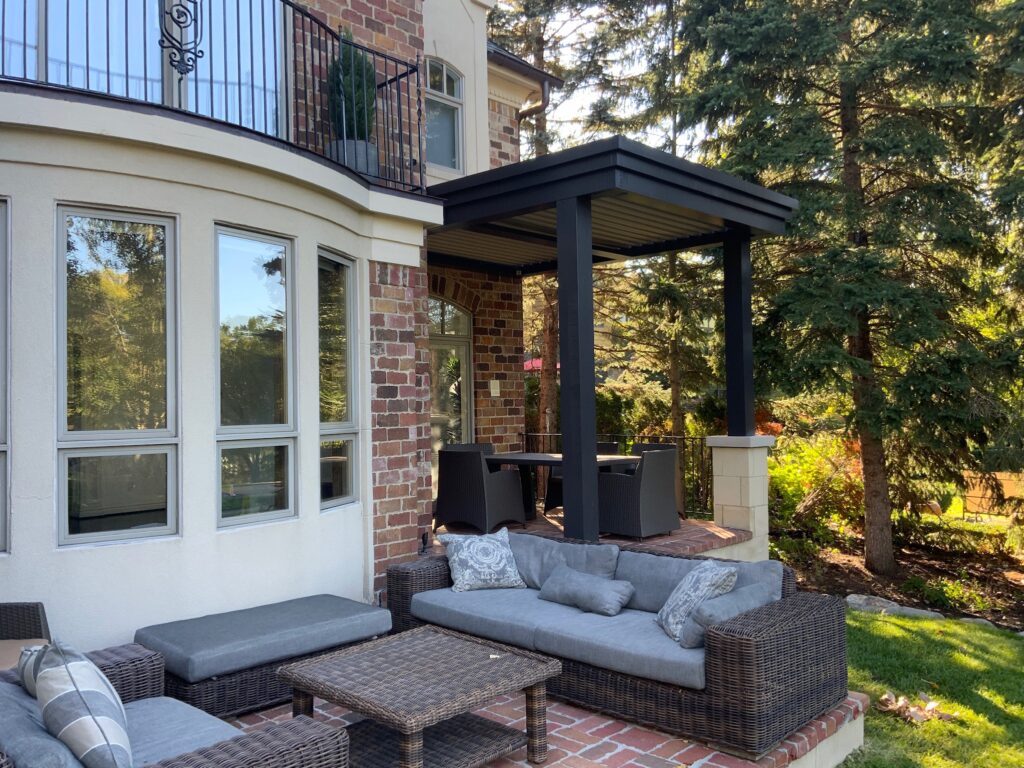 We love this backyard landscape in Atlanta for a variety of reasons. You can't miss the beautiful pergola, covering your dining area. With shade when you want it, it is perfect for any time of day. Ready for dinner or to watch the game? This patio has a grill, a refrigerator, and a TV – everything you could need in an outdoor space. Ready for some sun? Move to the uncovered part of your patio to catch some rays. Surrounded by plants and Japanese maples, this design affords a ton of privacy. With the door leading right to the patio, this outdoor space is a substantial extension of the home.
Ready to amp up your patio? See all we have to offer.
5. Build the Patio of Your Dreams in Atlanta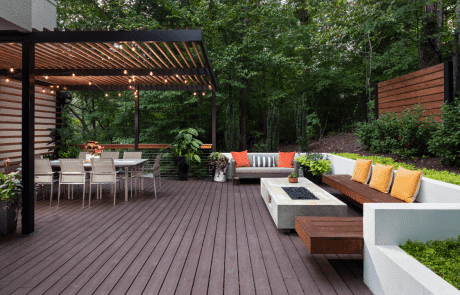 This backyard is so beautiful, we want to move in. Boasting a beautiful wood deck, a fire pit, and a really great lounge area – it looks like paradise. The addition of the twinkly lights creates an ambiance perfect for entertaining. The well-manicured lawn brings a cozy feel to the surroundings and the fence provides a ton of privacy. Well-placed potted flowers and throw pillows add a ton of color to make this a truly stunning backyard escape in Atlanta.
Image Credit: https://www.boycedesign.com/portfolio/contemporary-backyard-retreat/
6. Create your Entertainment Epicenter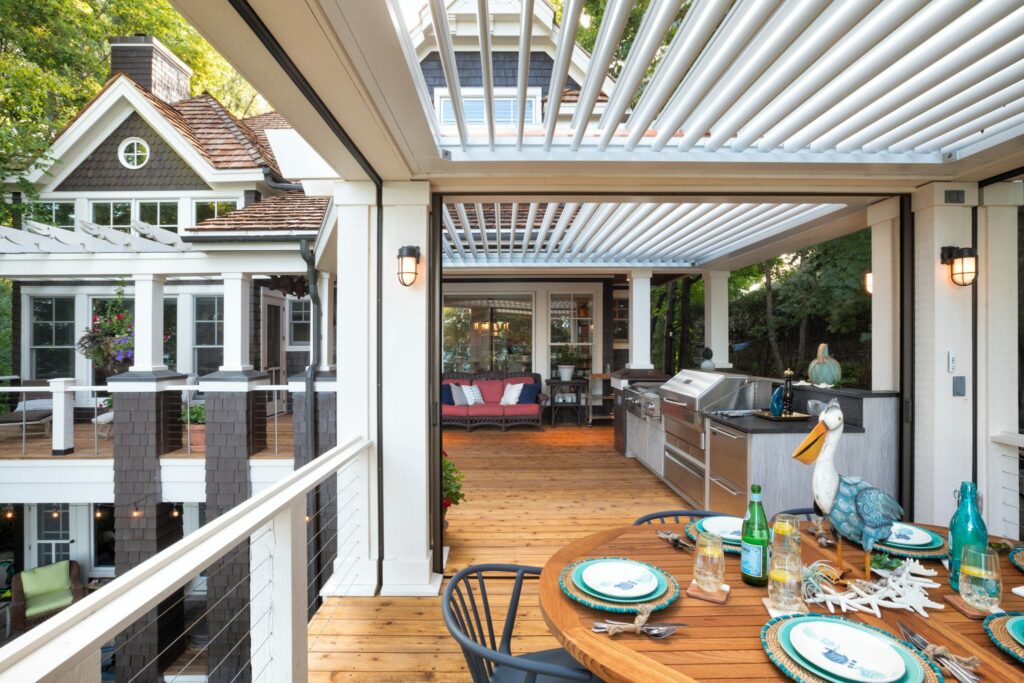 It is simple to entertain in this gorgeous Atlanta backyard. The tiered patio is just the beginning. With a full outdoor kitchen, room for lounging, and pergolas for shade – the outdoor space is open in any kind of weather. The lovely wood deck brings some warmth to the minimalistic colors of the home. Additionally, the outdoor lights provide an opportunity to be out on the deck during any time of day. This property is ready for friends and family, kids and adults for a party or just a relaxing day outside in the beautiful Atlanta weather.
7. Golf Every Day with a Putting Green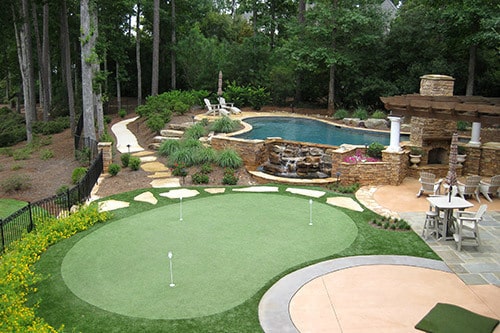 Home to the Masters, Atlanta residents are serious about golf. Want to get ready to play at Augusta or hit a few balls after work? This backyard with a putting green is seriously cool. With a couple of holes and a whole lot of fun, you'll be ready for the greens in no time.
Homes with exceptional outdoor spaces are plentiful in Atlanta and you can bring some of these ideas to your own backyard. According to Realtor.com, homes with added outdoor features have been selling 39% faster than other homes. Therefore, not only is it a good investment for your family, but it is a great feature for sellability.
Marygrove can help! For a superior awning in Atlanta, look no further than Marygrove. Offering high-quality retractable awnings, we provide amazing service and awning installation in the greater Atlanta area. We go above and beyond to ensure that our customer's needs are met. The best part? You never have to leave your house. Marygrove has a mobile showroom that can come directly to you. Call us today to talk to one of our awning experts.