Do you want to expand your outdoor living space with a residential awning? Residential awnings offer numerous benefits to residents in New Jersey, including a boost in curb appeal, relief from intense sun rays, protection from the weather, and comfortable space for friends and family to gather. If you're among the many residents searching for residential awning, you have come to the right place to learn the varieties of residential awnings available.
When selecting a residential awning for your home, consider working with Marygrove Awnings as your residential awning company. As a leading awning manufacturer for several decades, Marygrove Awnings excels in producing high-quality retractable awnings for homeowners throughout New Jersey. Besides offering awnings in an assortment of high-grade fabrics, Marygrove Awnings provides a large selection of awning types.
From fixed residential awnings to retractable awning canopies, the types of awnings to choose from are practically endless. Today, we'll explore the many types of residential awnings so that you can confidently select an awning that suits your New Jersey home.
Types of Awnings Available in New Jersey
If you want to turn your backyard into a relaxing environment, a residential awning may be the perfect addition to your home. Residential awnings provide shade and protection from inclement weather while elevating your home's curb appeal and enhancing your living space. Because every residential awning is different, it is important to choose an awning type that best fits the needs of your house.
Each type of residential awning offers its own unique benefits to residents. Some awnings, such as retractable awnings and solar screens, are adaptable to the weather. Other awning types, such as fixed awnings, are permanent structures built to provide year-round protection.
If you're unsure what type of awning will complement your home best, have no worries! Below, we've put together a list of the many awning types for homeowners searching for awnings in New Jersey.
Fixed Awnings in New Jersey
If you're seeking a solid structure to offer permanent protection for your home, a fixed awning may be the perfect option for you. Fixed awnings in New Jersey extend over decks, patios, windows, as well as pools to shield individuals from the sun's intense rays and protect your house from violent weather.
Because a fixed residential awning blocks sunlight from reaching your home's windows, installing an awning may reduce cooling costs up to 40 percent. Additionally, a residential fixed awning may prevent indoor furniture from fading in the sunlight.
Marygrove Awnings crafts fixed awnings in a range of patterns and colors for residential properties in New Jersey. From classic awning designs to contemporary awning styles, our fabric selections are practically endless for New Jersey homes.
Retractable Awnings in New Jersey
Homeowners seeking a versatile awning design will appreciate the flexibility of a retractable residential awning. Unlike fixed residential awnings, retractable awnings in New Jersey will adapt to the needs of the weather through the use of either a manual crank or a motorized system. The most popular type of retractable awning is the motorized awning, as it can be extended or retracted with just the push of a button.
There are countless benefits to installing a retractable awning. Unlike other types of awnings, retractable awnings offer flexibility to homeowners. During the warm months of summer, a retractable awning may be extended to reduce cooling costs and shield patios from harsh UV rays, while during winter months the awning may be retracted to increase the retractable awning's longevity.
If you're searching for retractable awning, consider allowing Marygrove Awnings to craft the retractable awning of your dreams. Our retractable awnings are available in an assortment of colors and fabrics, as well as custom awning options.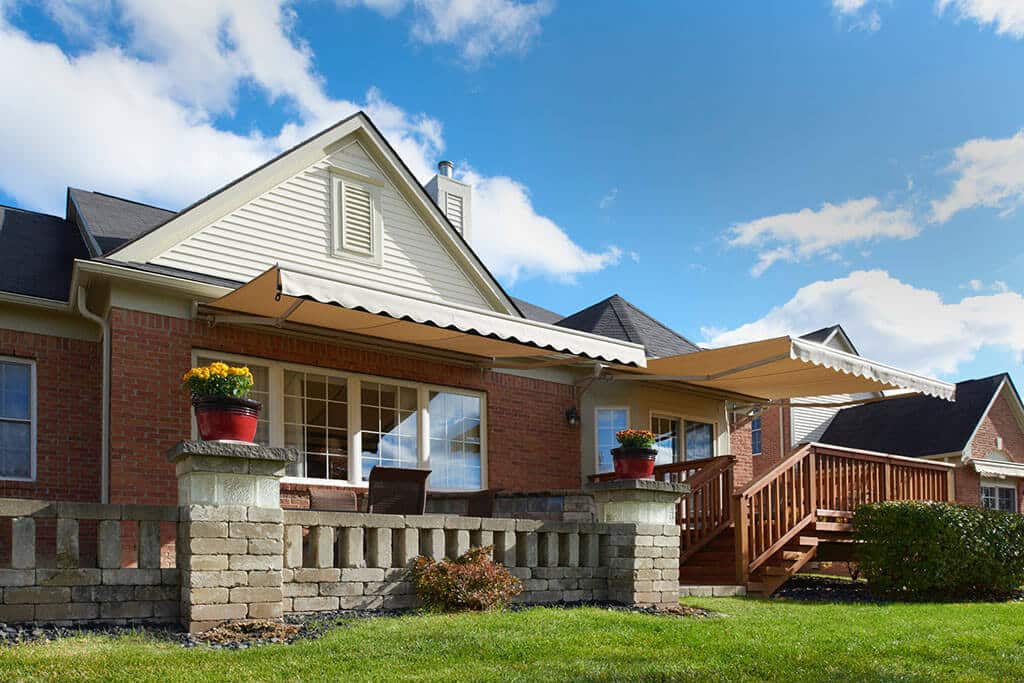 Condo Retractable Awnings in New Jersey
If you want to spruce up your condo in New Jersey, a condo retractable awning may be exactly what you're looking for. Similar to retractable awnings, condo awnings are versatile canopies that easily adapt to the needs of the weather. Their flexible design offers continuous shade to balconies while providing peace of mind to residents who desire an adjustable awning for their condominiums.
There are numerous advantages to installing a retractable awning at your condo. Not only do condo retractable awnings provide shade to balconies, but they also protect windows and furniture from UV rays. Furthermore, condo retractable awnings create a comfortable, relaxing environment for friends and family to gather, allowing New Jersey residents to turn their balconies into an enjoyable living space.
Solar Screens in New Jersey
Residents in New Jersey desiring additional shade without sacrificing air quality may enjoy reaping the benefits solar screens offer. Also known as window shades, solar screens in New Jersey provide increased shade and improved air ventilation to porches and patios of all sizes. Their versatile designs allow solar screens to easily adapt to the weather, resulting in continuous shelter from UV rays and harsh weather conditions.
In addition to shading patios, window shades provide increased privacy and additional living space for both large patios and small balconies. Built with PVC-coated fiberglass properties, solar screens allow homeowners to clearly see out while preventing neighbors and passersby from seeing in.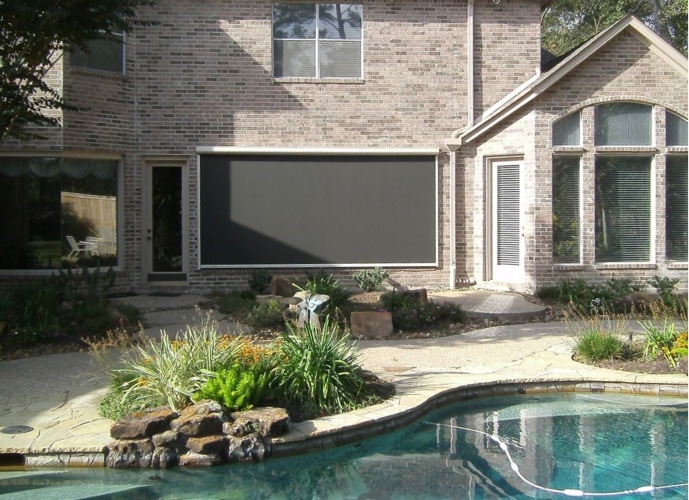 If you're unsure which type of awning will best suit your needs, Marygrove Awnings is here to help! As a leader among awning companies in New Jersey, Marygrove Awnings produces residential awnings in a variety of designs, ranging from retractable awnings and condo awnings to fixed awnings and solar screens. Our awnings are crafted with the highest quality materials, ensuring your awning will last for decades to come.
In addition to constructing high-grade residential awnings, Marygrove Awnings provides speedy delivery and professional awning installation. We also offer customized awning options for homes with specific color and sizing requests.
Want to learn more about our residential awning options in New Jersey? We offer awnings through the entire state including but not limited to Ocean City, Bergen County, Trenton, Long Beach, Cherry Hill, and Vineland. Contact us today to explore the variety of awning designs Marygrove Awnings offers!