Retractable Awnings
Michigan
Marygrove Awnings in Michigan
For over 80 years, Marygrove has been transforming homes and backyards with high-quality retractable awnings. Extend your gathering space and make your yard the place to be this year.
Marygrove has been proudly serving Michigan from our headquarters in Detroit since 1933. We're excited to continue to bring our award-winning products and superior customer service to communities throughout our great state. To say Michigan has a special place in our business is an understatement.
Marygrove Awnings has grown to become one of the leading manufacturers of world-class awnings throughout the Midwest and beyond. We work closely with commercial enterprises to increase exposure and brand visibility while adding increased functionality to their buildings. In addition, our residential awnings are very high quality and come packed with extra benefits that many of our competitors' products cannot match.
Let's explore the large selection of awnings and retractable pergola options that we offer for residential and commercial properties in Michigan.
Marygrove was great to work with. The installers were on time and very professional. They did a great job installing our awning for our deck. We enjoyed many days and nights this past summer and plan on many more. I obtained 2 other quotes that were both over $2,000 more. We choose the right company. Thank you.
We had fast and friendly service. Installation was quick and everything about care and maintenance was explained very clearly. We enjoyed the awning all summer and had no problems.
The whole team over at Marygrove Awnings takes pride in their workmanship and customer service. Our first experience will definitely not be the last! I wanted to publicly and personally thank the team for their professionalism and flawless installation of one of my client's awning. Just a start of a wonderful business relationship! Thanks Marygrove Awnings! Keep up the great work!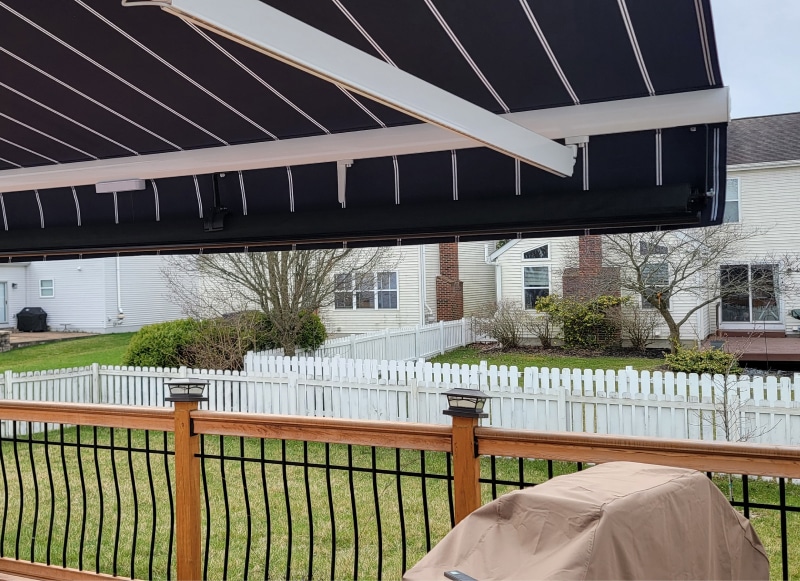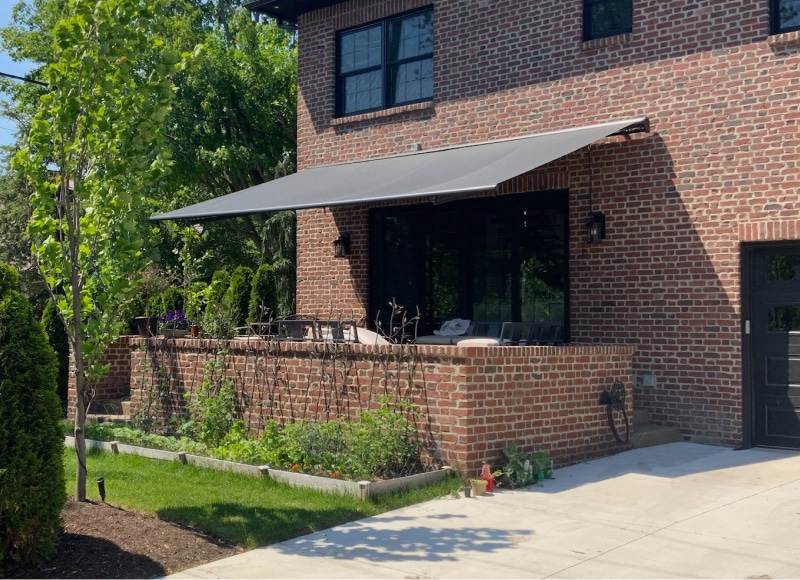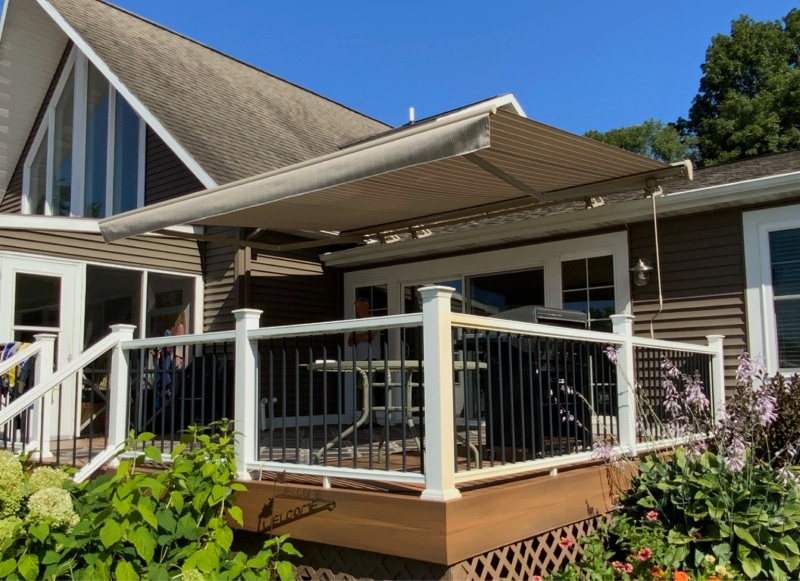 Awning Options and Features for Michigan Homeowners
The benefits of installing a residential awning at your home are endless. Residential awnings and canopies increase your home's curb appeal, offer additional outdoor space for rest and relaxation, and protect your home from the sun and inclement weather.
If you've been pondering whether you should add a residential awning to your home, let Marygrove Awnings make this process a breeze for you. Our company offers an immense assortment of designs and fabrics to choose from as well as different types of awnings. Whether you're looking for a retractable residential awning, screen, or louvered roof for your home, Marygrove has you covered with a complete line of products and full awning installation. No subcontractors or third parties are involved.
Marygrove also provides a wide selection of retractable awning accessories and features. From wind sensors and LED lights to front and side screens and motorized operation, we have the technology and service to protect you in any situation. With the Marygrove remote, you can retract your awning with the click of a button! Combine solar screens with one of our awnings to create a unique backyard oasis unlike any other.
Each awning is sold in a variety of colors and patterns, so it's easy to choose what's best for your deck or outdoor room. Simply match the fabric of your awning to your home's primary or secondary colors and patio decor. With 10 premium fabrics in stock, it's easy to select an option that looks great. Pick the design that suits you best and leave the rest to us!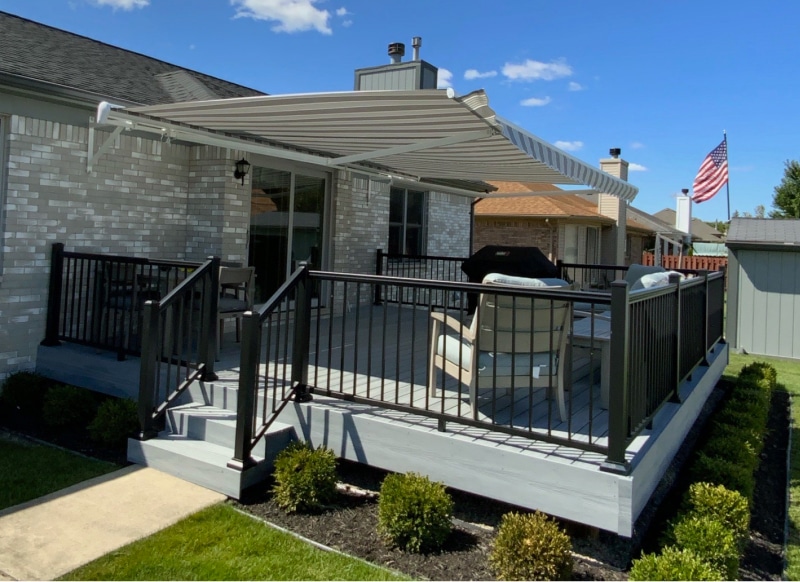 Consider A Retractable Awning
A retractable awning is a quick and easy way to make your porch, deck, or patio a more enjoyable place to be. No longer will you have to worry about guests being scorched by the sun because our motorized awnings are designed to provide shade while still allowing air to flow freely. Even when it is raining out, your family and friends still can enjoy sitting on your patio with your retractable awning sheltering you from the elements. Once we install your retractable awning, you'll always wonder how you got by without it.
Commercial Awnings in Michigan
Want to enhance your business and attract more customers? Consider allowing Marygrove to install a commercial awning for your company. Commercial awnings have many benefits such as attracting customers to your business, providing shade and protection from the weather, and enhancing your curb appeal.
Furthermore, Marygrove offers several different types of solutions to consider installing for your business. These types include storefront awnings, outdoor seating and patio awnings, and louvered roof systems. Whether you are a manufacturing facility, golf course, retail business, or restaurant we have you covered.
All these awning types can be designed in the color and pattern of your choice. Let us know the dimensions of your business and allow us to spruce up your building, deck, or patio with our commercial awnings.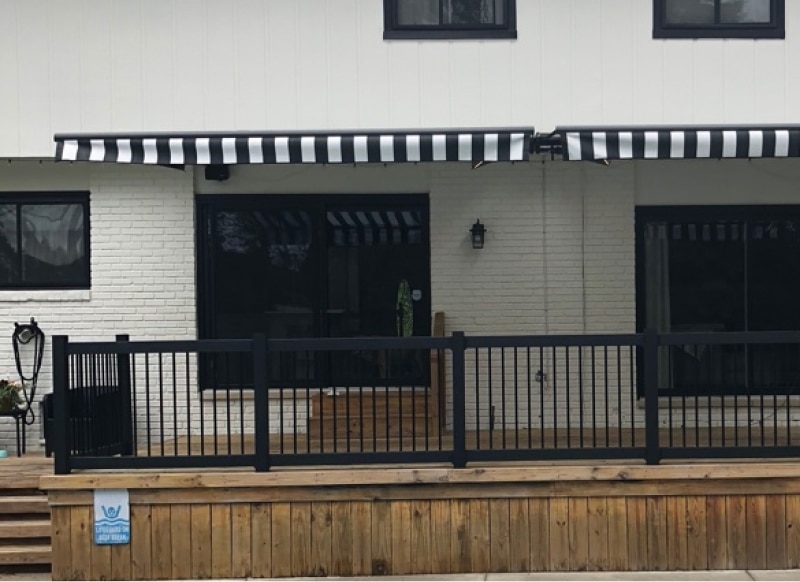 Major Michigan Areas That We Serve
What makes Marygrove different from other awning companies and large corporations? If you are considering a residential or commercial awning, Marygrove is here to help.
Marygrove manufactures everything in-house – and our installation team is all part of the same Marygrove family. This includes engineering and design, metalwork and fabrication, and cutting, sewing, and printing. We offer you a one-stop convenience for all of your awning and facade needs. For over 85 years, we've ensured every product we create adheres to Marygrove's strict standards of quality.
We have hundreds of five-star reviews and experts ready to guide you through the process to find the right retractable awning for you. With a free estimate, you can be confident you're making the right choice for your unique needs and wants.
Our awnings can come equipped with a number of accessories. Does the breeze worry you? Wind poles or a wind sensor can help you stay safe and secure. What about those sunny Michigan summer days? Our side and front screens can help protect you and provide needed shade for your patio. With our LED lights, you can keep the party going long after the sun goes down.
We provide complete awning installation services for all our awning design solutions, so you can be confident in the look of your outdoor living space.
We are a family-owned awning company and take great pride in providing for the families of our communities not just through a superior product, but also by giving back.
Marygrove Awnings has always worked hard to support our local community throughout the entire state of Georgia. We believe that good corporate citizenship should be a crucial part of everything we do. When you choose Marygrove, you know you'll get the excellent customer service and the support you need.
If you need help choosing a awning or structure, we are here to help. We have over 30+ years of experience in the industry and we offer free consultations. So if you're looking for shade and a little protection from rain or sun, don't hesitate to contact us today!
Marygrove has always strived to have a positive impact in our community. We encourage all of our team members to live charitably through acts of service, donations, and participation in special events. Partnering with local businesses, we shine a spotlight on our amazing neighbors and help them make a huge impact in the communities we serve. At Marygrove, you aren't just a customer – you are family.
The greater Detroit area is our headquarters and home. We value collaborating with local businesses to help them thrive and grow. In 2021 and 2022 alone, we highlighted 50+ businesses through our Marygrove Around Town program. From sponsoring local events, supporting local families, and even ringing the bell with the Salvation Army, Marygrove aims to expand our partnership opportunities in the future. We like to think we aren't your average awning company by going the extra mile in our own community.
Other Areas Marygrove Services
No Interest if Paid in Full in 12 Months*
Everyone Deserves a Marygrove
Apply online or work with your Marygrove representative to find convenient payment options for your retractable awning, including monthly payments.
*Subject to credit approval. Apply online.
*Subject to credit approval. Interest is billed during the promotional period but all interest is waived if the purchase amount is paid in full within 12 months. GreenSky® and GreenSky Patient Solutions® are loan program names for certain consumer credit plans extended by participating lenders to borrowers for the purchase of goods and/or services from participating merchants/providers. Participating lenders are federally insured, federal and state chartered financial institutions providing credit without regard to age, race, color, religion, national origin, gender or familial status. GreenSky® and GreenSky Patient Solutions® are registered trademarks of GreenSky, LLC. GreenSky Servicing, LLC services the loans on behalf of participating lenders. NMLS #1416362. GreenSky, LLC and GreenSky Servicing, LLC are subsidiaries of Goldman Sachs Bank USA. Loans originated by Goldman Sachs are issued by Goldman Sachs Bank, USA, Salt Lake City Branch.
Your estimate is only a few steps away.  Fill out the form and we will call you promptly to set up an appointment.