Introduction to Automated Awnings
With the growing popularity of smart home devices that allow homeowners to control many functions of their home remotely from a smartphone or tablet, it's not surprising that awning manufacturers are introducing new retractable awnings that provide the same level of convenience for your outdoor patio or deck that you currently enjoy with your smart thermostat, lighting, and entertainment system.
Equipping awnings with motors was a huge step forward compared to hard to use hand crank systems. The next step was to where we are today: fully automated motorized retractable awnings that can be extended or retracted remotely from your phone and equipped with sensors to self-adjust to changing sunlight and automatically retract during bad weather. If that sounds like the kind of convenience you want for your outdoor living space, read on to learn more.
Motorized Retractable Awning Advantages
A retractable deck or patio awning is a great addition to your home. They provide shade protection for you and your guests, and help define your deck or patio's space. A permanently mounted motorized retractable awning is ready for year round use whenever you are. Unlike fixed awnings, retractable awnings allow you to protect the awning's cover from damage from high winds and inclement weather, maximizing the life of your investment. When comparing your options, why choose a motorized awning over a manual awning?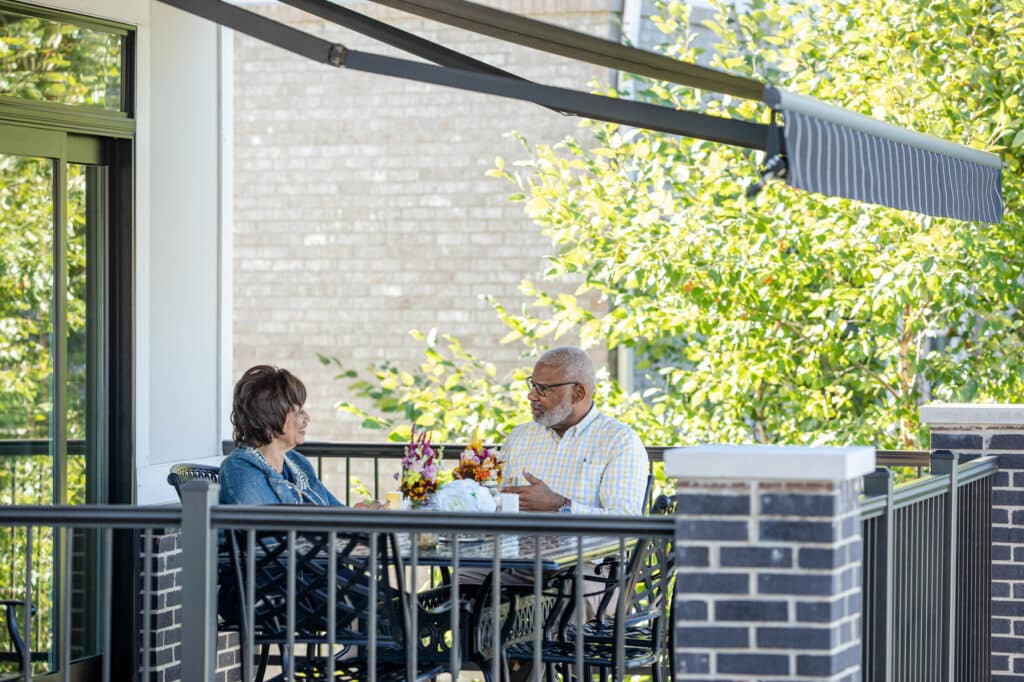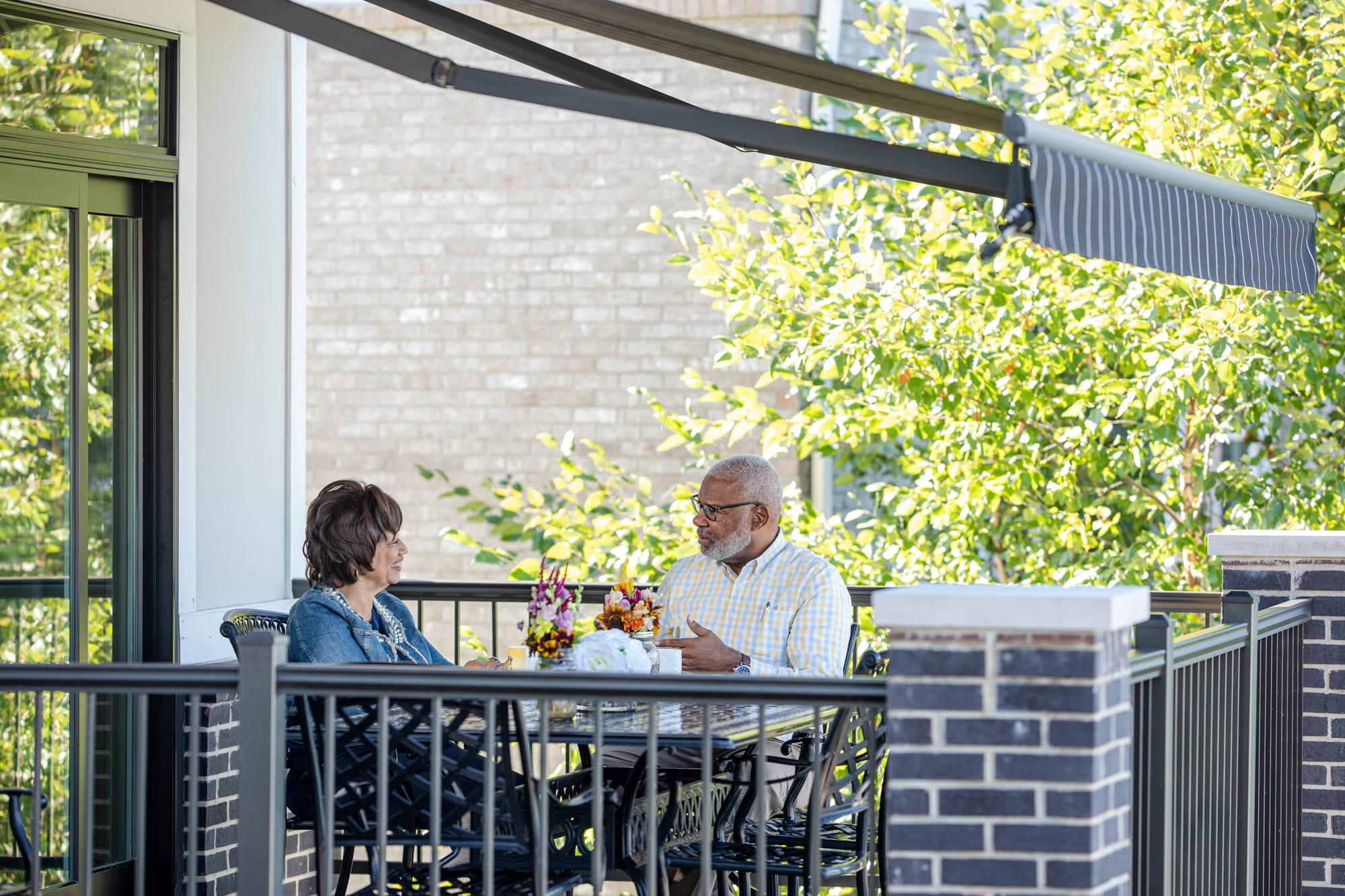 Many advantages of a motorized awning over manual retractable awnings can be summarized in one word: convenience. Motorized awnings can be extended/retracted more quickly than a manual awning, without requiring you to stand beside the awning and turn a hand crank every time you want to adjust the awning.
In the event of a power outage, motorized retractable awnings are equipped with a manual override, allowing it to be manually operated with a hand crank in an emergency.
Because of the added power of electric motors, motorized retractable awnings are available in multiple sizes larger than what is available with a manual awning.
Ever since the first TV remote control was introduced to the world in the 1950s, the question "where's the remote?" has been asked in households worldwide. A motorized awning remote control is no different. But many motorized awnings now have the ability to link to a smartphone app, allowing you to control your new retractable awning from your patio, deck, backyard, or inside your house without looking for the remote. Don't overlook the convenience of being able to control your awning from a device you already have in your pocket, especially during busy picnics and gatherings where the last thing you want to do is hunt for the remote control.
Motorized retractable awnings aren't just great for enhancing your outdoor space, they can also save you money. Providing sun shade to the side of your house, especially when installed above windows, will help keep your home cooler in the summer, lowering your air conditioning bill.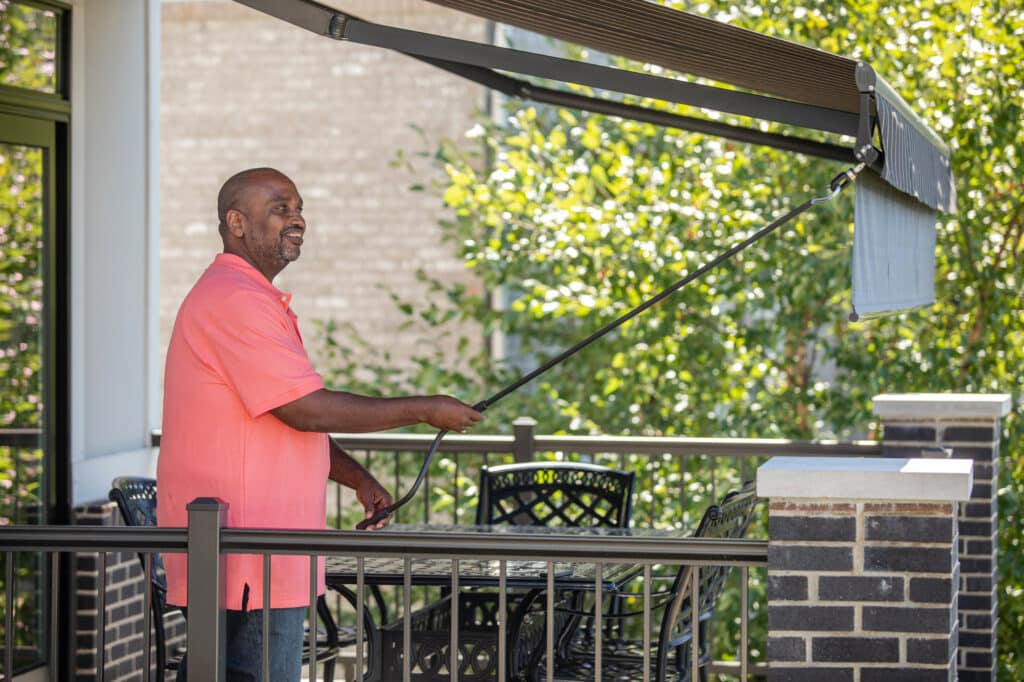 Newer retractable awnings now come in a variety of trendy fabric colors that will dramatically transform any space.  Awnings not only increase your homes value through their application, they also can also help create stunning backyard landscapes that home buyers desire. Where as the awnings of old appealed to an older demographic, new automatic awnings now are featured in many new builds throughout the country.  If interested we put together a guide to choosing a more modern awning for your residence. 
Choosing a Retractable Awning
When choosing an automated awning, start by looking at the basics of the awning's construction and materials, along with optional features to enhance your deck or patio.
What is the frame made from? Aluminum won't rust and is light-weight, placing less stress on the area of your house where it is mounted. Awnings can be mounted on almost any wall surface: vinyl siding, wood, brick, or stucco, and an awning housing and frame that combines strength to withstand strong winds with lightness will always be the best choice for any siding material.
Most retractable awnings now use a lateral arm system that maximizes head room and ensures your guests won't bump into a low-hanging side support arm.
In addition, also make sure that the awning has a full-cassette design where the awning fabric is completely enclosed inside the awning housing when retracted. This will extend the life of your awning fabric by keeping it sheltered from the elements when retracted.
Is the cover made from a top quality brand-name outdoor fabric like Sunbrella? A high quality fabric will maximize the useful life of the awning. When investing in any deck or patio awning you will want to make sure that the cover is durable and ready to provide UV protection to you and your guests for many years.
Water resistant woven acrylic fabric is a popular choice for its ability to provide shade and withstand fading from the sun. Make sure the fabric dye was designed to be UV resistant for the longest life of the colors. With many color options and fabric options to choose from, you can find the perfect look for your deck or patio.
While the length of the warranty is a good general rule of thumb when comparing awning manufacturers, look beyond that first number and compare what items are covered, and for how long. Some manufacturers (including Marygrove) offer extended protection for certain components.
Marygrove's warranty covers the motor for 5 years and offers extended protection of 10 total years on the structural components and fabric. A good warranty will give you peace of mind in your investment that should anything break, you'll be covered at no cost.
To enjoy the experience of full automation, see what accessories are offered for your retractable awning of choice. A high priority option should be a wind sensor to protect your new awning from inclement weather. Retractable awnings can be used year round, but remember that they can be damaged by strong winds. A wind sensor (typically mounted to the front bar of the awning) will identify if the wind is too strong for the safety of your awning and will retract it automatically.
Also think about adding additional features like bug screens or sun shades to enhance the enjoyment of your new purchase. And when the sun goes down and you want to keep the party going on your patio or deck, LED lights mounted on the arms or front bar of the awning frame provide ambiance throughout the evening and into the night.
Installation of a Motorized Awning
Any motorized retractable awning requires electricity to run. Depending on the awning, you will either need an outdoor grounded outlet for the awning's power cable, or you will need to have a qualified electrician or installation professional hard-wire the awning into your home's electrical system. 
Before your awning is installed, make sure that you have a power source ready in the location where the awning will be installed.
Professional Installation
While some awnings are sold with step by step instructions so you can install them with the help of a handy friend or two, we recommend that you have a professional installation team install your new motorized awning. A team of experts can install your new awning quickly and correctly. And when choosing an automated motorized awning, having a team of experts to demonstrate the features of your new awning once it is installed will save you time in getting to know your awning.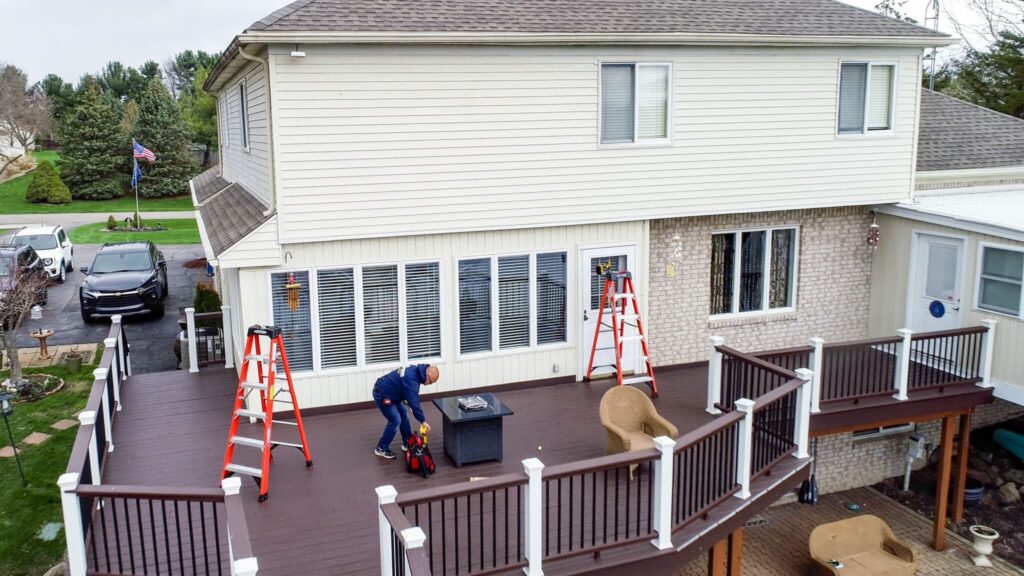 Retractable Awning Ownership
Once you have selected a high quality retractable awning for your home and had it installed, what's next, besides enjoying the shade during those hot summer months?
Make sure to consult your owner's manual for tips on cleaning and light maintenance. Some manufacturers offer annual service plans where an expert technician will come out and get your awning ready for the busy summer season, a valuable investment that can keep your retractable awning in top shape and ready for any occasion.
We hope that this guide has been helpful as you consider the options available for automated and motorized retractable awnings. Call us today to schedule your in-home design appointment if you're ready to add a motorized retractable awning to your home's deck, patio, or porch.