Looking for something special to take your backyard to the next level? An outdoor structure is an easy, affordable way to get improve your spot in the sun, or more pointedly out of the sun. The question is, should you be looking at awnings or gazebos?
Maybe it's mostly a nuance of outdoor design, but people often get awnings and gazebos mixed up. Each of these has their own characteristics, including how they function and where they are in relation to your home.
Even though they look totally different, people who aren't familiar with outdoor design can easily get them mixed up. Finding the right shade solution for your home starts with getting a clear picture of each of these comforting outdoor options.
A gazebo is an independent structure that can be placed at the back of the house or out front where anyone driving by the address can see it.
Because of their free-standing nature, a customer shopping for a gazebo should be aware that they can be picked up and moved anywhere in the yard. A gazebo might start in the front of the house, and then the homeowner will decide to move it to add some shade in the back.
Though a gazebo has a practical function, these backyard structures are often built with the idea of being used for a special occasion. A gazebo is a great place for a wedding or a party in the backyard.
Like pergolas, they add a special element of outdoor glamor to the menu, unlike a simple patio. They can be decorated with lights or act as outdoor furniture or storage.
People sometimes decide to go the DIY route with a gazebo, building it by hand with building accessories and installing twinkle lights for added ambiance. Because they are wooden structures, gazebos can be labor intensive to build, but it's a doable outdoor project for the avid DIYer.
Movable (If Needed)
Possible DIY
Solidly Constructed
Timeless Asthetic
Not attached to House
Heavy
Expensive
Limited Design Options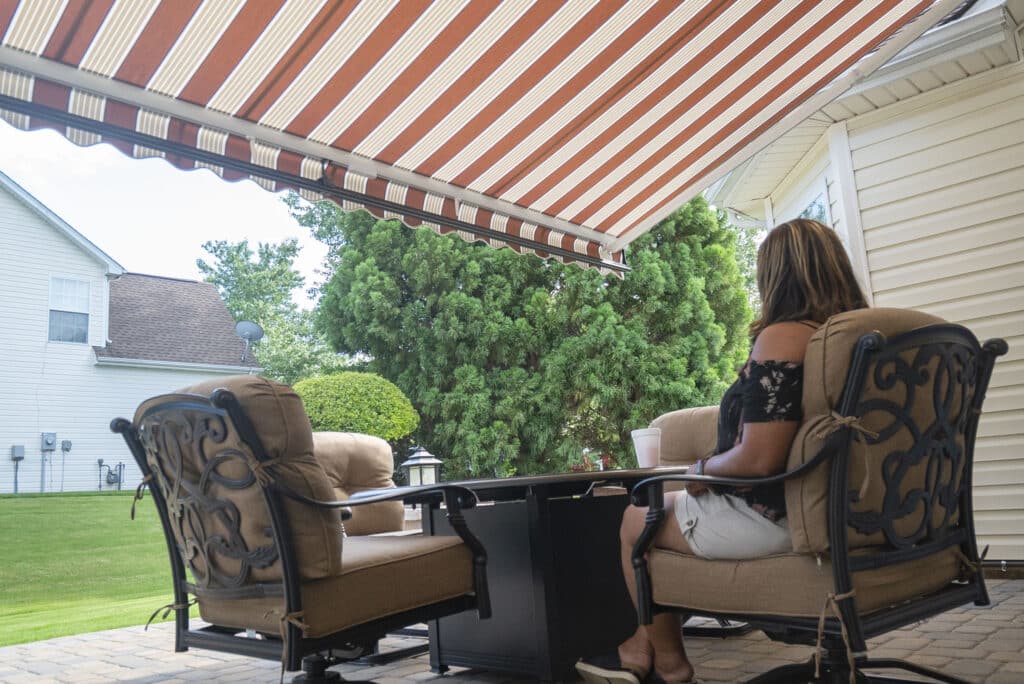 An awning is connected to the home. It's generally installed on the side of the building over a patio or perhaps a window in order to extend the shelter that the house provides. Outdoor furniture might be placed under this, as well as furniture and accessories in order to get the desired results.
You might think of an awning as a kind of covered porch, with one key exception – a retractable awning can be pulled in and out to provide a wide range of functionality for the homeowner, depending on what their needs are.
Not all awnings are retractable. Sometimes a customer will choose to install a permanent awning on the back of the home to accommodate the type of outdoor uses they want on their patio or porch.
It's best for any customer to have a professional install this outdoor structure. Awnings are made of metal and fabric or aluminum, making them more challenging to install than gazebos.
Getting a retractable fabric awning starts with contacting a company like Marygrove, either through a website, by email, or by phone. The right company will have a bottom-up approach to helping you get an awning that's right for your home, rather than a top-down approach centered on the sale.
Pros of Retractable Awnings
Easy To Care For
Home Energy Savings
Fully Retractable
LED Lights Included
Cons of Retractable Awnings
Cannot be Moved
Require Professional Installation
Choosing the Right Outdoor Shade For You
Gazebos, pergolas, and awnings are all viable options for your outdoor room, but they offer very different functions in terms of portability, storage, organization, furniture, and shade.
The range of price, shipping, and menu options on these vastly disparate patio structures mean that you might need a better understanding of gazebos, pergolas, and other potential solutions that fit the style and needs of your address.
Take some time to research what you need to do before you make a decision. The right thing for you will be the one that suits your family's needs.
Before you choose the right outdoor shade options for you, look back over your size needs and what you'll use them for right now, as well as in the future. Deals come and go, but an outdoor room that works for your home's needs, as well as the needs of your family, should last for years.