Awning Applications for
Office Buildings and Complexes
The possibilities for using commercial awnings in office buildings and complexes are practically limitless. From creating inviting outdoor spaces for employees to enhancing the appearance of your property, commercial awnings offer immense value for your business. 
No matter what kind of commercial awning you're interested in, Marygrove Awnings has you covered! We provide a wide range of awning structures and styles to choose from, allowing you to find the perfect design that suits the needs of your office building or complex.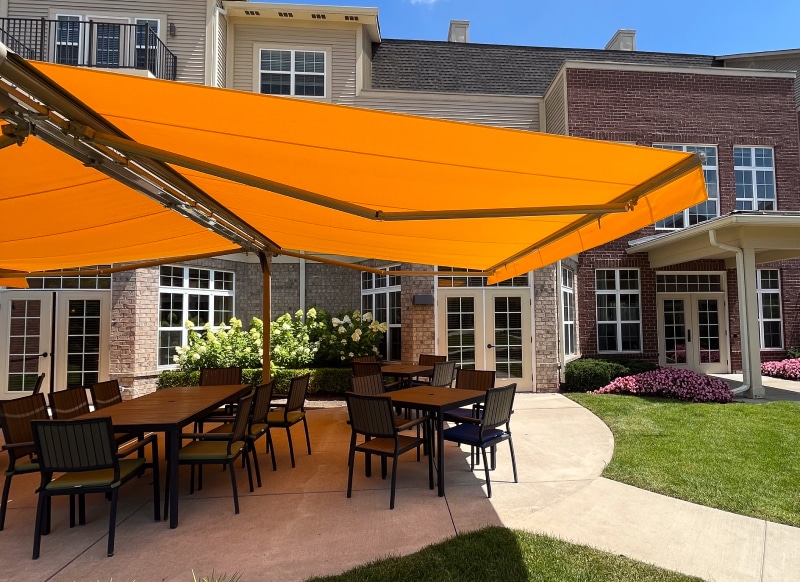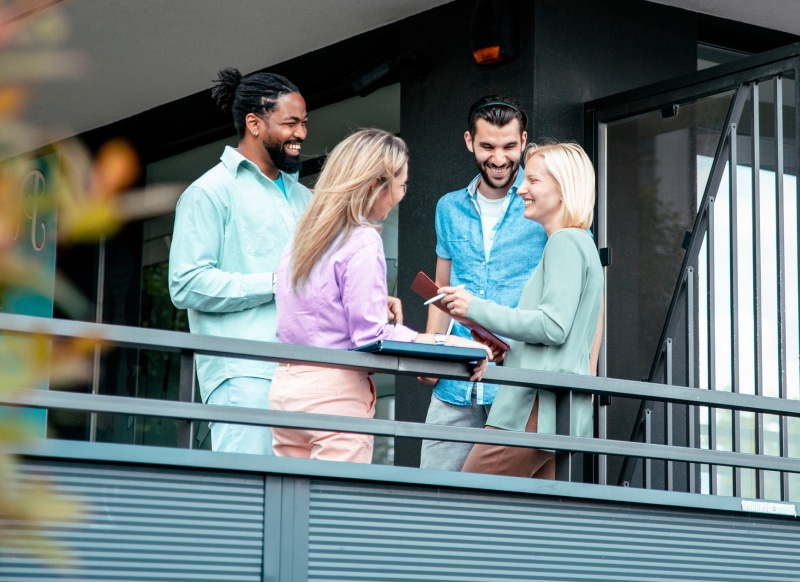 Awnings for Employee Break Areas
Want to create a standout workplace that attracts and retains employees? Consider installing an awning for your office building or complex. Awnings for employee break areas provide a bright and pleasant atmosphere, offering a refreshing alternative to drab lunchrooms with no windows.

In addition to enhancing the environment, awnings for break areas also protect staff from inclement weather. Your employees can enjoy their breaks comfortably, regardless of sudden changes in weather conditions.

Commercial awnings also extend the outdoor seating season for your staff during breaks. With an awning, your employees can enjoy outdoor breaks from spring through fall, rather than being limited to only the warmest months.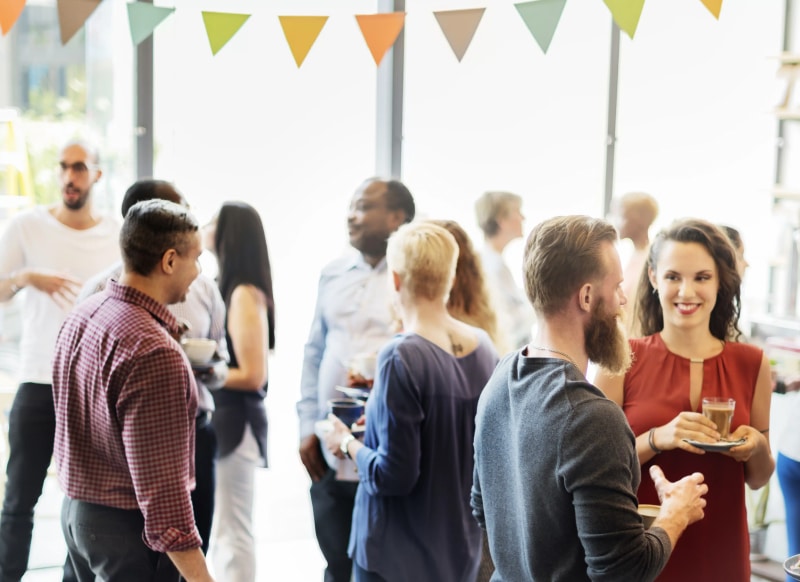 Enhance your company events with commercial awnings designed for office buildings and complexes. Awnings add a touch of elegance to seasonal retreats, office parties, monthly or quarterly meetings, and even weekly or monthly department meetings.

Another use for awnings in office settings is for annual team photoshoots. Awnings provide an appealing background for team photos while offering suitable lighting conditions for photography.

No matter the type of event your business is hosting, awnings for company events provide shade, weather protection, and sufficient air circulation. They offer a refreshing change of pace and create a comfortable environment for business meetings and gatherings.
Awnings Outside Office Buildings and Complexes
So what exactly are the benefits of commercial awnings for office buildings and complexes? Commercial awnings provide a sheltered environment for employees during their breaks or when they want some fresh air. Creating a comfortable gathering spot can be seen as an attractive perk when recruiting and retaining employees. 
In addition to benefiting employees, installing a commercial awning above the entrance walkway will shield them from the weather and keep the walkway dry. This helps prevent wet umbrella messes in the building's interior, ensuring safety for everyone. 
Moreover, awning applications for office buildings and complexes improve the overall appearance, enhancing visibility and potentially increasing revenue. Commercial awnings can open up a world of possibilities for your workplace.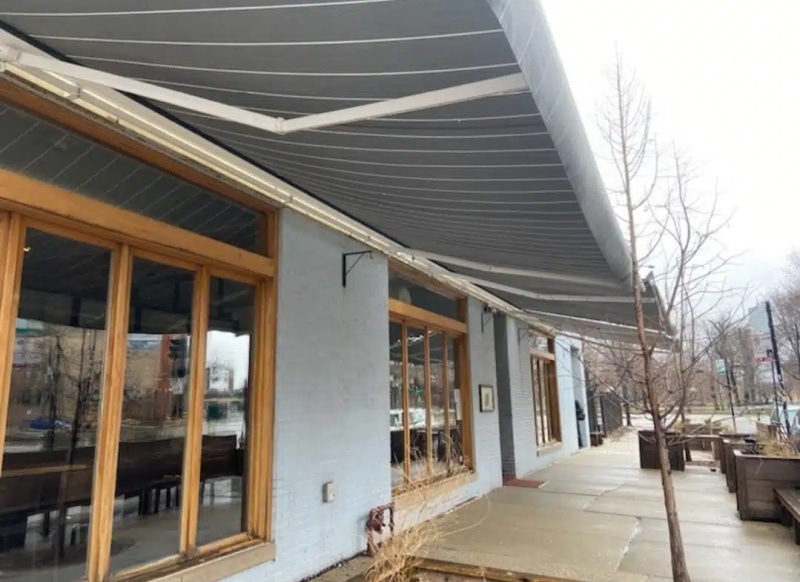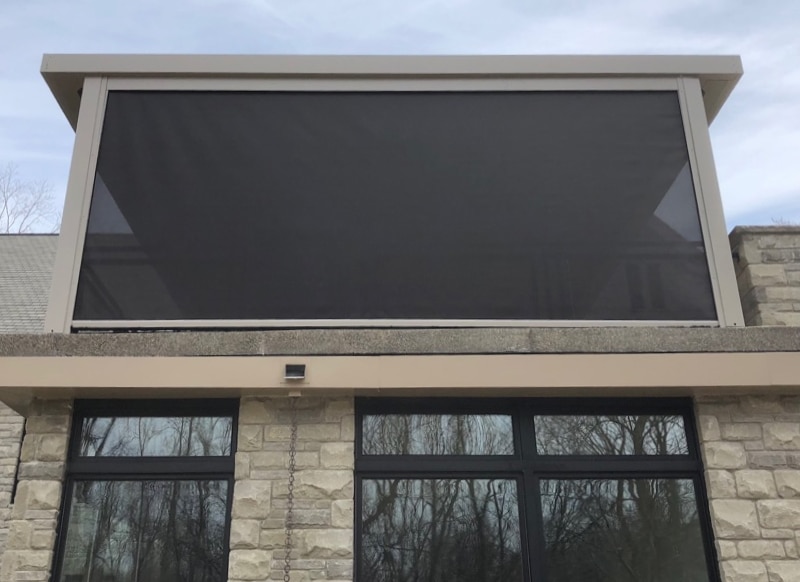 Window Shades and Solar Screens for Office Buildings and Complexes
Looking to improve ventilation in your office building? Our window shades, also known as solar screens, are the perfect solution. These shades protect your staff from the elements while allowing ample air circulation. Additionally, they allow an adequate amount of natural light to enter the building. 
Designed with the latest green technology, our solar screens are incredibly easy to operate. With just the click of a button, you can adjust the window shades to meet the specific needs of your office building or complex. 
In addition to their user-friendly design, our commercial window shades are crafted with PVC-coated fiberglass, effectively blocking harmful sunlight from reaching the building's interior. 
No matter the size or shape of your establishment, Marygrove's window shades make an excellent addition to office buildings and complexes of all types.
Summing up: Commercial Awnings for Office Buildings and Complexes
As you can see, there are numerous options and ideas for using commercial awnings in office buildings and complexes. Whether you're interested in an awning for employee break areas or for company events, Marygrove Awnings has the expertise to meet your needs. 
Are you ready to install a commercial awning for your office building or complex? Contact us today, and we'll start designing the perfect awning that fulfills your dreams!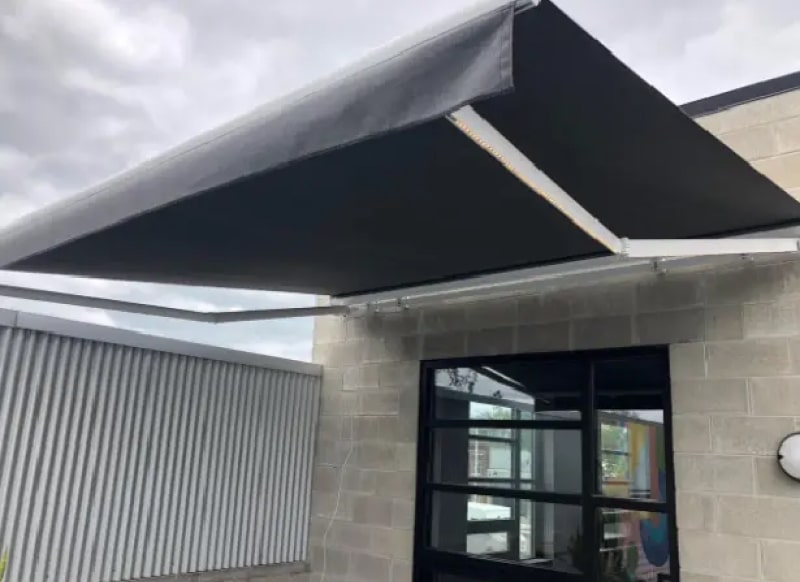 No Interest if Paid in Full in 12 Months*
Everyone Deserves a Marygrove
Apply online or work with your Marygrove representative to find convenient payment options for your retractable awning, including monthly payments.
*Subject to credit approval. Apply online.
*Subject to credit approval. Interest is billed during the promotional period but all interest is waived if the purchase amount is paid in full within 12 months. GreenSky® and GreenSky Patient Solutions® are loan program names for certain consumer credit plans extended by participating lenders to borrowers for the purchase of goods and/or services from participating merchants/providers. Participating lenders are federally insured, federal and state chartered financial institutions providing credit without regard to age, race, color, religion, national origin, gender or familial status. GreenSky® and GreenSky Patient Solutions® are registered trademarks of GreenSky, LLC. GreenSky Servicing, LLC services the loans on behalf of participating lenders. NMLS #1416362. GreenSky, LLC and GreenSky Servicing, LLC are subsidiaries of Goldman Sachs Bank USA. Loans originated by Goldman Sachs are issued by Goldman Sachs Bank, USA, Salt Lake City Branch.
Your estimate is only a few steps away.  Fill out the form and we will call you promptly to set up an appointment.