Have you been pondering the idea of elevating your business' curb appeal with a commercial retractable awning? If yes, you're in the right place to learn lots about these awnings! Let's dive deep and look at the benefits of commercial retractable awnings and how custom commercial awnings enhance businesses.
Retractable awnings are a popular choice for businesses because of their ease of use and adaptability to the weather. Their versatility opens a world of possibilities for establishments ranging from restaurants and delis to retail stores and barbershops.
A commercial retractable awning not only enhances your building's aesthetics but it makes your facility stand out along busy streets and crowded locations. Commercial retractable awnings are valuable for any business and an investment quickly returned.
Below, we'll explore the advantages of commercial retractable awnings and the best commercial retractable awnings manufacturer for businesses.
Let's begin!
What Are Commercial Retractable Awnings?
Installing a commercial awning is a fantastic way to boost your curb appeal and draw in more passersby. Their functionality makes them a popular awning among many businesses.
Unlike a fixed awning, commercial retractable awnings will retract and extend to fit the needs of your business. Commercial retractable awnings are operated by remote control and thus are extremely easy to use. Besides retracting and extending, a commercial retractable awning also includes an adjustable pitch and slope. These features allow you to block the sun's intense rays at all times.
Commercial retractable awnings are designed to shelter customers from whatever the weather may bring. Even when it's raining, a commercial retractable awning will shield customers from the elements as well as prevent slippery floors at entrances. If a severe thunderstorm should sweep into your area, you can rest assured your awning will retract easily and quickly with just the push of a button.
Commercial retractable awnings can be used for a number of purposes, including outdoor seating awnings and storefront awnings. No matter how you choose to use your retractable awning, it is guaranteed to offer a range of benefits for your establishment.
In short, commercial retractable awnings make great additions to businesses of all shapes and sizes. Their ease of use makes them a fantastic choice when selecting a commercial awning for your place of business.

Benefits of Commercial Retractable Awnings
There are countless benefits to installing a commercial retractable awning. Commercial retractable awnings provide many opportunities for businesses with their versatility and adaptability to the weather.
One major advantage of installing a commercial retractable awning is its ease of use. A motorized retractable awning can be retracted and extended with just the click of a button on the included remote control. Additionally, a retractable awning for business may have an adjustable pitch and slope to further improve your awning experience.
Another benefit of commercial retractable awnings is their adaptability to the weather. On warm, sunny days, your commercial retractable awning can be extended to provide shade and comfort for guests. And on stormy days, your awning can be retracted in less than a minute. Furthermore, commercial retractable awnings will shelter guests entering or exiting your shop during light rain.
In addition to being practical, retractable awnings enhance your storefront and, hence, give your curb appeal a major lift. Retractable awnings also increase your business' visibility and, consequently, can help draw in more customers. Businesses with commercial retractable awnings experience an increase in revenue due to the improved appearance.
All in all, a commercial retractable awning is a valuable investment for your business. Its ease of use and versatility offers plenty of flexibility for your company regardless of where you choose to install it.
Wondering why you should choose Marygrove Awnings as a commercial retractable awnings manufacturer? Marygrove Awnings' commercial retractable awnings offer many benefits, including ultimate comfort for customers, improved visibility of your facility and several customizable retractable awning options to choose from.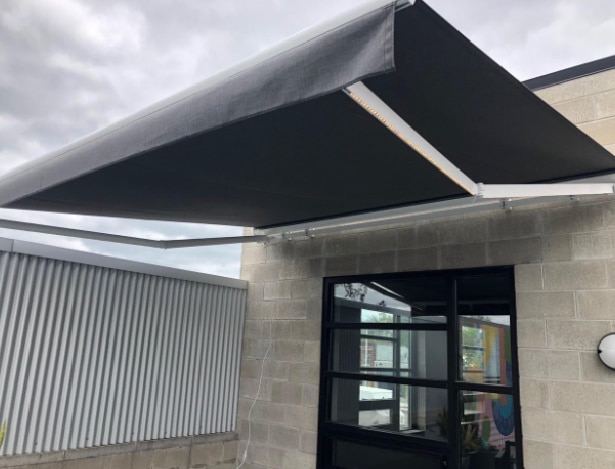 Custom Commercial Retractable Awnings
Custom commercial awnings are crafted in a way that will perfectly suit your business. Such adjustments include specific measurements and custom colors as well as awning signs that advertise your company's services. By customizing your retractable awning, you can design an awning that will fit the needs of your business and customers.
In addition to custom colors, custom commercial awnings can be created in a size that coordinates well with your facility's shape and purpose. For example, a restaurant may want a large awning for outdoor seating, while a nail salon may want a simple retractable awning that extends over the entrance and windows.
Custom commercial retractable awnings help your establishment stand out in crowded locations and give your business a special touch of style. Additionally, customizing your awning allows you to create an awning that fits your company's needs.
Here at Marygrove Awnings, our custom commercial retractable awnings are crafted with durable fabrics that will last for years. Moreover, our custom commercial awnings are available in a plethora of colors, patterns and styles, allowing you to choose a custom awning design that fulfills a dual role of being decorative and functional.
Commercial Retractable Awnings Manufacturer
Are you interested in having a retractable awning installed at your facility? Marygrove Awnings can bring your dreams to life. As the leading commercial retractable awnings manufacturer for over 80 years, Marygrove Awnings is dedicated to creating an awning you'll love. All materials are crafted in-house to ensure quality and a seamless experience.
Marygrove Awnings' crew of sales professionals, designers, and fabricators will work with you to create an awning you can be proud of. Moreover, our team of awning experts provides speedy delivery and professional installation.
In addition to our large selection of retractable awning sizes and designs, we provide custom commercial awnings for businesses. Simply let our team know the dimensions, and we'll custom design a commercial retractable awning just for you!
Ready to begin the process of designing a commercial retractable awning? Contact us today and we'll create a retractable awning you and your customers will appreciate for many years to come.