Though everything is a matter of taste, home decor that is more old-fashioned than fashionably useful gives off a vibe that makes people think "yikes". There are some things that are better left in past. Home decor like linoleum, carpeted bathrooms, and wood paneling are throwbacks to a time when the Ford Pinto was still on the road and bellbottoms were still on everyone's legs.
The question is – are retractable awnings in that same tacky category?
Defining Your Home's Style
Whether a retractable awning fits in with the style of your home's exterior is a major factor in whether it makes your outdoor space look fashionable or tacky. A mismatch between the two is a major reason that homes look odd or out of place.
With all kinds of exterior home looks, the installation of a retractable awning can provide sun protection and create shade over a deck or lawn space without permanently marring the outdoor aesthetic of the home.
Mid-century Modern & Contemporary
A low-profile roof and single-level curb appeal are hallmarks of the mid-century modern exterior of a home. Thes homes blend into their surroundings, with flat lines, light finishes, and muted colors.
Rising in popularity in the fifties, this now retro style of home often features a patio for entertaining. Many homeowners appreciate the patio or decks on mid-century modern homes, who offer a space for time together on sunny days.
A motorized retractable shade can both be incorporated into the aesthetic of this outdoor look and provide year round protection from the elements.
Patio awnings on contemporary and mid-century modern homes won't look tacky if they are in muted colors. Working with a high quality retractable awning company to find the best retractable awnings for the look of the home, including frame colors and fabric pattern, will keep it from looking gaudy.
Also, retractable awnings are motorized, so they can hide away and preserve the outside look of the home. By rolling back and sitting almost flush with the wall, the clean lines of the outdoor space are still there when the awning is not in use.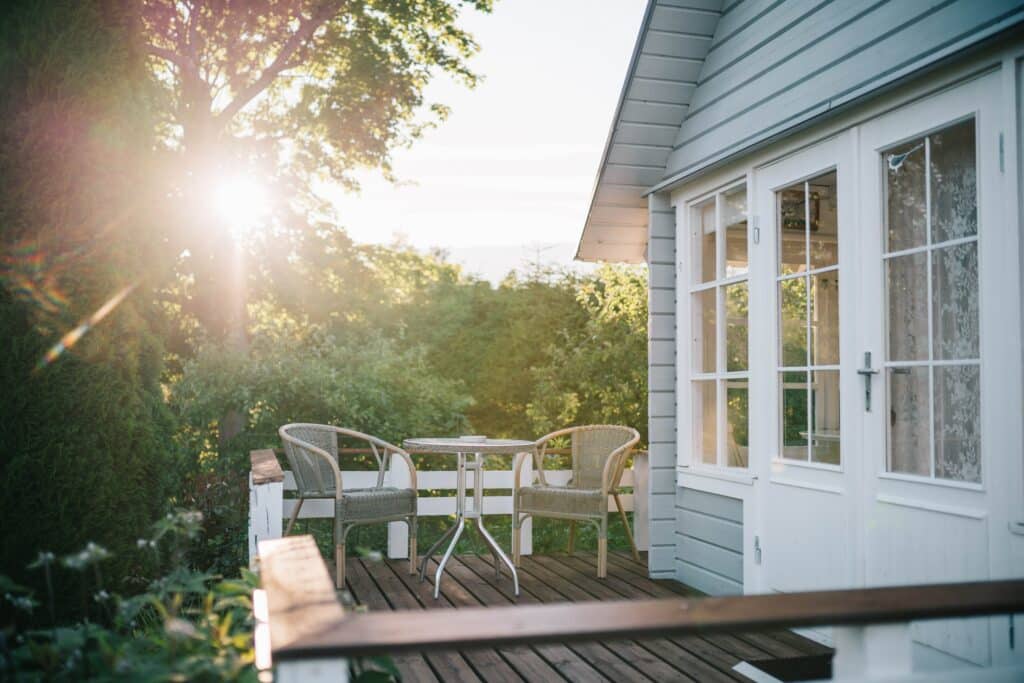 The cottage home style is cozy and light in feel. Wood and stone wall design elements on the outside of the home give the exterior a traditional, quaint sensibility.
For a cottage style home, a retractable awning can go more vintage without looking tacky. Aluminum awnings aren't out of the question for these homes either, though an aluminum awning is more susceptible to damage from strong winds.
Striped fabric, a scalloped edge, and bold colors in an extended awning made of fabric can bring a nostalgic feel to a deck on a cottage style home. With this kind of exterior design, the mounting hardware can be more visible.
The enchanted nature of a cottage house made of durable parts, like wooden frame material and stone footings on the deck, gives an outdoor living space with an awning a magical feel. The home's curb appeal for cottage houses can be increased with a classic awning without edging into being tacky.
Federal, French Provincial, Colonial, and Georgian
Both the Federal and French Provincial styles of homes are boxy. The major difference in these two are the roof pitches, as otherwise they are similar in structure and style. Colonial and Georgian style homes are similarly boxy. All of these styles of homes are found across the Southeast and Midwest.
The installation process for a motorized retractable awning on a Federal style home is the same as it is for other types of homes, especially if there's a patio or a deck that has shade needs. Because of the boxy elevation of the house, a retractable awning is easily installed on the back of a home. The structure of these houses means the patio awning isn't easily seen from the front elevation, preserving the curb appeal while adding valuable outdoor living space.
French Provincial and Federal style homes are popular in the Northeast, where heavy rain and high winds are as much of a concern as snow and sun. Retractable patio awnings create a positive outdoor space while being mildew resistant. In the summer, they provide shade on the patio, while in the winter a motorized retractable awning goes back to the wall and is safe from the elements.
For old fashioned style homes like Colonial and Georgian styles, fabric choice and the option of motorized retraction mean an awning won't detract from the classic look of these homes. A smart choice of frame color will allow the mounted retractable awning to blend in with the frame material around the windows and doors.
Retractable Awnings Are Practical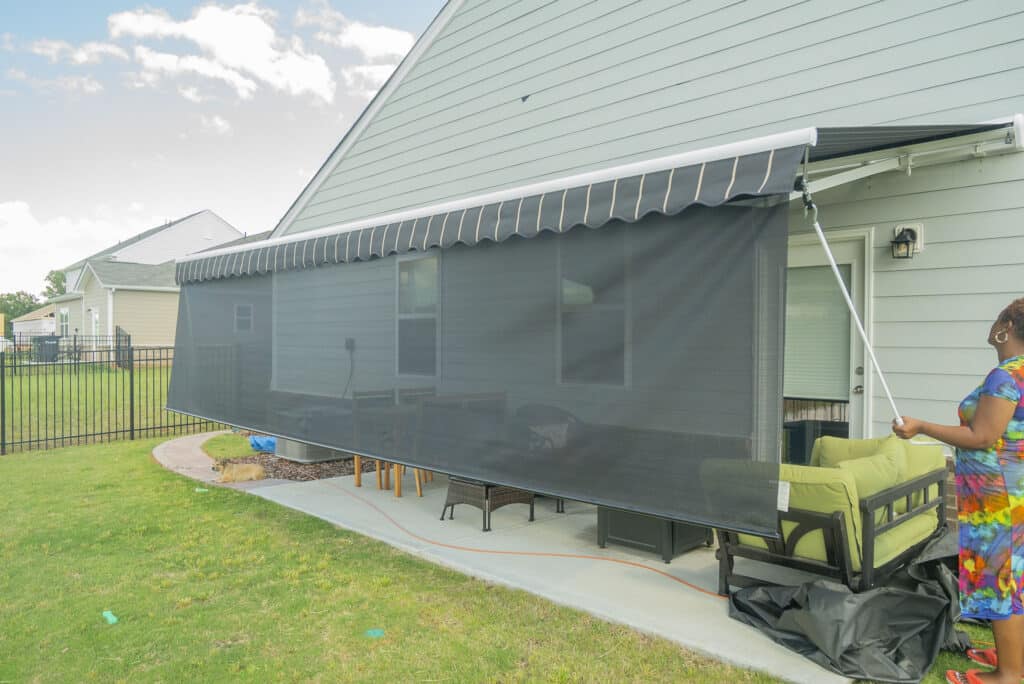 Practicality is as important as looking good. The best retractable awnings are those that are pleasing to the eye as well as being meeting family needs. Wall mounted awnings can provide the kind of protection needed from the sun and rain, as well as fitting in with the look of the home.
A motorized retractable cover for an outdoor space can protect everyone from harmful uv rays. No matter the age or ability of a family, sun protection is a major concern.
Not only does a motorized awning offer uv protection, it also cools off the outdoor living space to allow for a longer period of use during the summer months. Awnings can even be a shelter during inclement weather. Light rain and light wind don't phase awnings, though they should be pulled in during high winds.
Remote controls mean homeowners don't have to go outside to pull in the piece during high winds, unlike manual awnings. This is easier all around for homeowners looking for a way to improve their patio or deck.
Additionally, awnings today can come equipped with a wind sensor to automatically roll in the awning when the weather gets threatening. A wind sensor provides incredible peace of mind for homeowners who want to save on their energy bills while also maintaining their outdoor lifestyle.
Looking Good for a Reasonable Price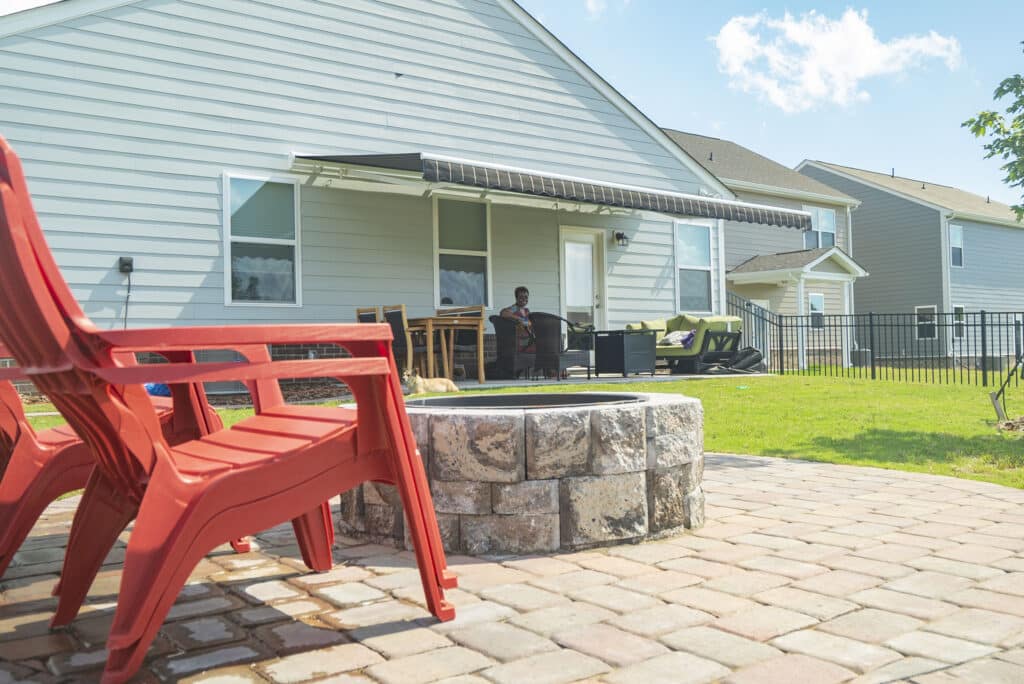 Finding a fantastic outdoor use awning for a budget friendly price is a huge concern. The wider range of awnings available today give lots of options for shade over a patio without costing a fortune.
Awnings are a great way to give shade to a deck or patio and essentially expand the livable space on a house. People have researched dozens of solutions for improving outdoor living areas, and retractable awnings consistently offer a high level of value.
Financing is available for retractable awnings, which can really help homeowners to get the kind of high quality product they need to keep the house from looking tacky.
Home renovations can be costly, but a patio awning isn't a major renovation project. With proper installation and maintenance, these home pieces will last for years to come.
Cheap Materials Are a Problem
Part of what makes some awnings look gaudy is that they are made of cheap materials. A heavy duty awning will keep the elements at bay and also reflect a gravitas of style.
It's incredibly important for homeowners to look critically at what window awnings and retractable awnings are made from as they create a customizable outdoor space. Materials must weather uv rays and be water resistant in order to stand the test of time.
A motorized retractable awning is made up of three parts – the frame, the fabric, and the motor. All of these parts should be made of high quality materials.
The frame material should consist of metal that's high quality and built for the elements. All parts should be weatherproofed. Preventing rust on a patio awning will mean it can last for years, weathering both style changes and the elements.
Frame colors on aluminum frame awnings and retractable awnings are not highly visible, but should still match the look of the home.
The fabric on window awnings or on a patio awning should be durable and match the look of the home. Most retractable awnings come in colors that will fit in with the look of the home, no matter what the needs are. Look for high quality fabrics like O'Bravia or Sunbrella.
Striped or solid fabrics that are sun resistant and made of heavy duty fabric can last for years. A retractable awning made of quality fabric will protect from uv rays while also looking great.
Any fabric on a retractable awning should be water resistant. Light rain and morning dew won't damage material that's been coated to be water resistant, as it allows the fabric to dry quickly.
Motorized awnings offer a high level of convenience, as well as being easier to deal with than a manual awning. Motors should be protected from the elements. Homeowners should look for an awning that has a motor that is inconspicuous so as not to become an eyesore.
When homeowners understand the style of their home and the importance of high quality materials, they can then look to finding the best retractable awning for their outdoor living space.
An online awning simulator lets homeowners directly visualize what their patio will look like with an awning. This tech savvy tool only needs the homeowner to upload an image of their home, then they can see exactly how an awning will look.
Size, color, and style can all be explored with this simple online tool. For homeowners wondering if a motorized awning will look tacky, this tool is perfect.
Find the Right Awning Size
Getting the sizing right is important here. An awning that is too large or small for the patio or deck space will look odd and level up the tackiness factor. The right sized awning should look like it belongs on the home.
Awning size is best determined by professionals. A professional awning company will be able to guide homeowners through finding the perfect sized awning that won't look out of place.
Use a Professional Installer
Placement is closely related to size. A retractable awning will look great if it's centered over patio doors and windows, rather than being off-kilter. Installation should be done by a professional who can make sure that the piece is installed correctly and works properly from the outset.
Home Ownership Equals Pride
Everyone wants a home that they can be proud of. A house is the biggest investment that most people will ever make, and having a home that looks appealing and fits in with the neighborhood is important. Can retractable awnings be classy? The answer is absolutely yes. It's all about getting an awning that works for you.
Marygrove awnings can meet all of the needs of a homeowner, both aesthetically and practically. The best retractable awning is one that serves the right purpose and looks great. Give us a call today.