Everything speaks when it comes to the look and feel of a business. Location, color and design of your facility are just a few factors that all speak to your potential customers. One of the easiest ways to get your business to stand out among the competition is to have an attractive entrance. If you're interested in improving your business with a feature that can speak volumes about a company, exterior commercial awnings may be the perfect solution.
Although there may be things that you can't easily change about your business such as the location or architecture of your establishment, featuring attractive and functional exterior awnings has the potential to drive customers to you. Today, we'll take a look in more detail at how exterior commercial awnings can help your business and the variety of exterior commercial awning types.
Whether you own a restaurant or a retail store, the addition of commercial awnings has the power to drive customers into your facility as well as leave a lasting impression in the community. Let's dive in and discover the top three types of exterior commercial awnings for businesses.
Storefront Awnings Can Help Get Out Your Business Name and Products and/or Services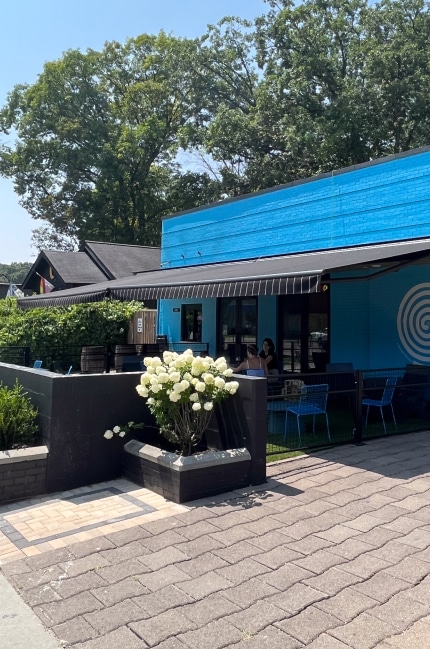 Businesses seeking effective branding solutions will significantly benefit from the use of storefront awnings, one of the three types of exterior commercial awnings. Featuring stylish designs and bold branding, custom storefront awnings lure customers into your facility while promoting your company's brand to the public. In addition, a storefront awning's attractive appearance boosts your business' presence to leave a lasting mark in the community.
Storefront metal awnings deliver countless benefits to a range of businesses, including popular services such as hair salons, auto shops and physical therapy facilities as well as retail businesses such as clothing stores and jewelry companies. With their solid, bold appearance, exterior metal awnings help your business stand out in the crowd and increase foot traffic.
Crafted with long-lasting materials, metal awnings are highly valued by commercial businesses for their durability and longevity. Custom storefront awnings provide a welcoming appearance to customers by sprucing up your building's aesthetics while advertising your company's services. Moreover, exterior metal awnings eliminate slippery floors at entrances by encouraging customers to shake the rain off their umbrellas under the exterior awning rather than inside your establishment.
At Marygrove Awnings, we provide an assortment of storefront awning designs customized to fit the needs of your business. Our custom storefront awnings are crafted with strong materials and glamorous designs to boost curb appeal and attract passersby. Whether you're interested in a small exterior door awning or a large metal awning structure, Marygrove Awnings' storefront awnings may be the ideal branding solution you've been seeking for your business.
Restaurant Awnings Can Expand Seating Area
Among the top three exterior commercial awnings for businesses are restaurant awnings, a fabulous solution for expanding outdoor seating capacities and standing out among the competition. Commercial awnings for restaurants offer a multitude of benefits, including increased space for dining and improved visibility. Furthermore, restaurant awnings extend the outdoor seating season, enabling customers to enjoy the outdoor seating experience throughout the year while being sheltered from unpleasant weather.
Restaurant awnings are crafted in a plethora of designs, ranging from small patio canopies to large restaurant awnings. One of the varieties of commercial awnings for restaurants is exterior louvered awnings, large structures built to keep out rain while still admitting light and air for a comfortable dining environment. Due to their adaptable design, exterior louvered roofs open a world of opportunities for restaurants, including improved air quality and increased building visibility.
Because a restaurant awning provides additional room for tables and chairs, your business may experience a boost in income as more customers are likely to dine at your restaurant. Furthermore, newcomers and returning patrons may stop by your business, thanks to the alluring design and comfortable atmosphere a restaurant awning offers.
Marygrove Awnings produces varieties of exterior commercial awnings, including Outdoor Seating Awnings and Louvered StruXures. Whether you're leaning toward a large restaurant awning or a small outdoor seating canopy, Marygrove Awnings is your one-stop shop for high-quality commercial awnings for restaurants.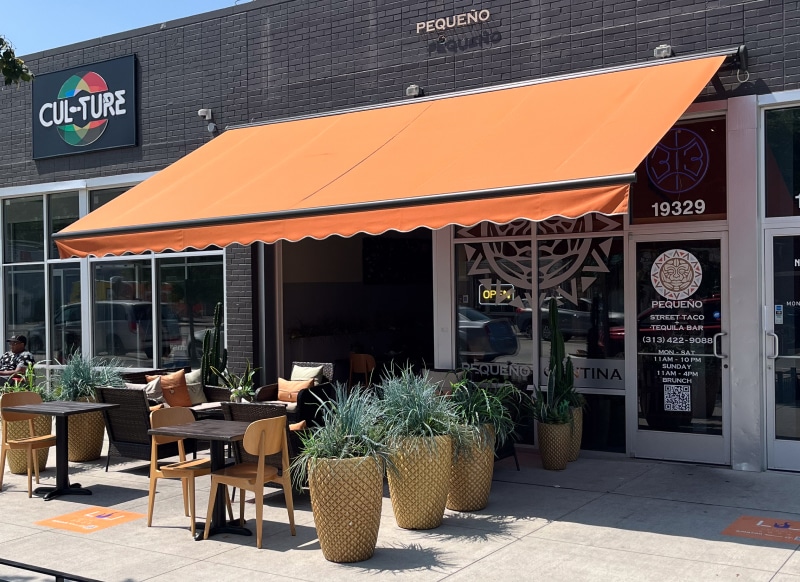 Commercial Retractable Awnings
Businesses interested in versatile exterior commercial awnings will find retractable awnings to exceed the functionality of other commercial awning types. Unlike fixed awnings with solid structures, commercial retractable awnings will adapt to the needs of your business to further improve your guests' experience.
A retractable awning's functionality provides continuous protection for patrons as well as decreased cooling costs for your facility. An exterior retractable awning shields customers from intense sun rays, providing relief and protection for guests while still offering ample air circulation. Similarly, a retractable awning's ability to block sunlight allows businesses to position store items outside without worrying about the products becoming faded.
A commercial retractable awning can be customized in both color and design to precisely suit the needs of your business. Additionally, an exterior retractable awning may include a custom awning sign to further promote your business' brand name, logo and services.
If you're interested in sprucing up your business with a commercial retractable awning, Marygrove Awnings has your needs covered. In addition to our wide selection of fabric colors, we provide custom measurements as well as awning signs to increase your business' advertising abilities.
Are you struggling to find the perfect exterior commercial awning types for your business? Marygrove Awnings offers outstanding customer service, ready to help you find the ideal commercial awning for your facility.
Marygrove Awnings' exterior awnings for businesses are available in a variety of designs, including storefront awnings, restaurant awnings and commercial retractable awnings. In addition to the large range of exterior awning types, Marygrove Awnings provides custom awning options to match your building's color scheme and design. No matter what type of exterior commercial awning you're leaning toward, Marygrove Awnings has you covered!
Ready to enjoy the endless benefits of exterior commercial awnings? Contact us today for a seamless awning experience!