Restaurants can be special places for customers. Many people have favorite restaurants where they like to go on a regular basis. Restaurants have been the scene of many marriage proposals and places to take kids for their birthdays. The importance that restaurants have played in the lives of people is endless.
Today we are going to look at ways to enhance the appearance and functionality of a restaurant by adding a restaurant awning design. Commercial awnings for restaurants have the potential to not only attract customers but also expand the number of patrons that can be seated at an establishment.
There are so many restaurant awning options to choose from to make your restaurant be a place where people go to eat, relax and make memories. Let's dive in and explore more on this topic of commercial awnings for restaurants.
Storefront Awnings for Restaurants to Brand Business Names and Display Eatery Types
Among the best types of commercial awnings for restaurants are storefront awnings, a bold awning design enabling businesses to emblazon brand names and eatery types above the building entrance. Featuring contemporary styles and bold brand advertisement, storefront restaurant awning designs speak volumes about your company to passersby.
Storefront awnings for restaurants deliver countless benefits to business owners, including a boost in visibility and powerful branding opportunities. A large restaurant awning helps your business stand out among other competitors in the community while also communicating your business' brand name with area residents and tourists.
In addition to helping restaurants stand out to the public, commercial awnings for restaurants enable businesses to display eatery types on their signs, letting customers know whether they serve plant-based meals, smoothies and juices, salads, Mexican food, Italian cuisine, Chinese fare, barbecue dishes, subs and sandwiches, or other types of dining. These descriptors often communicate more to passersby than actual brand names, especially when bringing in first-time customers and tourists.
Business owners interested in giving their building's facade a major lift in appearance will find great value in the addition of a storefront restaurant awning. Consider investing in a quality restaurant awning design such as Marygrove Awnings' Storefront Awnings to elevate your restaurant's appearance.
Restaurant Awnings to Expand Seating Capacity
If you're pondering the idea of extending your restaurant's seating space, an outdoor restaurant awning may catch your interest. Outdoor restaurant awnings not only have the ability to draw in customers but also to expand a restaurant's seating capacity. Installing a restaurant awning design is one of the most cost-effective solutions for increasing seating space as well as extending seasonal business.
Restaurant outdoor awnings create a comfortable environment for patrons by improving air quality and ventilation while shielding guests from inclement weather and harsh UV rays. For many customers, this is an alluring feature, as proper air circulation enhances the overall dining experience.
Besides expanding seating room for restaurants, a restaurant patio awning spruces up business' curb appeal and consequently helps restaurants stand out more along busy streets and crowded building locations. Commercial awnings for restaurants open a world of possibilities for eateries of all sizes, ranging from large restaurants to small cafés.
If you want to give your restaurant a boost in appearance and additional space for seating, Marygrove Awnings' Outdoor Seating Awnings may be the perfect solution for you. Offering ample ventilation, restaurant outdoor awnings are bound to satisfy customers who visit your establishment.
Exterior Louvered Awnings for Fast Adjustments
Business owners seeking restaurant awning ideas that offer flexibility to their eatery likely will find exterior louvered awnings to exceed all expectations. A type of retractable awning for restaurants, louvered metal awnings provide solutions and customizations that expand restaurant seating capacities while creating a comfortable and festive atmosphere.
Commercial louvered awnings utilize a series of horizontal slats to admit sunlight and air while keeping out rain and harmful UV rays. Its unique design is crafted with functionality in mind, allowing restaurants to embrace outdoor seating opportunities while offering ultimate comfort for customers.
Because this restaurant awning design creates a pleasant and relaxed setting for guests to dine in, exterior louvered awnings may lure in patrons who seek fresh air and adequate lighting while dining. Furthermore, commercial louvered awnings improve the visibility of your establishment, offering a further boost in business' revenue.
Businesses such as restaurants can significantly benefit from the addition of exterior louvered awnings for increased seating capabilities and improved dining conditions. Consider enhancing your eatery with the incredible design of Marygrove Awnings' Louvered StruXure, a durable restaurant awning certain to please any guest.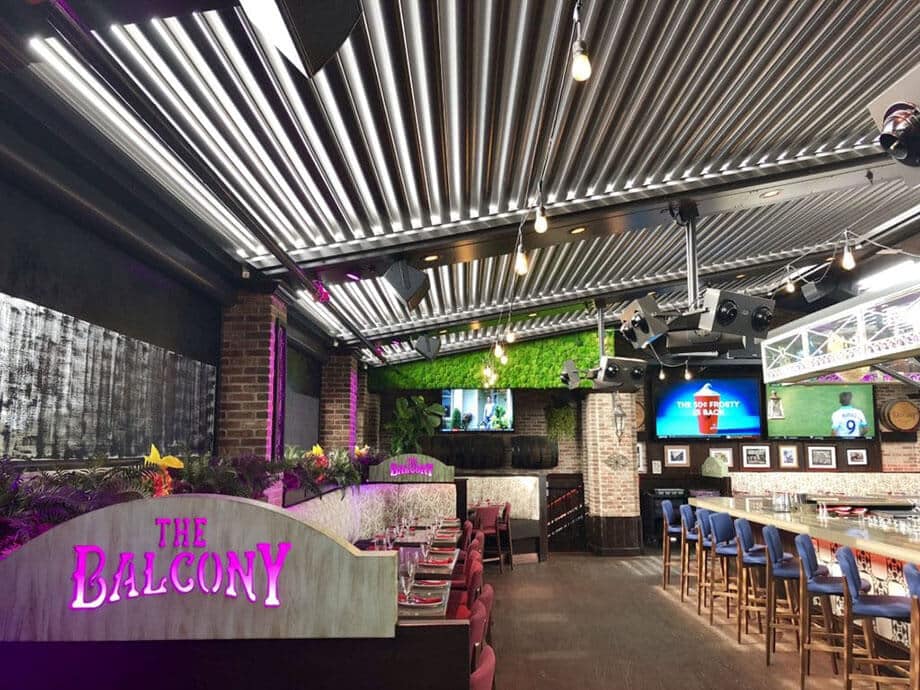 Window Shades and Solar Screens to Keep Sun and Wind at Bay
Restaurant owners striving to improve their facility's air quality while protecting patrons from poor weather conditions will greatly appreciate the versatility of window shades and solar screens. Although not technically awnings themselves, commercial window shades and solar screens are awning accessories that elevate the functionality of commercial awnings for restaurants.
Commercial solar screens extend the outdoor seating season for restaurants by sheltering customers from whipping winds of late spring and early autumn while shielding customers from piercing sunlight and sweltering heat during scorching summer months. Additionally, commercial shades expand seating capacities, enabling restaurants to offer seating accommodations that may not be available otherwise.
Combined with the sturdy construction of other awning types, a window shade awning enhances restaurants in a number of ways, including increased air circulation. By improving air quality and ventilation, commercial shades for restaurants meet the needs of patrons while also attracting newcomers who desire fresh air.
If you're considering sprucing up your restaurant with the addition of commercial window sun shades, look no further than Marygrove Awnings' Commercial Window Shades and Solar Screens. Our commercial-grade solar screens will block UV rays while supplying plenty of air circulation to improve your customers' dining experience.
Whether you're leaning toward storefront awning designs or exterior louvered awnings, commercial awnings for restaurants are guaranteed to be an investment quickly returned for your business. Treat your business to the addition of a restaurant awning and reap the incredible benefits for years to come!