Finding the right awning in North Carolina can be quite a task. Those warm, sunny days beg for an outdoor solution to allow you to enjoy every hour from morning to night. Retractable awnings are a perfect choice. Not only do they offer you protection from the weather, but they provide added usable square footage to your home.
If you're looking for tips on how to find the right awning in North Carolina, you've come to the right place. There are a few things that you should consider when you're looking for a retractable awning. Marygrove Awnings provides a wide-range of retractable awning options for you to consider. Here are three tips to help you research and ultimately find the perfect awning for your home.
Tip 1: Choose the Right Awning Type
There are two types awnings you may be considering in North Carolina: fixed and retractable. Fixed awnings are stationary and offer stability and strength. They are an excellent choice if your home has specific needs or requires custom design. They can last for several years but are not as versatile as retractable awnings.
Retractable awnings offer a quick and easy solution for all your outdoor patio needs. With a contemporary aesthetic, they give your patio a much more modern feel. They are motorized and completely adjustable allowing you to have shade only when you want it. Retractable awnings are also more tech-enabled. You can set a time for your awning to retract or add accessories allowing your awning to be a versatile shade solution for those bright North Carolina days.
Tip 2: The Location and Size of Your Awning are Key
Your awning is an extension of your home and therefore should match the look and feel of your property in North Carolina. There are two things to consider when determining an awning's correct size: how large the space is and what direction you're facing.
To get a general idea you'll want to measure the area you'd like to cover. The direction your awning faces will influence how long you'll want the projection to be. For North Carolina patios that face east and west, a ten-foot projection will suffice. For homes that face north or south 13- or 14-foot projection will provide better coverage and you'll want the awning to be as wide as possible. Add 3 to 4 feet to the width of your desired area for optimal shade.
At Marygrove, we sell 10′, 12′, 16′, and 20′ awnings, but custom awnings are also available. We create custom options that range from 8-35 feet wide and have an 8-13 feet projection. Use our handy measuring guide to get an idea of the size the perfect awning size for you or contact us today to learn more about all of our awning options.
Tip 3: Style is Essential
The style of your awning is just as important to elevate the look and feel of your home in North Carolina. Well chosen awnings can help elevate the curb appeal of your home and increase the sellability when it's time to move. To make your awning look as perfect as possible, the style and design should match your building's size. If you're looking to install an awning on a larger building – you may want to install a classic awning. However, if you have a more modern home, a bright contemporary awning will work perfectly.
You'll want to select the right fabric for your retractable awning to ensure its longevity. Subject to a myriad of conditions, awnings need to be durable and withstand the North Carolina weather. How often you'll be using your awning and how much time you want to spend maintaining it are other factors to contemplate. When choosing a color for your retractable awning, you'll want to ensure that it matches your home or establishment. A color that complements the architecture, color, and size of your home or building is crucial in making the awning look like a natural extension of your home.
Want to visualize what your awning will look like on your North Carolina home? Use our awning design simulator!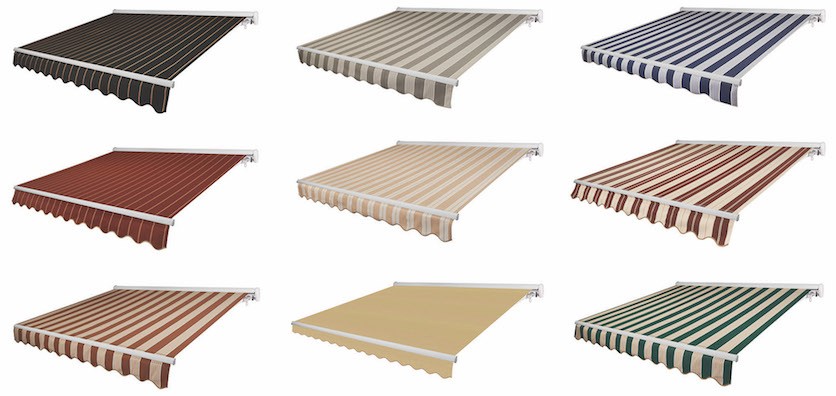 Call Marygrove for Your Perfect Awning
For high-quality crafted awnings in North Carolina, Marygrove has the perfect ready-to-install awning for you. We offer a wide selection of colors and sizes and can create custom awnings to fit your home's exact meausrements.
Marygrove is proud of our "5 Star Customer Service" from contact through installation. We offer fast delivery and professional installation and ensure we go above and beyond to exceed our customer's expectations. With over 1000+ 5-star reviews, our quality is rarely matched by competitors.
Want to see what Marygrove offers in person? We have a mobile showroom that can come directly to your home in North Carolina, showcasing our wide selection of awnings.